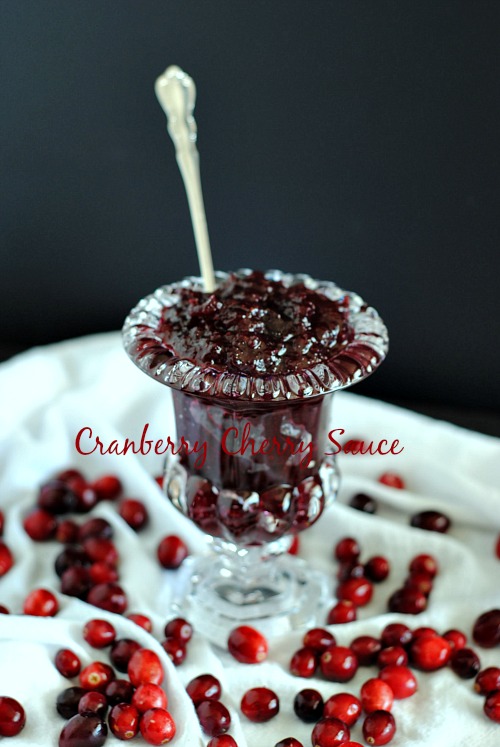 If you do anything homemade this Thanksgiving please let it me  the cranberry sauce because it's so easy and taste nothing like the store bought stuff.  I despise the jellied canned stuff and hate when someone brings it (tip to remember if you're invited to my house for Thanksgiving).  I do love to have homemade cranberry sauce with my turkey and I have developed a palate for sweet and tart with savory.
When I bought the cranberries this year I had in mind to try something different other than apples with my cranberries and cherries seemed perfect. I bought a bag of frozen sweet cherries and cooked the cranberries and cherries in orange juice and sugar. There is so much more you could add to this sauce,  but I actually liked it rather simple. Make this sauce a day in advance and let sit in the refrigerator and it taste really good the next day and thereafter. Cranberry sauce goes perfectly with turkey sandwiches too 🙂 so enjoy those leftovers. Here are a few links to other cranberry sauce recipes you might like to try.
My Cranapple Sauce
Cranberry Sauce from Closet Cooking
Cooking Classy- Cranberry Sauce
Food and Wine- Cranberry Sauce
Spoonful of Flavor- Apple Cranberry Sauce

Cranberry Cherry Sauce & inspiration for decorating your Thanksgiving Table
Ingredients:
6 ounces of fresh cranberries (half a 12 0z. bag)
1/2 cup sweet dark cherries (I used frozen)
1 1/2 cups granulated sugar
1/2 cup orange juice
zest of one orange
Directions:
Step 1: Rinse the cranberries and add all ingredients to a medium size sauce pan and cook over medium heat until it has cooked down and thickened, about 20 min. Refrigerate covered over night and serve at room temperature with turkey.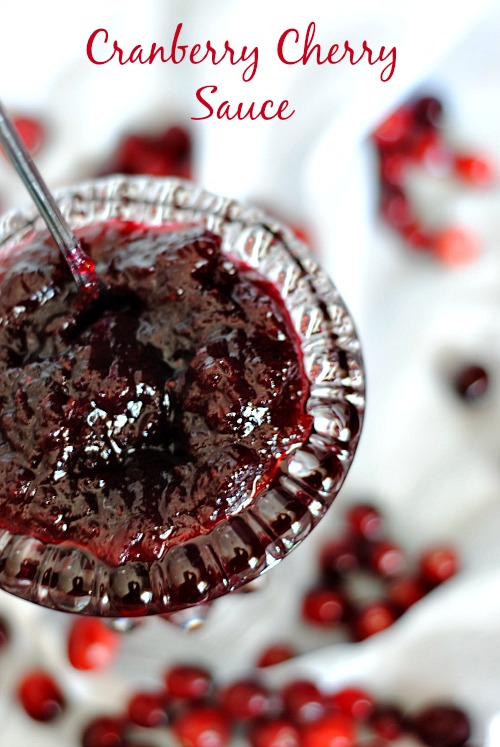 Decorating your table can be fun with a touch of rustic elegance. What I love about this design from Svitlana Flom a home stylist and Editor-an-Chief of
Art De Fete
is instead of a table cloth she used a shawl for the inspiration and the table cover. Then she mixed the rustic elements of deer antlers and in season flowers. A simple place setting with coordinating napkins and it's ready to celebrate. Please go to
Svitlana's site
for more photos and description, plus sources for the things she used.