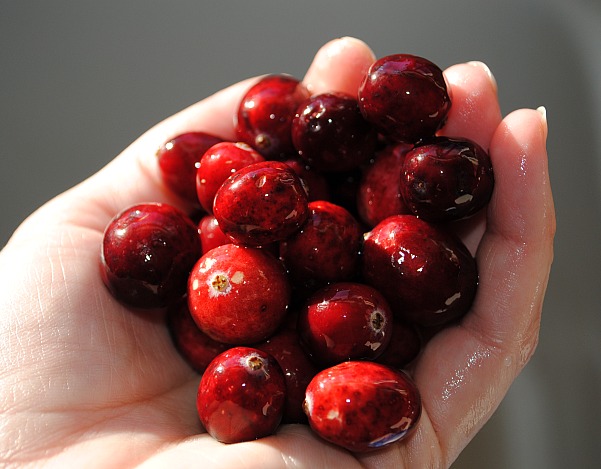 Cranberries are in season and aren't they beautiful? I love this tiny fruit during the holidays for so many reasons. One of my favorite reasons is for cranberry sauce, it adds just the right amount of tang to turkey. Need I even say that homemade cranberry sauce is the best on Turkey Day, get rid of the canned jellied stuff. If you have not tried to make your own sauce then this is the year to do it. I promise you can't mess it up… unless you burn it 😉 but we are not going there. This sauce goes so good with turkey, it's not too tangy or too sweet. On turkey sandwiches it's perfect, oh I can't wait. Happy Turkey Day, enjoy! Go grab your apron and some simple ingredients and let's get cooking, I'm telling you your friends and family will say "you made that?"


Cranapple Sauce for Turkey Day
Ingredients:
1 12 oz. bag of fresh cranberries rinsed
5-6 Johnathon or a mix of Granny Smith,Fuji apples cored and chopped
1/3 cup of orange or apple juice or water
1 1/2 cup sugar
Directions:
Step 1: Rinse fresh cranberries, and put into a medium large pot and pour juice over. Turn on heat to medium and let cranberries pop.
Step 2: When most all cranberries have popped add the sugar and cored and chopped apples (you don't need to peel the apples but if you want to it's fine) Cook until it boils then turn to simmer uncovered until apples are very soft stirring often. When soft get an immersion emulsifier or blender or food processor (but be careful don't burn yourself) and blend until the consistency you like. I like mine to be a little chunky. Pour cranberry sauce into another container and cool then cover and refrigerate.