Pin It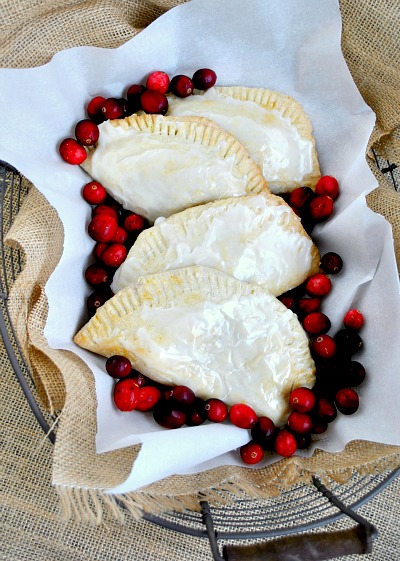 This recipe came about from a testing some cranberry sauce for my Thanksgiving dinner. I love to make different cranberry sauce each year and sometimes they work out and sometimes not. I was meaning to make cran-raspberry sauce with a touch of citrus so when I cooked it and tasted it I thought it was too tangy not sweet enough so I added an apple to the mix and after apple cook a bit it hit me to make some hand pies. I had wanted to make some hand pies for a while but hadn't so making them with this cran-raspberry apple seemed perfect to me. I love things a little tart and these hand pies are just the thing for that craving. I think these pies are just sweet enough to end a heavy meal like a Thanksgiving feast. I bet you could use any left over cranberry sauce for making these pies, give them a try.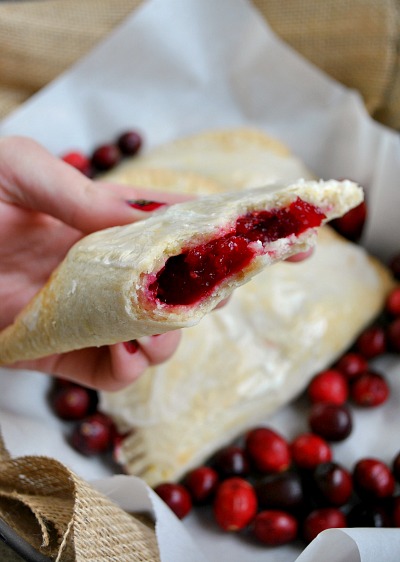 First let's begin by making the sauce or filling.

Cran-Raspberry and Apple Hand Pies
Ingredients:
1 12 ounce bag of fresh cranberries
1 6 ounce pkg. of fresh raspberries
1 tangerine or orange zested and juiced
1 honey crisp apple peeled and chopped (large)
1 1/2 cup of granulated sugar
Directions:
Step 1: Put above ingredients into a large pan and cook on medium high until mixture boils and fruit cooks down stirring constantly.
Step 2: With an immersion blender, blend the fruit into a thick sauce, I like the fruit somewhat chunky so I don't blend my filling very long. If you don't have an immersion blender then us a food processor.
Step 3: Let sauce cool completely.
While the filling is cooling make the crust.
Ingredients for pie crust:
2 cups of all-purpose-flour
1/2 tsp. salt
2 T. sugar
zest of half an orange or 1 tangerine
11 T. of cold unsalted butter
4 to 5 T. of ice-cold water
Directions:
Step 1: Put the dry ingredients into the bowl of a food processor and pulse to blend together.
Step 2: Cut cold butter into small pieces and put into the food processor. Snap on lid and pulse the butter with the dry ingredients until it's in small beads.
Step 3: Measure out 5 T. of ice-cold water and put into a pour-able measuring cup. Turn the food processor on and slowly add the water until the dough begins to come together.
Step 4: Dump the dough onto a large piece of plastic wrap and with your hands on the plastic wrap squeeze dough together until it is in a ball and wrap up tightly in the plastic wrap. Now refrigerate for 1 hour.
Directions for Making the hand pies:
Step 1: Pre-heat oven to 375 degrees
Step 2: Let dough sit on the counter for a few minutes then divide dough into 6th's by cutting into a pie. Shape the pieces into balls.
Step 3: On a lightly floured counter roll each ball out into a circle and fill with a heaping tablespoon of filling. Wet your fingers and go around the edge of the dough and fold the dough over. Seal by pressing down with a fork.
Step 4: Place pies on baking sheet lined with a silicone mat or parchment paper, brush each pie with egg wash(1 egg beaten). Bake for 20 minutes or until lightly browned.
Step 5: Let pies cool  for 20 minutes then make a light glaze for the top. Mix 1/2 cup powdered sugar with 3 tsp. of orange juice, and 2 tsp. milk mix well then spread on each pie.
Serves: 6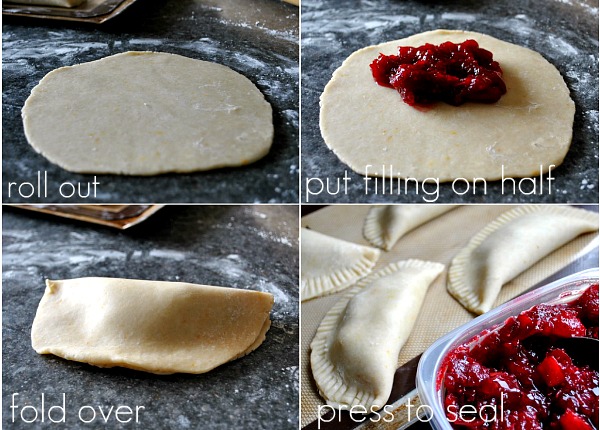 Enjoy warm or save for later. The crust is soft and flaky and the filling wonderful, I hope you love them as much as I did.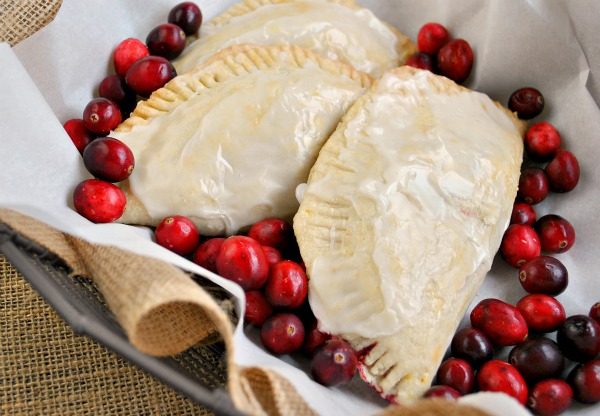 Linked to Blue Cricket Design