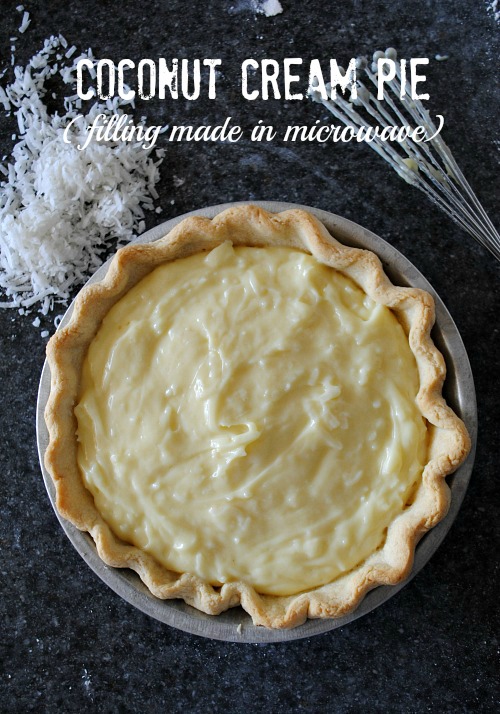 Another year gone, how does that happen so fast? The older I get time seems to go faster, as if I'm on a merry-go-round that someone is pushing. Life does have it's ups and downs, and we can choose to learn from the downs and savor the ups. In my year of food blogging there have been good recipes and the not so good recipes I've tried, but always learning happening. Let me be very clear about this recipe for coconut cream pie, it's definitely one of those GOOD recipes. A good pie can really turn one of the down times we experience in life a bit more bearable.  If you need something to take to a sick friend or to someone you love "just because", this pie is easy to make and delicious to eat.  Your friends and loved ones will be asking for the recipe and wondering how long you slaved over this fabulous pie.  Give them the recipe but let them believe you really did slave for them 😉 .
The pie crust I used for this recipe I shared in an earlier post and I love how the crust tasted and rolled out with ease. If you don't want to make your own crust then buy one and pre-bake it. I hope you give this recipe a try, I adapted it from my fellow blogger friend  Salad in Jar and her banana cream pie recipe.
Coconut Cream Pie
Ingredients:
2 1/4 cups milk any type meaning skim, 1%, 2% etc.
4 egg yolks
2/3 cup sugar
1/4 cup cornstarch
1/8 teaspoon salt
1 teaspoon vanilla bean paste or vanilla extract
1/4 teaspoon coconut extract (optional)
1/2 cup sweetened flaked coconut
2 tablespoons butter
1 1/2 cup heavy whipping cream
large
coconut chips
for top garnish
Directions:
Step 1: Blend together the milk, egg yolks, sugar, cornstarch and salt in a blender a few pulses until blended well, it's okay if there is foam it will go away when cooking.
Step 2:Pour the blended ingredients into a 8 cup microwave bowl. Set time for 7 minutes and begin cooking, stop the microwave each minute and stir well. The last 2 minutes stop at 30 second intervals and stir well.
Step 3: Stir the vanilla, coconut extract, coconut and butter into the filling. Let filling cool for few minutes in the bowl stirring every few minutes. After it's cooled down a bit pour the filling into the cooled pre-baked crust and cover with plastic wrap on top of the filling so it doesn't form a hard pudding crust on top. Put the pie into the refrigerator for 2- 3 hours until cold.
Step 4: After the pie is completely cold whip the whipping cream adding a tablespoon of granulated sugar while whipping and a 1/4 teaspoon vanilla if you like. Whip the cream until thick not soft peaks but be careful to not over whip so it turns un-spreadable. Spread whipped cream on top of pie then sprinkle with coconut chips. Put back into the refrigerator until ready to serve and keep leftovers covered and in the refrigerator.