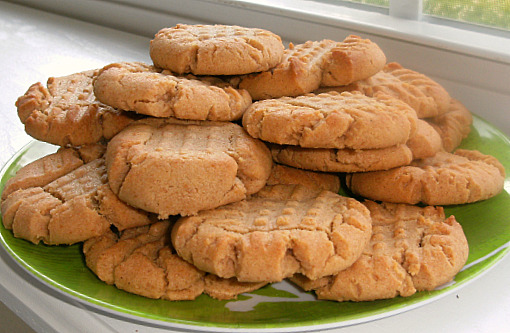 Can't go wrong with a good peanut butter cookie.  I don't make these enough usually the kids want chocolate chip but yesterday they were pleasantly surprised  with these yummy cookies.  I got the recipe out of the cook book "Where Hearts Gather" that I really enjoy because it's down home cooking.  The author of the cookbook gives all her family favorites from Grandma to herself.  I have tried many of the recipes all have been good.

Classic Peanut Butter Cookies
Ingredients:

1 cup shortening
1 cup brown sugar
1 cup sugar
2 eggs
1 tsp. vanilla
1 cup peanut butter
3 cups  flour
2 tsp. baking soda
1/2 tsp. salt
Directions:
Step 1: Cream shortening and sugars.
Step 2: Add eggs and vanilla; beat well.  Stir in peanut butter; mix well.
Step 3: Combine flour, soda, and salt.  Slowly add flour mixture to the creamed mixture until all combines.
Step 4: Roll into small balls place on cookie sheet and flatten with a fork making the crisscross pattern.
Step 5: Bake at 375 degrees for 8-10 minutes.
Makes:  4 dozen
If you click the picture it should take you to Amazon for a price and order info.