Welcome to the Citruslove Bloghop, I am happy to share with you this recipe and wonderful bloghop that you can be part of too, check down at the bottom for directions on that. Each month we focus on an ingredient and come up with our own recipes to share with all of you.  I couldn't be happier to have a citrus theme, there are so many ways to go with citrus and it was hard to choose what to do. I'm usually a dessert kind of girl but I thought since it is January I should fall into line with the rest of the population and try to make something light. My waistline needs a break from expanding during the holidays and could use some help slimming down :). This salad may look Summery to you but I couldn't help it I just got back from visiting my family for the holidays in So. California where it always feels so wonderful. But actually, the citrus is ripe and in season right now and so are the avocados. The strawberries are a stretch but they are always being grown in a greenhouse somewhere in Ca. My kids can never seem to get enough strawberries so I usually have them around if the price is decent. The mangoes were on sale at my grocery store so I grabbed that too, I know Summer huh, well not every one lives north of the equator you know:).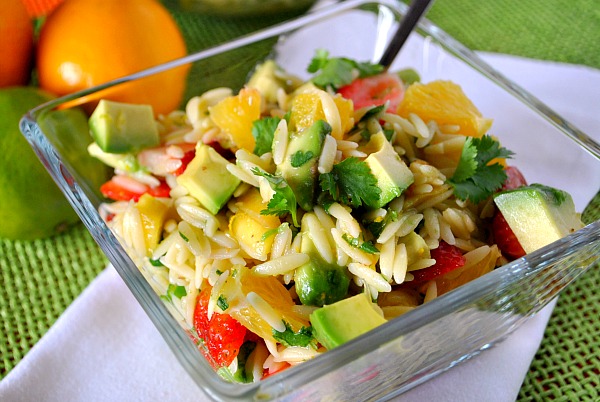 I really like how this salad tasted, light with citrus accents but the avocado, cilantro and onions are a must to me, they really give this salad some added freshness. I decided to use all three of my favorite citrus fruits orange, lemon and lime. I zested all three fruits with a fine zester not the type that makes the long thick strips, although if that is the only zester you have you could then chop the strips finely. When the fruit zest is so fine and stirred well with the oil, it almost dissolves and gives the oil a nice flavor. I chose to make the vinaigrette by hand but you could also use a blender to save time and if you have those who don't enjoy the large leaves of cilantro and green onion then throw those in the blender with the rest of the vinaigrette ingredients and it will get blended smooth and they won't notice. Some people do not like cilantro at all so try a substitute flat leaf parsley instead, it will lend a different flavor but still a freshness from an herb that this salad needs. I thought of some other possibilities to add to the salad, poppy seeds are a no brainer that I didn't think about till after, just add a teaspoon to the vinaigrette. Some sliced almonds or blanched almonds would give a nice crunch and texture to the salad plus wonderful flavor. Well I hope you give this recipe a try and make it your own by using the fruits you love.
Here is a list of the lovely Hosts of this bloghop please give them some love and say hello!


Citruslove Bloghop: Light Fruity Orzo Salad with Citrus Vinaigrette
Ingredients:
3 oranges one zested and juiced, 2 peeled and chopped
1 lemon zested and juiced
1 lime zested and juiced
1/4 cup olive oil
1/4 cup rice wine vinegar
1 tsp. salt
3 T. agave nectar or honey
crushed white pepper corns to equal 1 tsp.
1 cup orzo pasta, cooked
2 avocados chopped
1 mango chopped
10 strawberries sliced(ADD RIGHT BEFORE SERVING OR SALAD STAINS RED)
1/2 bunch of cilantro chopped
1/2 cup chopped green onion
Directions:
Step 1: Cook pasta according to box directions.
Step 2: While pasta is cooking make the vinaigrette by zesting the fruit first into a medium size bowl, then add the oil, salt, pepper and stir well. While stirring mix in the juice of the orange, lemon and lime then add the agave. Taste for seasoning and adjust to your liking then set aside.
Step 3: Peal and chopped the oranges, avocado and mango and lightly toss together to coat the avocado so it won't turn brown.
Step 4: Chopped the onions and cilantro trying to leave out the large stems and put with the fruit. Slice strawberries and add to the other fruit.
Step 5: After the pasta has cooked and cooled add it to the fruit and toss lightly. If you use warm pasta the oil and vinegar will get soaked up in the pasta making it dry.
Step 6: Pour 3/4 of the dressing over the salad and toss lightly to coat. Reserve the rest of the dressing for later. Now refrigerate a few hours. Pour the remainder of the dressing on right before serving and lightly toss.
Serves: 6-8
Please join in on the #citruslove fun by linking up any citrus recipe from the month of January 2012. Don't forget to link back to this post, so that your readers know to come stop by the #citruslove event! The twitter hashtag is #citruslove :).