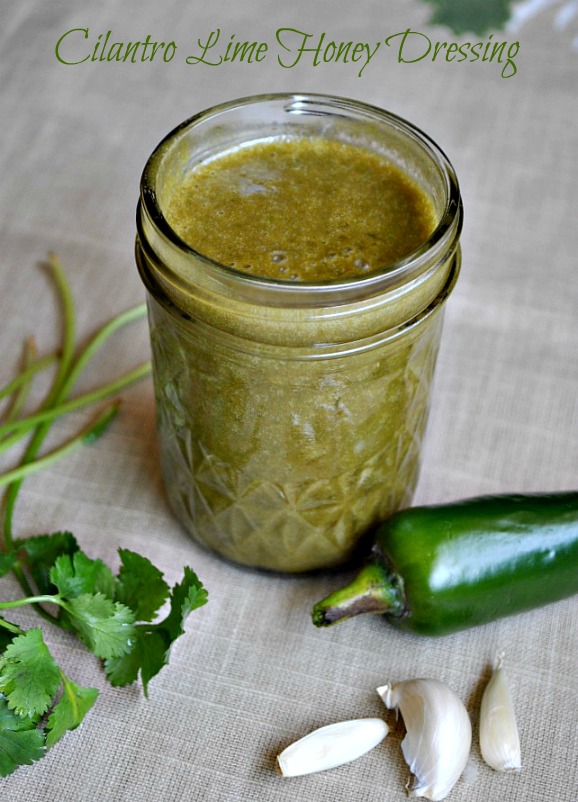 My friend Maria is a great cook and she made this dressing that I'm sharing with you. She first shared it with us on The Mother Huddle but I hadn't tried it until recently and I thought my readers might love this recipe as much as I did. If you like heat then just leave in the seeds and veins in the jalapeno or take it our if you don't. I really liked the smokiness from cumin and the fresh taste of lime and cilantro followed by the sweetness from the honey. I know you will love this recipe if you like those flavors so give it a try and come back to see what I've made with it.

Cilantro Lime Honey Dressing
Ingredients:
1 jalapeno, chopped and seeded if you don't want it spicy
2 cloves garlic, chopped or crushed
1/4 cup fresh lime juice,1 or 2 large limes depending on how juicy they are
2 tsp balsamic vinegar
1/3 cup honey
1/4 tsp cumin
1 handful cilantro leaves, about a 1/4 cup…try not to use the stems it will make it taste soapy
Salt to taste, about 1/2 tsp
1/2 cup canola or olive oil
Directions:
Step 1: Place all ingredients except cilantro and oil in blender, pulse until well blended, add cilantro and pulse a few more times
Step 2: With blender on, slowly pour in oil until mixture maintains a dressing like consistency. (If using a food processor, start by pulsing the jalapeno and garlic before adding liquid.) Makes about 1 cup.
Serve: or over a salad, use as a marinade for chicken or come back for my next post and I'll show you what I made with it.