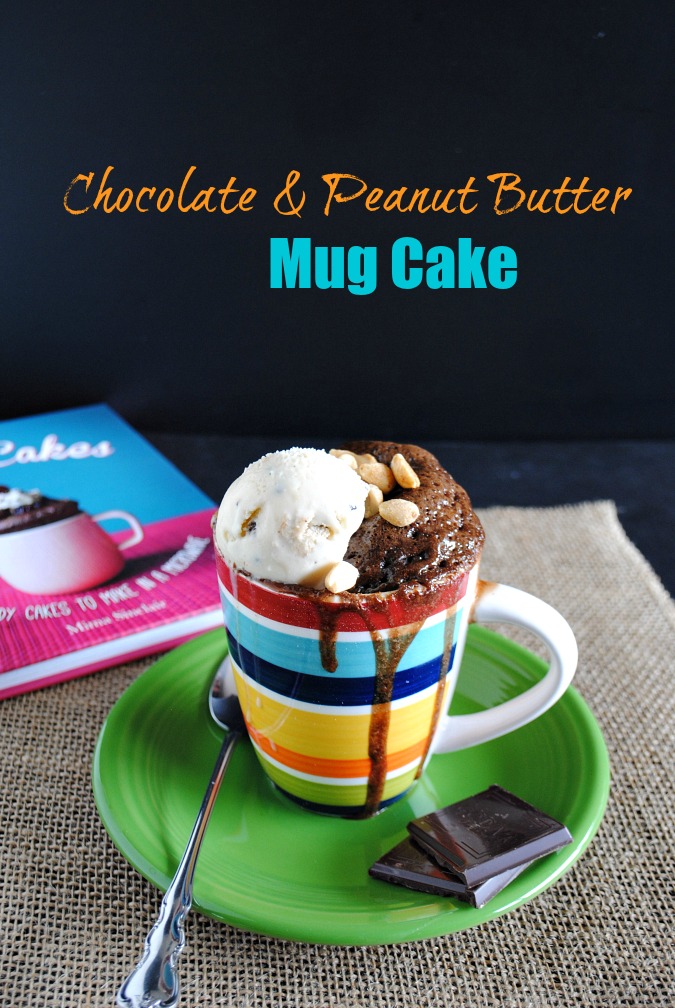 Isn't this little mug calling your name, with the chocolate ooozing out the sides and a scoop of ice-cream with peanuts?Chocolate and peanut butter are just so good together you really can't go wrong here.  Now,  do you have just 5 minutes to spare? Well, in the amount of time it takes you to read this entire blog post you could be enjoying this delicious chocolate peanut buttery mug cake. It's true, if you have 5 minutes and a microwave you can make this cake so keep reading.
I was asked to review this lovely little cookbook called Mug Cakes by Mima Sinclair and tell you all about it. The cookbook is full of 40 different cakes to make in your microwave in under 5 minutes. The photos are mouthwatering, the recipes are simple to read and make. There is a recipe in this book for everyone too, gluten free, dairy and egg free, chocolate, fruit, dessert and even breakfast. Looking through this cute cookbook, I had a hard time deciding what I wanted to make but guess what….? no big deal, it's only one serving so you can try one a day if you want. I like the idea of making just one serving for when it's just me and my husband enjoying a movie at home and I can quickly make two of these and not have leftovers. If you are single or a college student what a perfect cookbook to have handy.  Gift giving season is coming pretty quickly and I know a my daughter and her roommates would love to have Mug Cakes cookbook.  Put this cookbook on your list of must haves this year and try out the 40 different cakes and don't feel guilty, it's only one serving!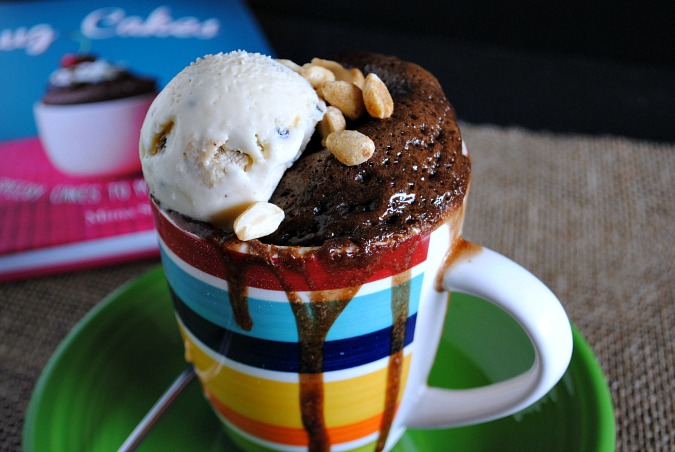 Chocolate Peanut Butter Mug Cake
Ingredients:
2 tablespoons butter softened
1 1/2 oz. dark chocolate, finely chopped
1 large egg
2 tablespoons 2% milk
3 tablespoons superfine sugar
3 tablespoons all-purpose flour
1/4 teaspoon baking powder
pinch of salt
2 tablespoons creamy peanut butter divided
1 tablespoon salted roasted peanuts chopped, (optional)
Directions:
Step 1: Place the butter and chopped chocolate into a 1 1/2 cup mug and microwave for 10-20 seconds until melted.
Step 2: add the egg and milk to the mug and beat with a fork until combined.
Step 3: Add the sugar, flour, baking soda, and salt and beat again until smooth. Add one tablespoon of the peanut butter on top, do not mix in, as it cooks it will sink down to the bottom of the cake and create a gooey center.
Step 4: Cook in the microwave for 2 minutes 20 seconds @ 600W, 2 minutes @800W, and 1 minute 40 seconds @1000W.
Step 5: When the cake comes out top with remaining peanut butter and chopped nuts and enjoy. I would also add a scoop of your favorite ice-cream to this cake too, it's so good.