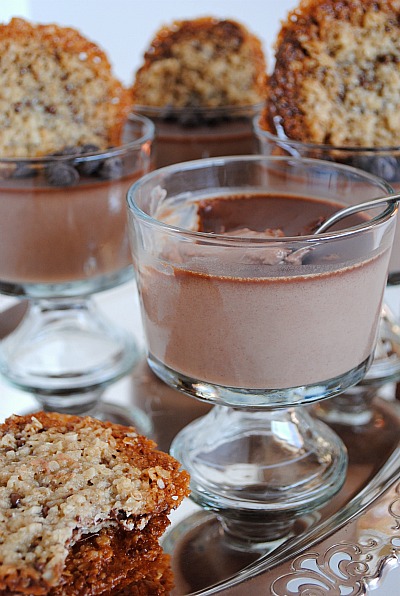 The Daring Bakers Challenge was refreshingly simple this month, thank you Mallory from A Sofa in the Kitchen for choosing a different dessert I would not normally be inclined to make . Panna Cotta is a Italian pudding type dessert paired with a crunchy crispy florentine oatmeal cookie slathered with any of your favorite spread.  I choose to make the chocolate panna cotta which to those who know me is no surprise.  As for the florentine cookies nutlella seemed the perfect spread  for sanwiching in beetween these crispy cookies.
The chocolate in the panna cotta was just the right amount, not too chocolaty(no such thing in my world),  but sweet enough.  The texture of the dessert was velvety smooth, the smooth chocolaty texture with a nutella crunchy oat-y cookie and well "heaven"! What a great dessert to impress your friends and family with, and a bonus you can make it the day before so you can spend more time relaxing with your guests.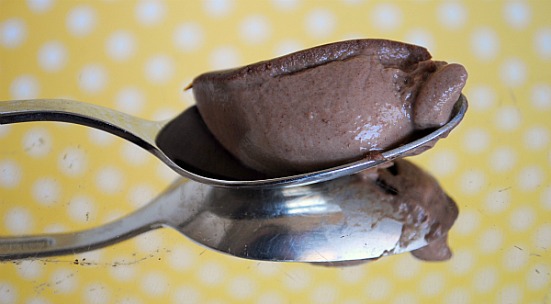 Chocolate Panna Cotta & Florentine Cookies – A Daring Bakers Challenge
Recipe adapted from 
Bon Appetit
Ingredients:
1 cup (240 ml) whole milk
1 tablespoon (15 ml) (7 gm) (¼ oz) unflavored powdered gelatin
2 cups (480 ml) whipping cream (30+% butterfat)
½ cup (115 gm) (4 oz) sugar
¾ cup (145 gm)(5 oz) bittersweet or semisweet chocolate
½ teaspoon (2½ ml) vanilla extract
Directions:
Step 1: Pour milk into a small bowl, sprinkle gelatin over the top, set aside for 2-5 minutes
Step 2: Place a medium saucepan over medium heat, stir in cream, sugar and vanilla. Bring to a low boil.
Step 3: Add chocolate and whisk until melted. Whisk the milk/gelatin mixture into chocolate cream mixture. Whisk until gelatin has dissolved.
Step 4: Transfer to ramekins, nice glasses or dessert cups for serving.
Step 5: Cover and chill at least 8 hours, or overnight
Nestle Florentine Cookies
Ingredients:
2/3 cup (160 ml) (150 gm) (5.3 oz) unsalted butter
2 cups (480 ml) (160 gm) (5 2/3 oz) quick oats
1 cup (240 ml) (230 gm) (8 oz) granulated sugar
2/3 cup (160 ml) (95 gm) (3⅓ oz) plain (all purpose) flour
1/4 cup (60 ml) dark corn syrup
1/4 cup (60 ml) whole milk
1 tsp (5 ml) vanilla extract
pinch of salt
1½ cups (360 ml) (250 gm) (9 oz) dark or milk chocolate
Directions:
Step 1: Preheat oven to  375°F (190°C)  Prepare your baking sheet with silpat or parchment paper.
Step 2: Melt butter in a medium saucepan, then remove from the heat.
Step 3: Add oats, sugar, flour, corn syrup, milk, vanilla, and salt to melted butter, mix well.
Step 4: Drop a tablespoon full, or ( use a small scooper) three inches (75 mm) apart, onto your prepared baking sheet. Flatten slightly with the back of your tablespoon, or use a spatula.
Step 5: Bake in preheated oven for 6-8 minutes, until cookies are golden brown. Cool completely on the baking sheets.
Step 6: While the cookies are cooling melt your chocolate until smooth either in the microwave (1 1/2 minutes), or stove top (in a double boiler, or a bowl that fits atop a saucepan filled with a bit of water, being sure the water doesn't touch the bottom of the bowl).  Skip this step if going to a use a prepared spread such as nutella.
Step 7: Peel the cookies from the silpat or parchment and cool on a wire rack.

Step 8: Spread a tablespoon of chocolate or prepared spread on the bottom/flat side of your cookie, sandwiching another (flat end) cookie atop the chocolate.
This recipe will make about 2 1/2 – 3 dozen sandwiched Florentine cookies.
Notes & Tips:
Don't want to put a filling in between your cookies then drizzle the tops with chocolate or white chocolate.
Try using  frosting to sandwich in between cookies.
I didn't like how the cookies were not evenly browned .
I didn't use dark corn syrup in the cookies  because I was out, I think the taste and color would be better had I used it.
I bake the cookies on both parchment paper and Silpat sheet, the Silpat cooked more evenly.
For a crowd of people try using shot glasses for the panna cotta