Pin It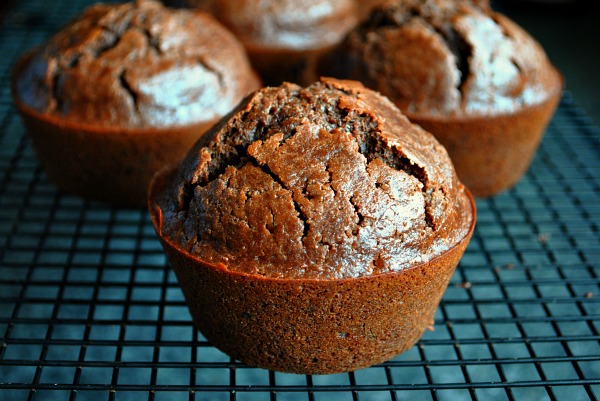 Who believes that there is such a thing as muffins? Well, keep telling yourself that because it seems easier on the conscious to eat cake for breakfast ;). I like to think these little chocolate chunk cupcakes are muffins so that is what I'm sticking with. If you have a craving for chocolate then this is the blog hop to be a part of, you will want to bookmark this so that you can use it for a chocolate reference for the future. I am so glad to be a part of this wonderful group of bakers/bloggers who turn out beautiful and delicious food not only once a month but daily, so don't forget to show some chocolate love and check out the other foodies recipes.
I am a chocolate lover and I have to eat it daily even if it's just a handful of chocolate chips, I have grown to love dark chocolate over the years and now health professionals are even saying it's good for you, gotta love that. I wanted to try a baking recipe that had ricotta cheese since I have been seeing some recipes with it and I wondered how well it works, that's when I found this recipe from Joy of Baking.  If you haven't been to Stephanie's site you need to check out all the wonderful recipes she has, wow! The recipe I used here is fabulous, I made some minor changes, I used chocolate chunks instead of chocolate chips and sifted all my dry ingredients to get any lumps out. I'm here to tell you that these muffins are really good, they have a great texture, they are dense and chocolaty but not too heavy feeling. The sweetness in these muffins is just right for a guilt free breakfast. The only thing I would change the next time I bake them would be to use half cake flour to get a lighter muffin and maybe some cinnamon and nuts, I like the flavor of cinnamon with my chocolate.
Chocolate Love~Chocolate Chunk Ricotta Muffins
Ingredients:
1 cup ricotta cheese (239 g.)
2 eggs 1 1/3 cup milk (298 g.)
1 T. vanilla extract
4 T. unsalted butter melted and cooled (54 g.)
2 cups flour (260 g.)
1 1/4 cup sugar (250 g.)
2/3 cup unsweetened cocoa powder(60 g.)
2 tsp. baking powder
1/2 tsp. salt
1 cup chocolate chunks or chocolate chips
Directions:
Step 1: Pre-heat oven to 350 degrees Fahrenheit. Spray a large muffin pan(6 muffins) with cooking spray, or use a regular 12 muffin pan sprayed with cooking spray or use baking cups.
Step 2: In a medium size mixing bowl whisk the ricotta cheese with eggs until well mixed. Whisk in milk, butter and vanilla and set aside.
Step 3: In a large mixing bowl sift all the dry ingredients together to get out any lumps. Stir together the dry ingredients so the cocoa powder is incorporated well.
Step 4: Add the milk mixture to the dry ingredients and stir just until combined, do not over mix, then fold in chocolate chips.
Step 5: Fill the muffin cups 3/4 full because of the ricotta being heavier they will not rise as high as normal muffins would, so they need to be filled 3/4 full.
Step 6: Bake for 30 minutes if using large muffin pan, if using a regular muffin pan bake for 20 minutes or until toothpick inserted comes out clean. When the muffins come out of oven let cool in pan for 10 minutes then turn out onto cooling rack. Enjoy!
Makes: 9 large muffins or 16 regular size muffins.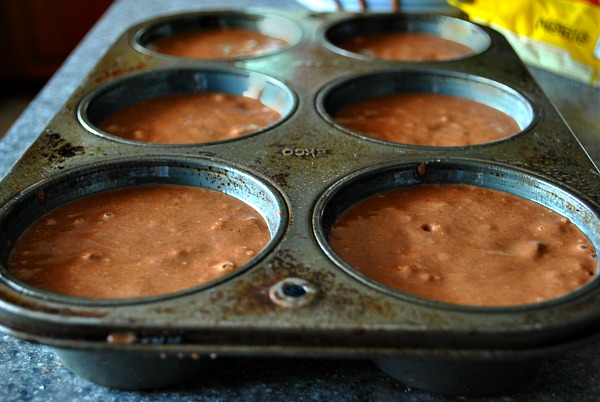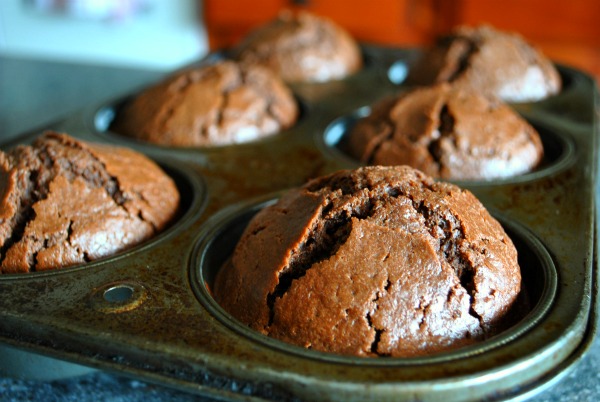 Co-hosted with: A Little Bit of Everything ~ Roxana ~ @RoxanaGreenGirl ASTIG Vegan ~ Richgail ~ @astigvegan Badger Girl Learns to Cook ~ Kimberly ~ @BdgrGrl Baker Street ~ Anuradha ~ @bakerstreet29 Baking and Cooking, A Tale of Two Loves ~ Becky Higgins Baking Extravaganza ~ Samantha BigFatBaker ~ Erin ~ @BigFatBaker Bon a croquer ~ Valerie ~ @Valouth CafeTerraBlog ~ Terra ~ @CafeTerraBlog Cake Duchess ~ Lora ~ @cakeduchess Cakeballs, Cookies and More ~ Sue Cooking with Books ~ Marnely ~ @nella22 Creative Cooking Corner ~ Karriann ~ @KarriannGraf Easily Good Eats ~ Three Cookies Elephant Eats ~ Amy Georgiecakes ~ Georgie ~ @georgiecakes Hobby And More ~ Richa ~ @betit19 Java Cupcake ~ Betsey ~ @JavaCupcake Kitchen Belleicious ~ Jessica Mike's Baking ~ Mike ~ @mikesbaking Mis Pensamientos ~ Junia ~ @juniakk No One Likes Crumbley Cookies ~ TR ~ @TRCrumbley Oh Cake ~ Jessica ~ @jesshose Rico sin Azucar ~ Helena ~ @ricosinazucar Savoring Every Bite ~ Linda ~ @Spicegirlfla Simply Reem ~ Reem ~ @simplyreem Smart Food and Fit ~ Lisa ~ @LisaNutrition Soni's Food for Thought ~ Soni ~ @sonisfood Sprint 2 the Table ~ Laura ~ @Sprint2theTable Teaspoon of Spice ~ Deanna ~ @tspbasil That Skinny Chick Can Bake ~ Liz ~ @Thatskinnychick The Dusty Baker ~ Jacqueline ~ @dustybakergal The More Than Occasional Baker ~ Ros ~ @bakingaddict The Spicy RD ~ EA ~ @thespicyrd The Wimpy Vegetarian ~ Susan ~ @wimpyvegetarian Vegan Yack Attack! ~ Jackie ~ @veganyackattack Vegetarian Mamma ~ Cindy ~ @VegetarianMamma You Made That? ~ Suzanne ~ @YouMadeThatblog
Please join in on the #chocolatelove fun by linking up any chocolate recipe from the month of February 2012. Don't forget to link back to this post, so that your readers know to come stop by the #chocolatelove event! The twitter hashtag is #chocolatelove :).