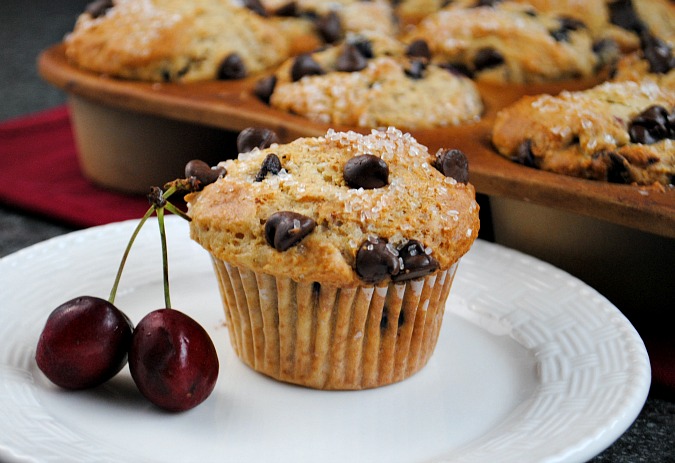 Happy Summer, cherries are in season and they are so good. If you are a cherry and a chocolate lover then this is the post for you because I'm joining my friend
Roxana's Chocolate party
and this months ingredient to use with chocolate is cherries. These chocolate chip cherry muffins are a great treat to have around for breakfast or for snacking. They freeze really well so you can get them out at a moments notice, pop one into the microwave and it tastes just like you got it out of the oven. I like to think I eat healthy from time to time so the use of wheat pastry flour, flax meal, greek yogurt and only a little oil in these muffins helps me feel like these muffins are healthier than the average muffin. I adapted the recipe from my friend Erin's recipe for
buttermilk chocolate chip muffins
.
I recommend you check out all the chocolate cherry recipes from the chocolate party you'll be amazed. If you are interested in joining the party then please do, just follow a few simple rules. The chocolate party is headed up by Roxana's Home Baking and the rules are easy:
The recipe must be a new one.
The recipe must include the secret ingredient.
Include a link back to this post or the Chocolate party page. Optional, add the Chocolate Party logo in your blog post or on your sidebar.
For more information on the chocolate party check out my friend and organizer of the party Roxana at Roxana's Home Baking.
We also have a Facebook Group Page and Pinterest Group go see all the other delicious chocolate recipes and get inspired to make something sinful.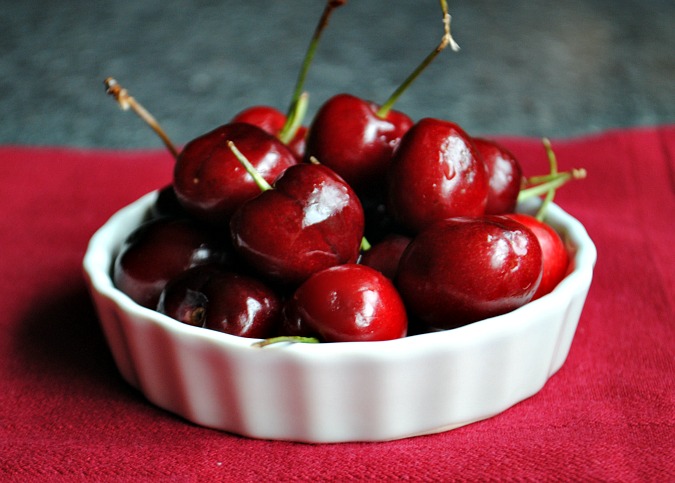 Chocolate Chip Cherry Muffins
Ingredients:
1/2 to 3/4 cup granulated sugar
1 cup low-fat buttermilk
1/3 cup Greek style plain yogurt
3 tablespoons of vegetable oil
1 egg
1 teaspoon real vanilla extract
1 cup whole wheat pastry flour
1 cup all-purpose flour
2 teaspoons baking powder
1 teaspoon baking soda
1/2 teaspoon salt
3/4 cup chopped fresh cherries
1 1/4 cup chocolate chips divided
large sugar crystals for garnish
Directions:
Step 1: Preheat oven to 350 degrees F. Prepare 12 cup muffin pan by either spraying with cooking spray or using paper liners like I did. No need to spray liners.
Step 2: Wash, pit and chop the cherries and set aside.
Step 3: Mix together the first 5 ingredients in a small bowl.
Step 4: In a medium large bowl stir together the dry ingredients except chocolate chips.
Step 5: Add the wet ingredients to the dry ingredient and stir until just moistened. Fold in cherries and 1 cup of chocolate chips.
Step 6: Fill muffin pan or paper liners to 3/4 full. Sprinkle 1/4 cup of chocolate chips evenly on the muffin batter then sprinkle each muffin with the large granules of sugar. Bake for 25 minutes. Let cool in pan for 5 minutes then gently lift out with a dull butter knife to cool completely on cooling rack.