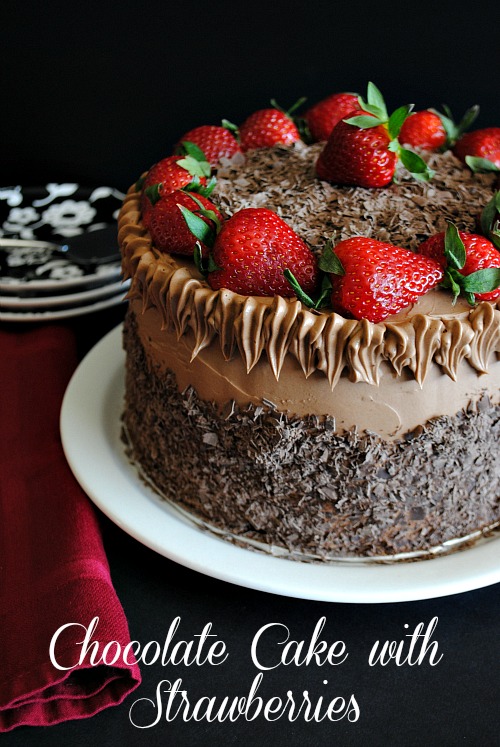 It's Mother's Day weekend and I'm really happy to be with my mom because I can't remember the last time I was with her on Mother's Day. We live too far away from each other and only get to see each other a few times a year. Mother's Day is a time to reflect on all the things our mothers have done for us. I was so fortunate to have a wonderful mother who I have learned so much from. She taught me so many things by her example it's hard to pick out all the things, but if I had to pick one thing I think I learned empathy for others by serving them.  My mom took care of her aging parents for 10 years while she herself had many health issues. My grandparents lived a very good life in their later years because of her great care of them, while she sacrificed her own health and needs. For years the rest of us begged her to put my grandparents in a nursing home but she refused until it was absolutely necessary. My grandmother fell and broke her hip and so she had to go to a nursing home. While my grandmother was in the home, my mom took care of my grandfather in the day and at night she had someone stay with my grandfather. Instead of going home mom would stay most of the night in the nursing home making sure the staff took care of her mom. What devotion and love she had for her parents and I hope I can reciprocate the same for her and my Dad.
Mom is a very good listener and almost anyone who knows her begins to tell her all of their troubles because she listens and doesn't judge. I still call my mom about my most difficult problems to get her advice, I love that my mom is my biggest cheerleader and fan. I admire so many of her qualities and I feel very blessed to have her as my mom and as my best friend. I am making this wonderful cake for my mom this year because she is a chocoholic and requested this on Mother's Day. I hope all the mother's have a wonderful Mother's Day and many more to come.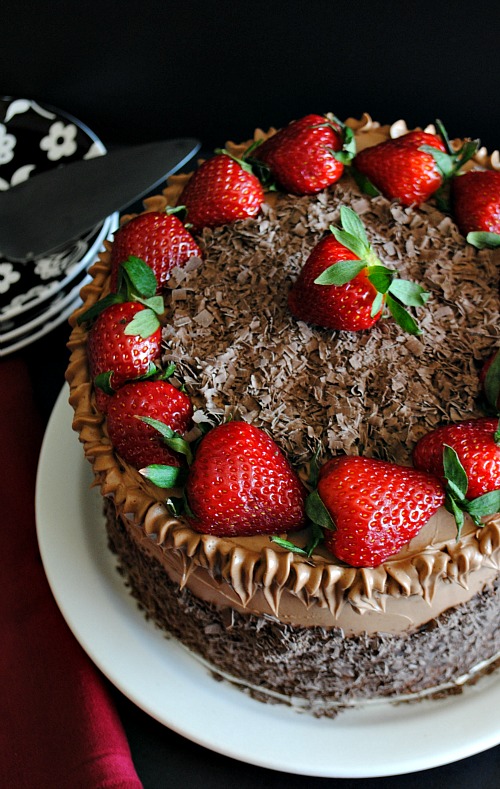 The cake recipe I used is an adaption from these chocolate cupcakes that my family just loves. The chocolate cake is moist with a wonderful crumb texture. Enjoy this delicious chocolate cake that you will not soon forget.
Chocolate Cake with Chocolate Swiss Meringue Buttercream and Strawberries
Ingredients for cake:
2 cup of flour
1/2 cup cocoa powder like Ghirardelli or Hershey's
2 1/2 tsp. baking soda
1/2 tsp. salt
2 egg
1 cup firmly packed light brown sugar
1 cup granulated sugar
1 cup + 4 T. buttermilk
2/3 cup of hot boiling water
2 tsp. pure vanilla extract or chocolate extract
1 cup of unsalted butter melted
Ingredients for Frosting:
2 1/2 cups granulated sugar
10 large egg whites
2 lbs. unsalted butter at room temp. cut into pieces
2 tsp. pure vanilla
Ingredients for Garnish:
Fresh Strawberries washed and cut in half
4 oz. chocolate bar grated or curled
Directions:
Step 1: Prepare three 8 inch round cake pans by spraying with cooking spray or greasing with butter then lining the bottom of the pans with parchment paper.
Step 2: Sift together the flour, cocoa, salt and baking soda into a large mixing bowl.
Step 3: In a small bowl whisk together the sugars and egg.  Whisk in milk, melted butter, water and vanilla.
Step 4: Whisk the wet into the dry ingredients until blended.
Step 5: Pour the batter evenly into the pans bake at 350 degrees for 35-40 minutes or until a cake tester comes out clean.
Step 6: Cool on cooling rack for 10 minutes then turn out of pan and cool completely.
Step 7: While the cakes are cooling make the frosting. I use Martha Stewart's recipe for Swiss meringue buttercream then add 8 oz. of melted and cooled semi-sweet or bittersweet chocolate, so please pop over there to learn her method of what I believe is the best frosting.  This frosting is perfect for the cake because it's buttery but not overly sweet.
Step 8: Put one cake on a cake platter and frost, then put the next layer on and frost, finally the last cake on top.
Step 9: Grate or shave chocolate with vegetable peeler. Put a piece of wax paper down and gently but quickly take handfuls of the shaved chocolate and press up against the sides of the cake. Put leftover chocolate on the top of cake.
Step 10:If you want to add the top border then you will need a star tip and pastry bag with coupler and ring. Here is a video I found on different borders you can make with the star tip.  If you plan to do the border I did then fill the bag with the frosting and with even pressure start the star at top edge and pull down lessening the pressure as you pull it down, continue around the cake trying to stay even. When you are done decorating the cake put it into the refrigerator until  about 30 minutes to and hour before you are ready to serve.
Serves: 12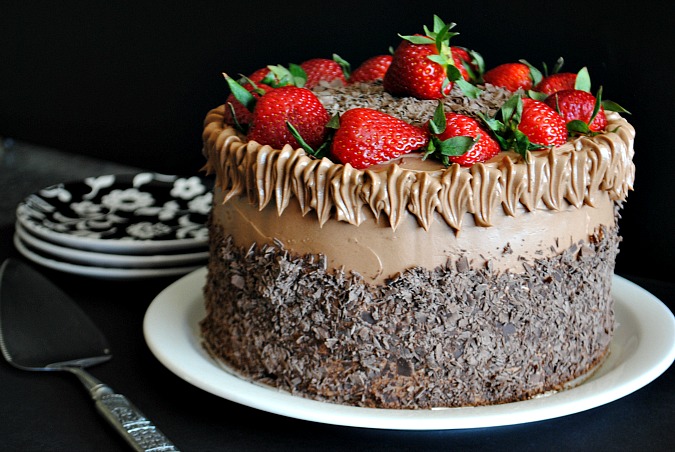 I'm sharing this cake with
Roxana's Chocolate Party
so please check out all the other wonderful chocolate and strawberry recipes this month or join the
chocolate party
now or in the future.