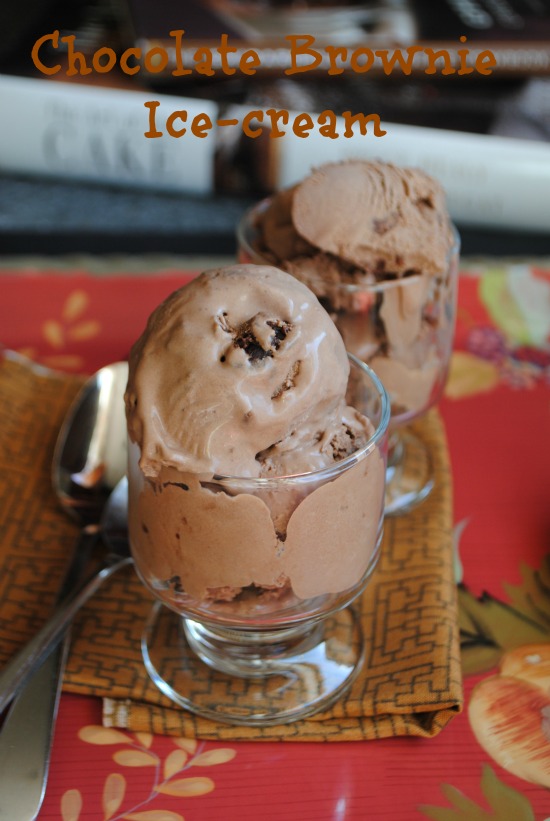 I am in love with this ice-cream, in my opinion it's perfectly rich, creamy, chocolaty and it has chunks of homemade brownies. It is the month of love since we have Valentine's day on the calendar this decadent ice-cream would be a nice way to celebrate with your loved ones, that is if you want to share. I had a big urge to eat the whole batch of this ice-cream but re-framed from doing so and my hips thanked me 🙂 but my chocolate tooth was disappointed.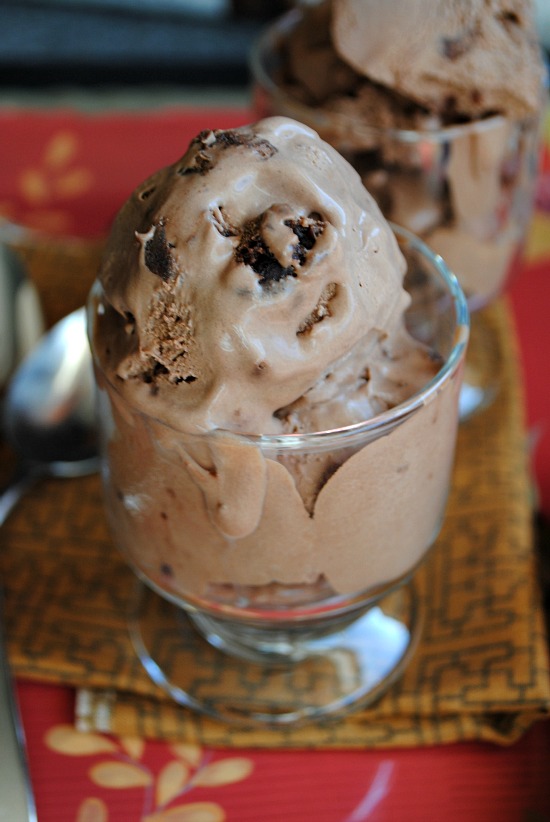 This month I'm joining a group of bloggers who all love chocolate so much that each month they have a chocolate party headed up by Roxana's Home Baking and devote a recipe post to chocolate but not without a twist. Each month a secret ingredient is to be used with the chocolate recipe. It just so happens joining them in Feb. the secret ingredient was more CHOCOLATE, yes double chocolate! That is why I came up with the chocolate brownie ice-cream because it definitely meets the requirements of double chocolate.  The decadent ice cream is just fine on it's own, but add these homemade double chocolate brownie bites and it goes over the top. Making this recipe does take a little planning since you will need to make the the brownies first. The ice cream will need a few hours in the freezer to firm up completely unless you are making this to eat immediately. If you begin this recipe in the morning by evening it should be good to go.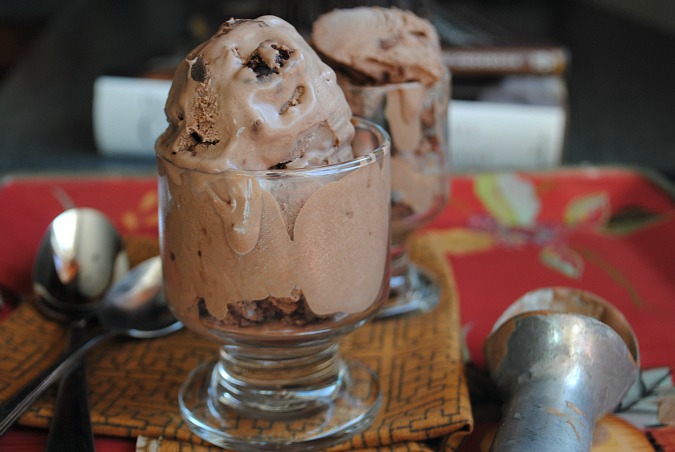 Chocolate Brownie Ice-Cream- #chocolateparty
Ingredients:
4 ounces 85% Cacao Extra Bittersweet Chocolate Baking Bar
3 large egg yolks
1/4 cup granulated white sugar
1 1/2 cups heavy cream
1/2 cup milk
1 teaspoon pure vanilla extract
Brownie Ingredient: recipe I adapted here
1/2 cup all purpose flour
1/2 cup cocoa powder
1/2 tsp. kosher salt
1/4 tsp. baking powder
1/2 cup unsalted butter
1 cup granulated sugar
1 Tbsp. light corn syrup
2 large eggs, at room temperature
1 Tbsp. vanilla extract
1/2 cup semisweet chocolate chips
Directions for Brownies:
Step 1: In a medium size bowl, whisk together the flour, cocoa, salt, baking powder, and set aside.
Step 2: In a large saucepan, melt the butter, remove the pan from the heat, and whisk in the sugar and corn syrup. Add in the eggs one at a time, whisking until well combined, stir in the vanilla extract.
Step 3: Add the dry ingredients into the pan, and fold with a spatula until the flour has been incorporated.
Step 4: Line 8 inch square pan with parchment paper and pour the batter in, smooth the top with your spatula, and bake in middle rack of oven for about 25 minutes, until a toothpick inserted in the center comes out pretty clean. Let the brownies cool on a rack before cutting them.
Step 5: When brownies are cool cut into squares. Cut a few brownies into small pieces to equal 1/2 cup and put into a ziploc bag and freeze until ready to add to the ice cream.
Directions for ice cream:
Step 1: In a medium size bowl, whisk together the egg yolks and sugar and set aside.
Step 2: In a medium size saucepan, heat the cream, milk, and chocolate over medium heat, whisking frequently, until the chocolate melts and the mixture is hot but not boiling. Pour this hot mixture into the egg yolk mixture whisking constantly so that you don't scramble the eggs, then return the mixture to the pan.
Step 3: Heat over low heat to 170°F, or until the mixture coats a spoon, stirring constantly. Strain the chocolate mixture in a fine seive into a bowl and whisk in the vanilla. Cool the mixture in the refrigerator or cool by setting in a bowl of ice, whisking frequently.
Step 4: Freeze in an ice-cream freezer according to the manufacturer's directions until the ice cream is almost done now add a half cup of brownie chunks to the ice cream and let them get fully mixed in. Transfer to a plastic container and store in the freezer. Makes 1 quart.
This ice cream is best if eaten the same day it is made. If it is frozen, let soften in the refrigerator for about 20 minutes before serving. I adapted the recipe from Ghirardelli chocolate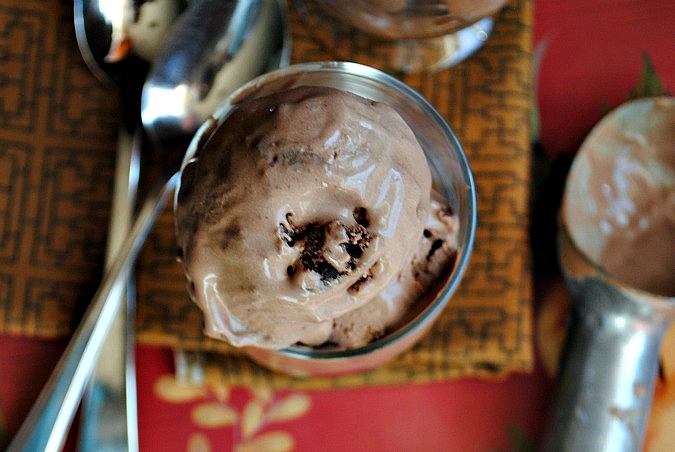 If you are wanting to join this wonderful group of bloggers then link your recipe up, it has to be a new recipe and must have double chocolate for the month of February. Please post the chocolate party logo as well.