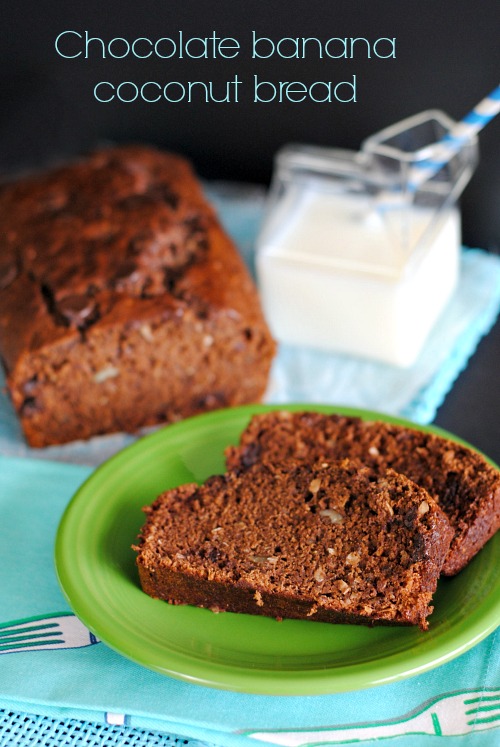 Banana bread has got to be the most popular quick bread ever, I know because this is my fourth variation, and it's beloved by almost everyone, so why mess with it right? It's my love for chocolate that beckons me to change regular banana bread and add chocolate to it without reservation. Chocolate is a little bit of heaven on earth to me… and it pairs so well with bananas, it's almost like peppers and onions together, I would have said peas and carrots but peas are "ehh" to me :). I couldn't leave the chocolate banana bread alone without one more tweak because I wanted to join the chocolate party this month with other fellow bloggers and the secret ingredient to use with chocolate is coconut! It's a good thing I love coconut too, because I had no problem adding it to this yummy bread.   Coconut gives a nice chew and soft texture to this bread, I'm sure you will love it.  I don't have coconut loving kids but that's okay this bread makes 2 loaves so I can add the coconut at the end if I want after I've already poured one loaf into a pan.  If you have the same problem then be sure to half the coconut.
New to the chocolate party? Would love for you to join us! here's how it works!
Each month Roxana from Roxana's Home Baking, along with talented blogger friends, decide upon a secret ingredient to use in our chocolate sweets.
The recipes will be shared on the first Monday of each month and you can add your own recipes until the end of the month when the party is over and a new one is opened. You can submit up to 3 recipes each month.
To make sure everyone is having fun, there are a few rules you'll have to follow:
1) Blog about your chocolate treat. Your recipe must include the two ingredients we choose. It can be a simple no bake treat or a sophisticated layer cake, the complexity level of the recipe is totally up to you.
2) Include a link back to a monthly round-up or the Chocolate party page. Optional, add the Chocolate Party logo in your blog post or on your sidebar.
3) Your recipe must be published during the current month. Please do not link old recipes.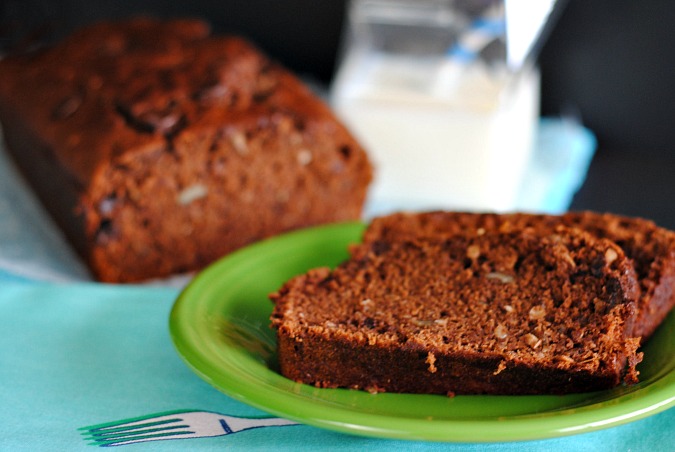 Chocolate Banana Coconut Bread
Ingredients:
1/2 cup coconut oil
1 cup brown sugar
1 cup granulated sugar
1 tsp. vanilla
2 eggs
4-5 ripe bananas mashed well
1 cup buttermilk
3 cups all purpose flour
1 1/2 tsp. baking soda
1 1/2 tsp. baking powder
1/2 cup unsweetened cocoa powder
1 cup shredded coconut
1 cup chocolate chips
1/2 to 1 cup chopped pecans
Directions:
Step 1: In a large mixing bowl,cream together the coconut oil with the sugars then add the eggs and vanilla mix well.
Step 2: Peel and mash bananas with a fork in small bowl and add to the sugar mixture and mix well.
Step 3: In another bowl sift all the dry ingredients together and add the chocolate chips and nuts as well, and coconut, stir well.
Step 4: Add the dry ingredients to the wet ingredients and stir well. Now add the buttermilk and stir well.
Step 5: Spray 2 large loaf pans, 1 small loaf pan and pour the batter evenly into each pan or make muffins with a muffins pan.
Step 6: Bake at 350 degrees Fahrenheit for about 50 min. or until a cake tester or toothpick comes out clean. When they the bread is done take out and let cool for 15 min., then run a knife around the edge of each pan and turn over onto a wire cooling rack. Turn right side up and continue to let cool.