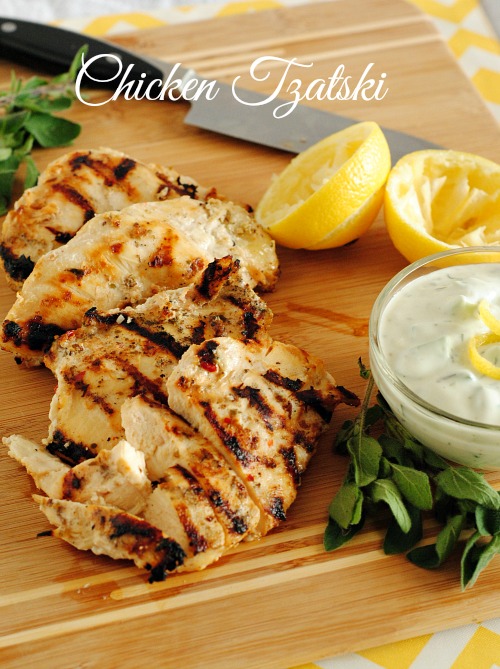 Greek marinated chicken with tzatski sauce is a fresh clean tasting way to eat your chicken. The lemon and Greek yogurt give the chicken a zing while tenderizing the chicken. The fresh herbs keep it earthy and delicious tasting. We are embarking on Spring weather so grilling outdoors will be happening soon, this recipe would be a good one to try. Having a grill isn't necessary though, you can us a grill pan too. If your wondering what to serve with this chicken try a Greek salad with olives, basil, tomatoes and feta cheese and maybe some couscous on the side. What I like about this chicken is it's healthy and packed full of flavor and that's what you need if your trying to eat healthy.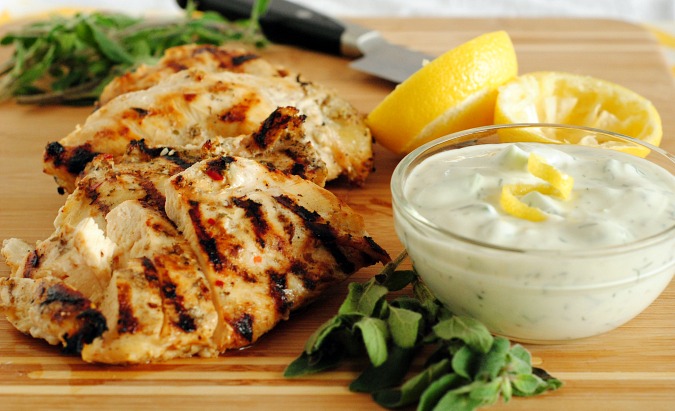 Chicken Tzatski
Ingredients:
Marinade-
1/2 cup plain nonfat Greek yogurt
1/2 cup fresh oregano leaves, chopped
1 onion grated
4 cloves garlic, minced
1 lemon zested and juiced
1/2 teaspoon red pepper flakes
4 skinless boneless chicken breast halves
1 tablespoon of canola oil
coarsely ground black pepper and salt
The Tzatsiki Sauce-
1/2 cucumber peeled, seeded and cult in half, then chopped
1/2 tsp. kosher salt
1 cups plain nonfat Greek yogurt
1/2 lemon juiced
1/2 tablespoon chopped fresh dill
1 garlic cloves minced
1/4 teaspoon fresh cracked pepper
Recipe adapted from: The Lemonade Cookbook
Directions:
Step 1: Mix the marinade ingredients together and put in a large gallon size ziploc bag then add chicken. Let set in the refrigerator overnight or for at lease 6-8 hours
Step 2: Prepare the sauce the day you will cook the chicken at least an hour before serving so the flavors can mingle. Mix all the sauce ingredients together in a small bowl and refrigerate.
Step 3: When ready to cook chicken, turn on grill to medium high or a grill pan on medium high. Take the chicken out of the ziploc bag getting all the excess marinade off so it will not burn. Season chicken with salt and pepper on both sides. Sear the chicken for 8-10 minutes, rotating them halfway through cooking time to give them the grill marks. Turn chicken over and grill the other side for the same as the first side. Serve with the tzatsiki sauce.