Chicken Enchiladas are one of my favorite meals, whether I make them or we go out to eat, enchiladas are a weekly occurrence.  I like enchiladas all different kinds of ways with red sauce, green sauce, cheese sauce and white sauce, you get the idea.  This chicken enchilada recipe is tasty, simple, not to heavy on the calories and goes together pretty quickly. Homemade guacamole goes so well with enchiladas try my recipe out, but you  might want to make enough for chip dipping too. Chicken enchiladas are a simple enough for a week night meal or for company, and you can be sure everyone will enjoy.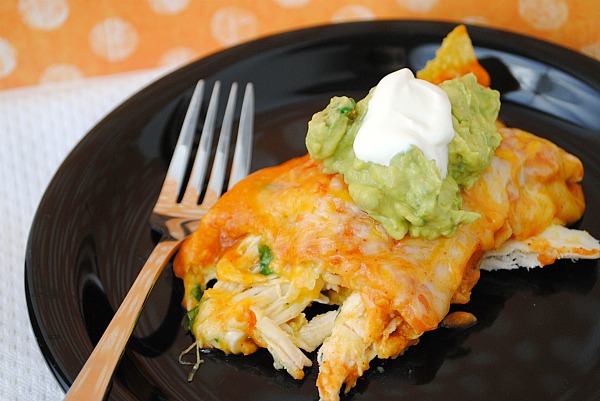 Ingredients:
2 large boneless chicken breast about 2 cups shredded
6 to 8 corn tortillas
2 cups of cheddar cheese
1 bunch of cilantro chopped
red enchilada sauce about 2 cups
cooking spray
sour cream for garnish
guacamole for garnish
Step 1: I usually cook my chicken slowly on the stove top in a medium sauce pan by adding water to cover chicken and bring to boil then simmer until done.  You could use rotisserie chicken or cook  your chicken in crock pot, bake or grill what ever you like to do.
Step 2: While chicken is cooking, prepare sauce according to package directions or use bottled or canned sauce.  I like to use a dry package mix  McCormick.
Step 3: When chicken is done set aside and let cool.  When cool, shred chicken and put into a medium size bowl.
Step 4: Chop cilantro leaves and add half to chicken  save some for guacamole if making and some for garnish.  Add 1 cup of cheese  and gently stir to mix.
Step 5: Prepare 11 X 7,  or 9 X9 pan by spraying with cooking spray.
Heat tortillas in the microwave to soften a bit. Now get a tortilla and spray one side with cooking spray (that side will be the outside of enchilada) set the sprayed side down flat and add a handful of chicken mixture.  Roll up and set in pan. Repeat until all tortillas are filled.
Step 6: Pour sauce over the top of enchiladas, then sprinkle rest of the cheese on top.  Cover with foil and bake at 350 degrees for 30 minutes.  Take foil off that last 6-7 minutes to brown cheese a bit.
Serves 4
Linked to: