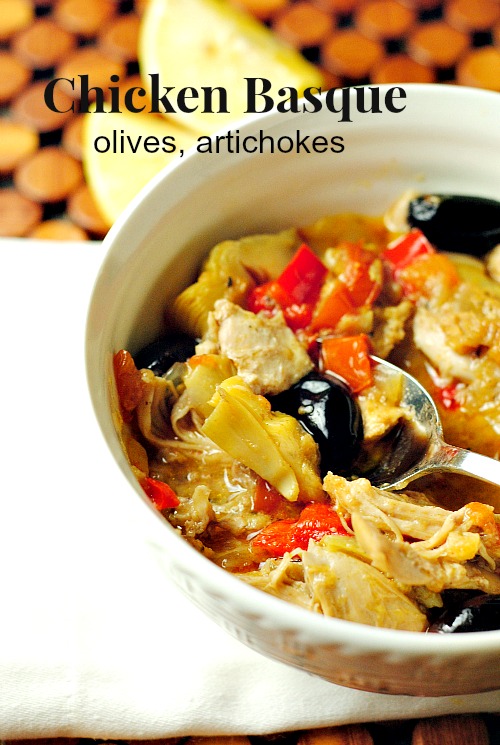 I received a wonderful cookbook to review from my home state of California called The Lemonade Cookbook. I was excited that this cookbook was from my home of Southern California and is from a unique restaurant call Lemonade, started by Alan Jackson. I haven't been to the restaurant because California has so many and I had not heard of this one yet, but you better bet on my next visit I will be heading there.  The restaurant is a modern take on the cafeteria but with a Southern California twist of healthy, fresh and fast with cuisines of many different ethnicities.  The cookbook has every type of cook in mind with vibrant photos, and  120 recipes simple to make at home and enjoy. The Lemonade cookbook would be a great gift for the home cook or aspiring cook for the upcoming holidays.
The weather has turned cold and I decided to give this braised chicken dish  a try and it took the chill off our bones and made the house smell amazing.  If you love tangy olives this recipe has plenty in it but they become mellow through cooking.  A wonderful tangy gravy develops from the braising so a nice chunk of sourdough  or  artisan crusty bread would make a perfect companion to this home style meal.  It would even be great served over rice or garlic mashed potatoes.
Chicken Basque, olives, artichokes (from The Lemonade Cookbook)
Ingredients:
4 pounds skinless, bone-in chicken thighs
2 teaspoons coarse salt plus more for seasoning
1 teaspoon fresh cracked pepper
1 teaspoon paprika (I used smoked paprika)
1/2 cup all purpose flour
1/4 cup canola oil (I used olive oil)
1 medium white onion large dice
4 garlic cloves, minced
1 bell pepper chopped
1/4 cup sherry vinegar
24 Manzanilla olives (green) pitted
24 Kalamata olives pitted
8 oz. jarred artichokes hearts, drained, rinsed and quartered
4 Roma tomatoes seeded and chopped
1 quart of low sodium chicken broth
lemon wedges for serving
Directions:
Step 1: Heat the oil in a large pot or dutch oven. In a shallow pan mix together the flour, paprika, salt and pepper then dredge the chicken shaking off the excess flour.
Step 2: Cook half the chicken on medium high heat for 4- 5 minutes on each side so that they get browned. Take out and set on a plate then cook the remainder of the chicken.
Step 3: Saute the onions, bell pepper and garlic together for about 3 minutes, then add the sherry vinegar getting all the bits scrapped from the bottom.
Step 4: Add the olives, tomatoes, artichokes, and broth to the pot then, add the chicken back and nestle them in between. Let the pot come to a boil then put the lid on and bake in the oven at 350 F for 1-1 1/2 hours. When done serve with lemon wedges, sprinkle the lemon juice over the chicken and broth it adds a nice flavor.