Pin It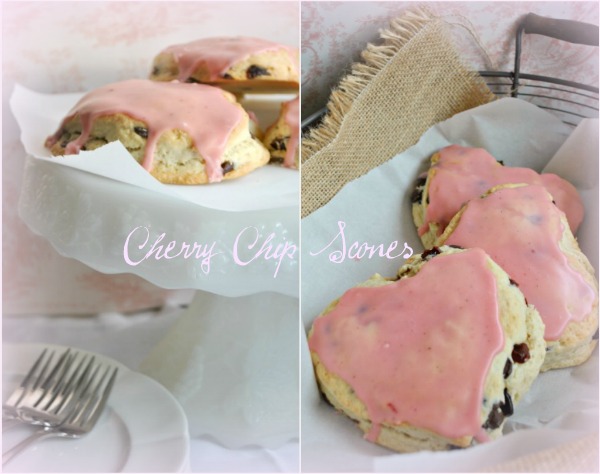 I was so glad that January 2012 Daring Bakers Challenge was scones because they have become one of my favorite things to make since last last year. Our host for this months challenge was Audax Artifex and Aud worked tirelessly to master light and fluffy scones or biscuits to half the world, to help us create delicious and perfect batches in our own kitchens! I learned how to make them last year when I shared this recipe, my family fell head over hills in love with them and whenever I make them I hear lots of positive sighs. I also did a different recipe for The Mother Huddle with oats and lemon glaze and they were tasty too.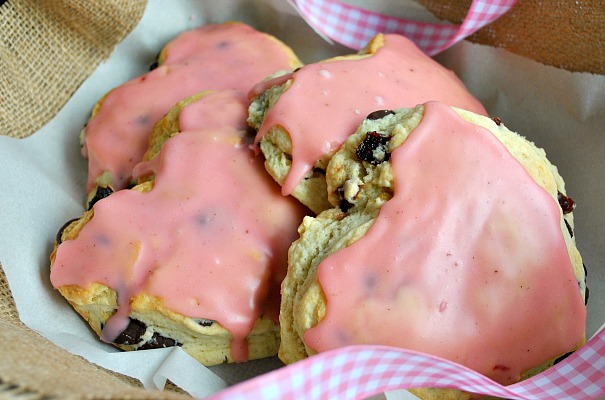 I've learned that scones are easy to make if you own a food processor but of course making them by hand is fine just use a pastry cutter to cut the butter in. I used to be so afraid of pastry crust, biscuits and of course scones and I handled the dough as if it may break but there is no reason to treat the dough as though it was glass. The food processor blends the dough with a blade so that is far from using tender loving care. There are a few things to keep in mind though, using very cold butter and very cold liquid is a must when making these flaky delectables. I also found that letting the dough rest in the refrigerator for at least a half an hour before baking is helpful, it allows the gluten to do it's job and the butter to get cold again after handling it. Cold butter allows the air bubbles to get trapped and the dough rises high. One more thing I learned is cake flour makes a moist crumb in scones and biscuit making. I don't know all the reasons why but I know that the weight of cake flour is less than the weight of all-purpose flour so that tells me that maybe things will be a bit lighter.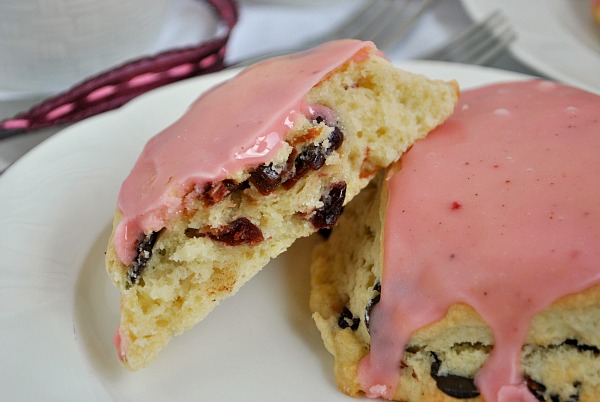 The recipe I'm sharing was an adaption from the blueberry scones I made last year, I used cake flour for a good portion of the flour they were incredibly moist and less crumbly. I bought a food scale this year and weighed the ingredients so when replicating the recipe it will be more accurate. You may wonder why bother but since everyone is at a different skill level in baking and cooking one person may do the scoop method when measuring the flour while someone else spoons the flour into the the measuring cup which leaves a margin for error. Another reason I decided to get the food scale is that many bakers outside of the United States only measure this way when baking. As for the flavor combination I thought cherry and chocolate went together well while the hearts are just a fun way to make them special, maybe to celebrate Valentine's Day which is right around the corner. I will share my notes at the end on what I would do differently so that you can choose to make changes to the recipe before you even make your first batch. Happy Baking and thanks for stopping by.

Cherry Chip Heart Scones ~ A Daring Bakers Challenge
Ingredients:
2 cups cake flour (264 grams)
1 1/2 cups all-purpose flour (216 grams)
1/2 cup granulated sugar (104 grams)
1 T. baking powder (10 grams)
1/2 tsp. baking soda (1 gram)
1/2 tsp. salt (4 grams)
3/4 cup cold butter (198 grams)
1 large egg
2 tsp. vanilla extract (10 grams)
1 cup whipping cream (287 grams)
1/2 cup chocolate chips (32 grams)
1/2 cup dried cherries (80 grams)
1/2 tsp. all spice (optional)
Glaze Ingredients:
1 cup powdered sugar
3 T. cherry pie filling (for flavor and color may just use milk to make glaze)
3 tsp. milk to thin to desired consistency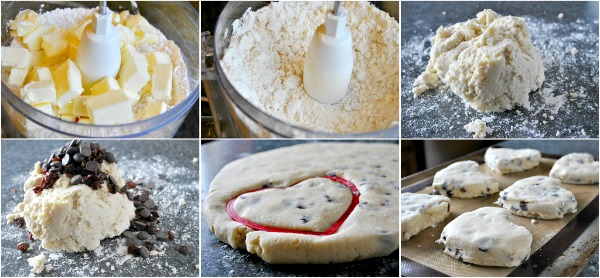 Directions:
Step 1:
Measure all dry ingredients and dump into at least an 8 cup food processor with blade fitted in, pulse the dry ingredients a few times to mix together.
Step 2:
Cut the butter into small chunks and add all to the flour mixture, fit lid on and pulse until the butter gets combined and forms pea size beads.
Step 3:
Crack egg into a measuring cup and add the vanilla to it, turn on the food processor and pour egg and vanilla through shoot and stop when it begins to look wet.
Step 4:
Measure the whip cream turn on the food processor and gently pour into the shoot while the processor is running and stop when the mixture begins to come together.
Step 5:
Dump out the dough onto a lightly floured surface (the dough will be wet), dump the cherries and chocolate chips on top of dough and with floured hands pat down into the dough and fold over one side press down and then fold over the other press down. Add flour if the dough is too wet your hand should not be sticking too much. For some more photos on add fruit, and things to scones check out the
blueberry scones recipe
Step 6:
Make a round disc and flatten a little then wrap in plastic wrap and put into the refrigerator for at least 1/2 hour or longer. Pre-heat oven to
375 degrees Fahrenheit
.
Step 7:
After dough has rested roll out with a light floured rolling pin to about 3/4 inch thickness. If you are going to cut shapes out of the the dough make sure your cutter is floured each time you press it down into the dough. Do not want cut out shapes them cut the dough into a pie or pizza evenly with a pizza cutter or butcher knife.
Step 8:
Put scones on a baking sheet lined with a
silicone mat for baking
or parchment paper.
Step 9:
Bake for 15 min. or until lightly browned. Let cool on the rack for 10 minutes, then move to cooling rack to cool completely.
Step 10:
In a small mixing bowl, mix all the glaze ingredients together with a whisk until it is smooth and pourable. Pour glaze on each scone spreading with a frosting spatula to smooth out evenly.
Makes about 7-8 heart shaped scones.

Cooks notes:
When I measured the cherries and chocolate chips and dumping them into the dough I thought I would want more and added about 1/4 cup more of each, after baking and eating I think it may have been too much, so that is why I left the recipe at it's original amount.
I didn't add the all spice to this recipe but think that I should have to give the dough a touch more flavor.
When making the glaze, if using the canned pie filling just get the filling not the fruit.
If you don't have pie filling just use milk a little at a time to get the consistency right.
I added 2 pinches of nutmeg to the glaze and it was plenty flavored.
I think that mini chocolate chips would be great to use instead of regular ones.