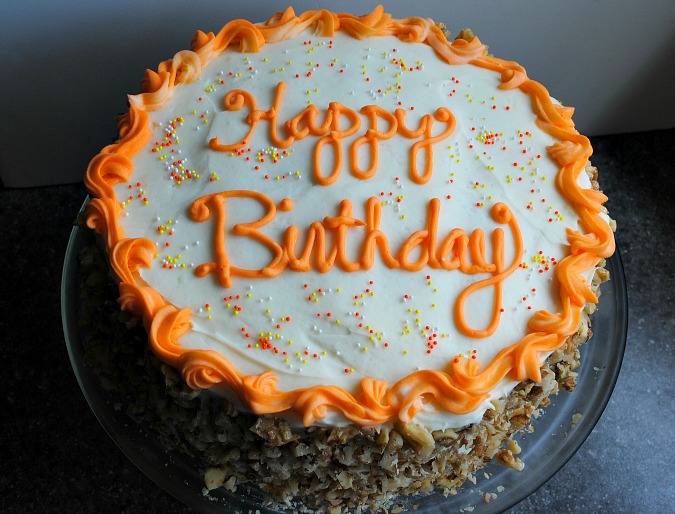 I just love the texture of cakes but especially cakes packed full of goodies, like carrots, and nuts.  This cake is so moist it will melt in your mouth.  Carrots are very good for you so you might be able to count this as a vegetable dish  😉 .   I made this cake for my sister-in-law's birthday and  she loved it since she is a carrot cake fan.  One of the great things about carrot cake is that nuts go really well with it , and if you are not so good at frosting a cake you can chop the nuts then press them up against the sides.  It looks professional and hides any mistakes you may have made, your friends and family may think you bought it from the bakery.

Carrot Cake with Cream Cheese Frosting
Ingredients:
2 cup sugar
1 cup oil (I use canola)
4 beaten eggs
3 cups grated carrots
1 cup white flour
1 cup wheat flour
1/4 cup flax meal
1 tsp. salt
2 tsp. baking soda
2 tsp. cinnamon
1/2 cup coconut
1/2 cup roasted chopped walnuts
Cream Cheese Frosting
1 stick of butter
4 oz.  cream cheese at room temp.
3 to 4 cups of confectioners sugar
1 T. water
Directions:
Step 1: Pre-heat oven to 400 degrees.  Prepare two 9 inch round pans by greasing with butter or shortening and flouring or spraying with cooking spray.  To make sure the cake comes out after baking  I highly recommend to cut a circle of parchment paper the same size as the bottom of the round pans and put them on the bottom before baking.
Step 2: In large mixing bowl combine sugar, oil and eggs and mix well,  add grated carrots and stir.
Step 3: In a medium mixing bowl mix all dry ingredients.  Slowly add dry ingredients to wet and mix until moistened.  Add nuts and coconut and mix.
Step 4: Bake in two 9 in. round pans at for 20 to 30 min, or until  a cake tester inserted in the middle comes out clean.  Cool 10-12 min. then turn over onto cooling rack.
Step 5:  After cooling make cream cheese frosting and frost.
Step 6:   In large mixing bowl beat butter and cream cheese until smooth.
Step 7:  Add sugar and water beat at low until the sugar won't fly then turn on high and beat for 2 min. until very creamy.