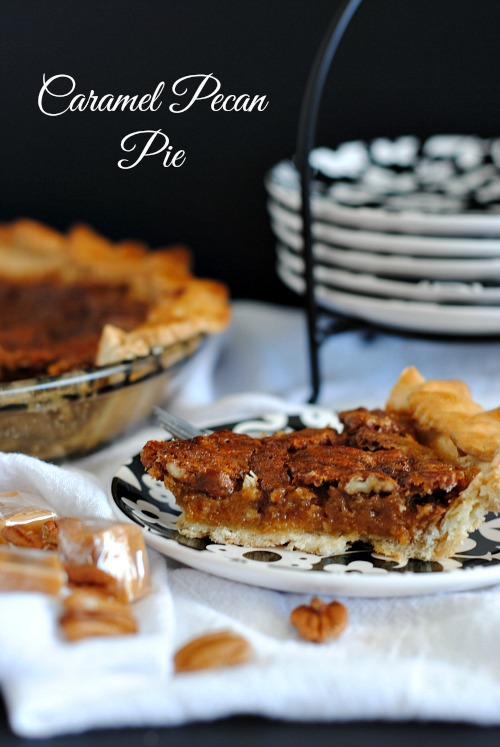 My husbands favorite pie is pecan pie as well as all his brothers and Dad. I found this recipe several years back in a Southern Living Magazine and tried it on his birthday and he loved it, more than the other plain pecan pie he was used too. This pie is sweet caramelly and full of pecans, it might even become your families favorite pecan pie like it did ours.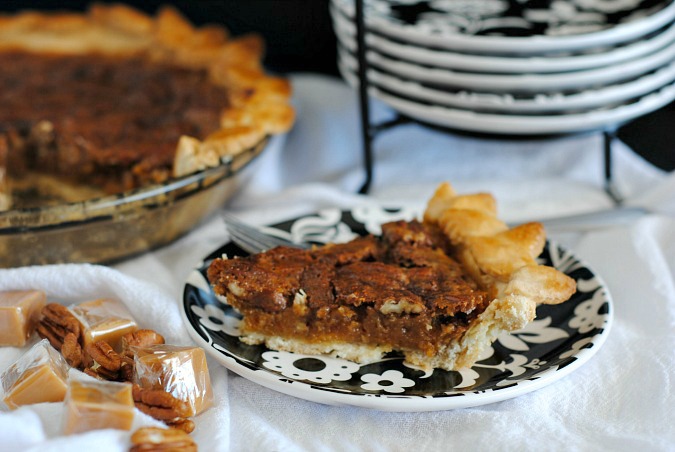 When I made the crust for this pie I decided to finally get a little creative with the pie crust border. I remembered I had some gum paste cutouts that I never have gotten around to using, I found a pretty leaf and began to cut out leaves with the scraps that I cut off the sides of my pie crust when I fit it into the dish. I just put a little water on the my finger and dotted the place I wanted the leaf to stay and viola! I was so proud of myself and it didn't take that much extra time.You can make your own favorite crust or buy the kind that you unroll, my favorite recipe for pie crust is here.

Caramel Pecan Pie
Ingredients:
1  9 inch pie crust unbaked
28 unwrapped caramels
1/4 cup water
1/4 cup melted butter
3/4 cup granulated sugar
2 eggs
1/2 teaspoon vanilla
1/2 teaspoon salt
1 cup coarsely chopped pecan or halves
Directions:
Step 1: Pre-heat oven to 400 F.Prick the pie crust with fork and bake for 6 min.
Step 2:In a medium small saucepan put the caramels, water, and butter in and cook over medium heat. Stir constantly until caramels melt.
Step 3: Stir together the sugar and next 3 ingredients. Stir in the mixture into the caramel mixture a steady stream whisking until thoroughly combined. Fold in the nuts and pour into prepared pie crust.
Step 4: Bake at 400 F. for 10 minutes, then turn heat down to 350 F. and bake 20 more minutes.
Recipe adapted from Louis Davis Webb, North Carolina