There is nothing like growing your own vegetable garden then canning the harvest for enjoying later, it really is enjoying the fruits of your labors. I learned how to can about 15 years ago, mostly self-taught and by reading canning cookbooks. I found canning to be somewhat addicting to me, sounds like a strange addiction but there is something about seeing all those jars filled up with edible food you grew or bought  at a farmers market, or even picked at a local farm.  I used to drive an hour away to pick strawberries, blueberries and blackberries.  I have gotten out of the habit of canning and growing a garden for whatever reason but I will occasionally can something and feel that pride as I look at the finished jars.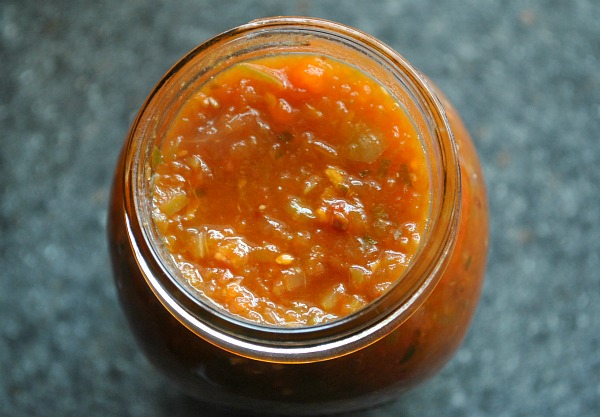 This year my husband was inspired to plant a small garden of tomatoes after we went to Disney World and saw how Disney was experimenting with growing different vegetables.  Most of the things that they grew were growing on some type of trellis high off the ground, then trained to grow horizontally.  We always seem to have problems with critters and bugs eating our fruit and plants, which has turned me off to gardening and keeping my yard pretty with flowers because as soon as everything is really starting to bloom and grow well the next day the whole thing will be dug up. My number one enemy is the "armadillo" they reek havoc around here constantly digging holes and tearing up any plant that looks pretty healthy. If you are an animal activist just skip this part, last year my husband must have shot 6 + armadillos, but there are plenty more where those came from. Well I'm getting off track here, I wanted to tell you that my husbands trellis experiment has been a successful for the tomatoes so far because I finally had enough to make my first batch of salsa!  Hopefully as the weather gets cooler we will get more tomatoes since they seem to go dormant in 100 +degree weather.  If you get your hands on 20-25 homegrown tomatoes then you have enough to make this great salsa recipe that originated from a friend of mine's sister-in-law.  I have changed it many ways so I call it my own now. I love how this salsa taste there is really no comparison to the store bought stuff, so here is the recipe for you all.
Ingredients and supplies:
20-25 tomatoes
4 yellow onions
5 green bell peppers
4 yellow, orange or red bell peppers
1 whole garlic bulb
Hot peppers of your choice such as; jalapeno, Habanero, Serrano
1 bunch of cilantro
1/4 cup of sea salt (I used to use regular table salt but sea salt taste much better not so salty if that makes any sense)
1/4 cup of white vinegar
5-6 quart canning jars or 10 -12 pint jars (found at large grocery stores)
lids and screw cap
steam canner or water bath canner
bottle tongs
canning funnel
chop stick for getting air bubble out
A very large pot-big enough that when your pot is full of salsa it only comes to 2/3 full. If you fill it up more then the bubbling of the hot salsa will splatter everywhere and be dangerous to you.
Directions:
Step 1: The first thing you need to do is get the skins off the tomatoes, so grab a large pot and fill it 2/3 full of water and boil the water.  When the water is boiling gently put in 4-5 tomatoes depending on how much room you have in the pot.  When the skin cracks take out the tomatoes with a slotted spoon and put in a colander in the sink and run cold water over the tomatoes as you take the skins off. Repeat this with all the tomatoes.
Step 2: Core the tomatoes, and slice into quarters.  In a large food processor (7-8 cup)  pulse the tomatoes do not puree all the way. Put tomatoes in a very large stock pot.
Step 3: Wash and core the bell peppers.  Chop fine in the food processor.
Step 4: Peel onions and quarter then chop fine in the food processor, now grab some tissues because here is where the crying begins.
Step 5: Peel garlic and put into the food processor and chop fine.
Step 6: Wash and core hot peppers, if you like the heat leave the seeds in.  Habanero peppers are the hottest ones I know of so if you use those only use a couple.  I can put about a dozen jalapenos in and it isn't very hot for me, I like medium to hot heat in the my salsa.  I don't normally use Serrano chiles so I don't have experience with them in making this salsa.  I did use a small can of chiptole peppers with the adobe sauce and it gave a nice smokey flavor to the salsa and some heat.  In the food processor chop the cilantro and peppers together then pour the vinegar in to help scrap it all out when you dump it into the pot. Do not put the hot peppers, cilantro, vinegar, salt into the pot with the other ingredients until the second timed cook period.
Step 7: Put all ingredients into the pot, it will look like the photo above, a little foamy because of the peppers being chopped in the food processor, but it will go away in the cooking.  Turn the pot onto medium high heat and bring it to a boil and boil for 10 min. stirring so the bottom doesn't get burned.
Step 8: Now add the hot peppers, cilantro, vinegar and salt to the salsa and stir.  Bring to a boil and cook for 20 minutes, stirring often so it won't burn.
Step 9: During the last cook time get the steam canner ready, bottles should be washed and dry and ready.  Heat some water to boiling and toss the lids in so the rubber seal can get soft.  Have a measuring cup with pour spout ready to pour the hot salsa into the jars.
Step 10: When the cook time is done put hot salsa into jars with 2 cup measuring cut being careful not to touch the hot salsa.  Now the air bubbles need to come out before you put the lids on so get your chop stick and carefully run it down  inside of  each bottle until the bubbles come to the surface.
Step 11: The tops of the jars need to be wiped clean so you get a good seal and things need to try to be as sterile as possible so I like to use the hot water that I used to soften the lids with and dip a clean paper towel into the water then wipe around each rim of the filled jars.  Sometimes I use more than one paper towel so I'm not wiping salsa from one jar to the other.
Step 12: Put softened lids on the jars and then put screw bands on being careful not to tighten to tight. Now, it's time to process the jars in the steam canner. Put the correct amount of water in the steam canner according to manufactures directions ,then lift jars into the steam canner with canning tongs, the bottles should not be touching each other. Put steam canner lid on and turn the heat to high heat.  When the steam starts to come out the steam holes at a steady rate then start timer for 15 minutes.  If using a hot water canner then when the water comes to an even rolling boil then begin the timer.
Step 13: When the timer has gone off carefully take of the steamer lid with hot pads and turning it away from your body so you don't get burned by the steam. Prepare a place in your kitchen that is free of drafts to put the bottles, put the hot bottles on kitchen towels to cool. Leave the bottles on the towels to cool for 24 hours. When you take the bottles out of the steam canner you will hear the lids pop that means they have sealed. I usually try to count the pops so I know all my bottles sealed. You can test the bottles when they are out by pressing your finger in the middle of the lid and if it depresses and pops up then the bottle didn't seal.
Salsa can be put up in your pantry for 1 year, longer if the temperature of the room stays below 65 degrees Fahrenheit but most of us do not have basements to keep things at a lower temperature.