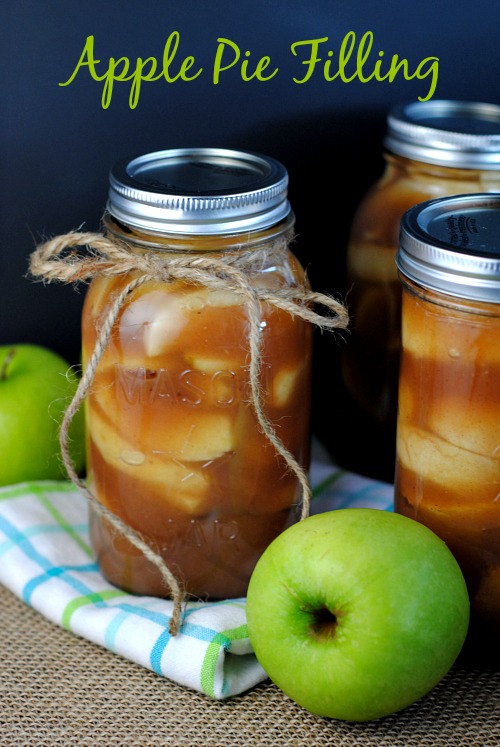 Cooler, crisper weather means apple season is here and this year I had enough of my own apples to make apple pie filling. I was so excited to make my own pie filling and share it with all of you. It wasn't hard at all just a tad bit time consuming. If you like to can food then it's okay, the reward is seeing all those beautiful jars lined up on your counter! If you have never canned you probably can't relate yet, but not for long…right? I found this recipe on YouTube from a lady, her channel is called "Our half acre homestead".  I added more spice to the recipe, and in fact I think you could probably even add more. I used half brown sugar and half white when making this pie filling, amazingly because I was out of white sugar, I know it's a sin. Brown sugar worked perfectly fine in this recipe and gave my pie filling a little darker color than normal.
Do you know why I am so happy to have this pie filling in the cupboard? Because it taste way better than store bought stuff and doesn't cost near as much. I can make pies at Thanksgiving or Christmas really quick and it will take less time to bake as well. I can make apple hand pies or any type of dessert that calls for apple pie filling. I really hope you give this recipe a try, I think you'll be pretty happy with the results.

Canning Apple Pie Filling
Ingredients:

10 cups water
4 1/2 cup granulated sugar (I used half brown)
1 cup cornstarch
2 teaspoons ground cinnamon
1/4 teaspoon ground nutmeg
1/4 cup lemon juice
Approximately 18 large apples (non sweet variety)
7 quart size jars and lids
water bath canner
Directions:
Step 1: First get jars prepared by sterilizing them. The lids should be ready to put into hot water to soften the rubber seal. Fill water bath canner and put on the stove and begin to heat water.
Step 2: Wash and peel apples. Core apples and cut into 8ths. Fill the jars with the uncooked apples.
Step 3: In a large pot put the 10 cups of cold water, sugar, cornstarch, cinnamon, nutmeg, and lemon juice. Whisk to incorporate. Cook over medium heat stirring regularly until sauce begins to thicken. Make sure sauce does not thicken completely so it can fill all the airspace in the jar.
Step 4: Boil water in small saucepan or microwave safe bowl and drop the lids into it so they soften the rubber. Carefully pour the sauce into each jar , leaving a 1/4 in. head space. Wipe down the tops of each jar with a hot wet paper towel or hot wet clean dish towel(I usually dip my paper towel or dish towel into the water I am using to soften the lids). Drain water from rubber lids and carefully put each lid on the each jar. Put on the screw caps and crew on but not super tight.
Step 5: Process jars in water bath canner for 15 minutes, making sure the jars stay covered with the hot boiling water. When timer goes off use a jar remover and set jars on dish towel away from a breeze and let sit for 24 hours. Then store in the pantry for up to 1 year.