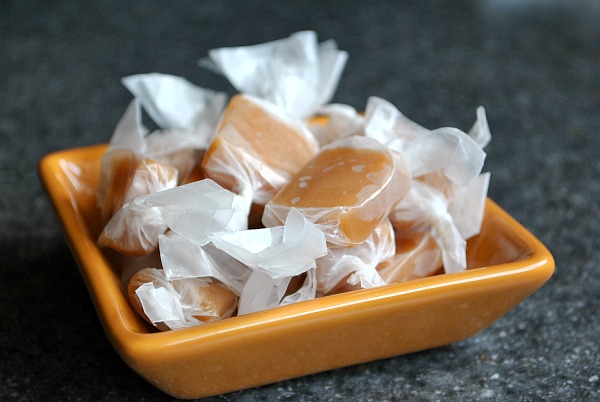 What a great challenge to learn more about making candy. Candy usually scares most people because of that dreaded thermometer it just seems to intimidate. Well, I'm here to tell you all that the thermometer is your "friend", that's right say it again "friend". I have tried to make caramel without a thermometer and it was disastrous, I ended up with a brick! My second attempt I burnt it 🙁 so my third attempt was a charm yay! Some of you are thinking maybe this challenge should have been closer to the holidays but on the contrary because who has the time to try new recipes at the holidays when we need our recipes to turn out. Summer is a great time to make candy because there is no oven to heat the house up, that is not to say things didn't get hot, because stirring hot sugar waiting for it to come to the right temperature can get pretty hot. I don't mind the heat if it ends with delicious candy.
The caramels I made will remind you of eating caramel apples, perfect for fall or anytime. The caramels are soft, creamy and buttery with a wonderful apple spice flavor. Unfornutately my family doesn't like caramels very much (I have no idea why, something about sticking to the teeth) but that meant I had to eat almost all of these 🙂 . The caramels kept well in the cabinet covered in an air tight container until I remembered they were in there, then they seemed to disappear too quickly. Anyway, I highly recommend you make this recipe for someone who appreciates caramels they will love you forever, and remember the third time is a charm.
Cinnamon Apple Carmels
Ingredients:
1/3 cup apple juice concentrate
2 cinnamon sticks or 1/4 tsp. ground cinnamon
5 whole cloves
2/3 cup heavy cream
8 tablespoons (4 ounces) butter, cubed
1 1/2 cups granulated sugar
1/4 cup light corn syrup
1/4 cup water
1 tsp salt
Directions:
Step 1: Prepare an 8×8 pan by lining it with aluminum foil and light spray the foil with non-stick cooking spray.
Step 2: Place the butter and cream in a small saucepan and heat to a simmer, do not boil. Remove from the heat and add the cinnamon sticks and cloves, then whisk in the apple concentrate.
Step 3: In a medium-large saucepan, combine the sugar, salt, corn syrup, and water over medium heat. Stir until the sugar dissolves.
Step 4: Cook the sugar mixture on medium high, or if you have a gas stove top like I do on medium ,until it is a light brown color.
Step 5: Once the sugar is the proper color, remove the cinnamon sticks from the cream mixture. Slowly and carefully whisk the cream into the sugar, be careful because the candy will steam and may splatter. Whisk until all the cream is added.
Step 6: Cook the candy on medium heat, stirring it, until it reaches 248 degrees or firm ball stage. Once at 248, remove it from the heat and pour it into the prepared pan.
Step 7: Allow the caramels to sit at room temperature until cool. Once they are no longer warm, they can be refrigerated to speed the setting process. Once set, remove them from the pan using the foil as handles. Peel the foil from the backs of the caramels and cut into small squares. Wrap the squares in waxed paper to prevent them from sticking. Wrapped candy apple caramels can be kept in an airtight container in the refrigerator for up to two weeks. They are best served at room temperature.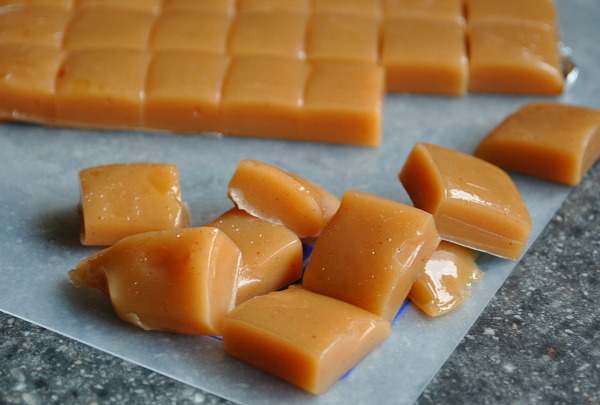 recipe adapted from: Elizabeth LaBau[/recipe]
Chocolate, of course I had to make a candy with chocolate so let me introduce you to the Crispy Peanut Butter Truffle. Peanut butter and chocolate just go together so well, most everyone likes the combo. I'm not sure how I came upon this recipe, probably a magazine, but I have made it for about 6 years now and they are really good. Each time I make the truffles for people they want the recipe, which is a good sign. I like making this recipe during the holidays when I'm making lots of sweets because who doesn't love a peanut butter truffle. What I like about this recipe verses the regular peanut butter truffle is the crunchiness from the rice cereal and how quickly they are put together. I like to dip them in chocolate but white chocolate can be used too. I also like that there is no candy thermometer involved although the candy thermometer is my friend now, I just prefer not to use my friend so often.

Crispy Peanut Butter Truffles
Ingredients:
1 cup sugar
1/2 cup light corn syrup
1 cup creamy peanut butter
2 cups rice crispy cereal
1 12 oz. bag of semi sweet chocolate chips or
chocolate bars such as Ghirardelli
Directions:
Step 1: In a medium saucepan cook sugar and corn syrup on medium heat just until the sugar dissolves.
Step 2: Add peanut butter and stir until smooth, then add the cereal and stir well.
Step 3: Spread 2 pieces of wax paper or parchment paper out on 2 cookies sheets. Scoop out small bite size balls and roll in your hand until round and let cool on wax paper. Repeat until all candy is rolled and cooled.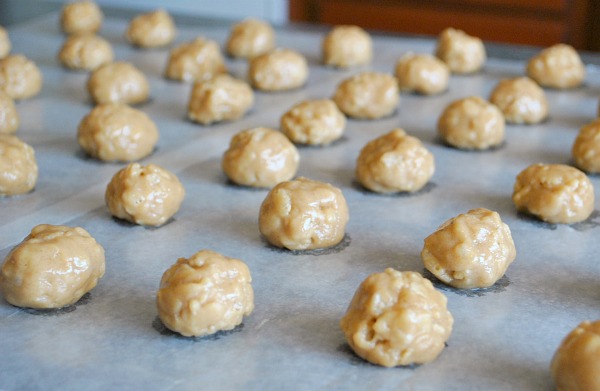 Step 4: Melt chocolate in double boiler or in microwave stirring every 30 seconds until melted.
Step 5: Put the peanut butter balls one at a time into the melted chocolate, cover the entire ball with chocolate take out with a spoon and let cool on wax paper. When all peanut butter balls have been dipped put the cookie sheets into the refrigerator until the chocolate is completely set.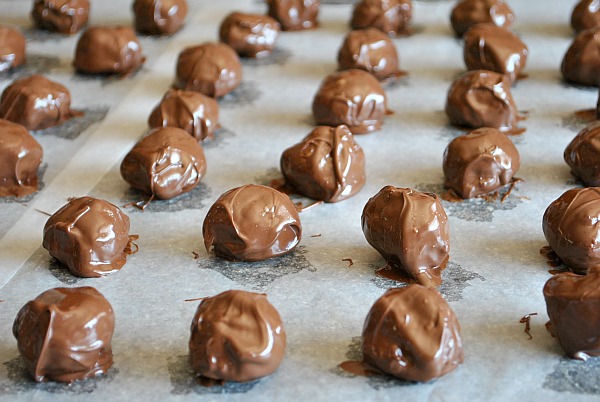 Makes 48 small truffles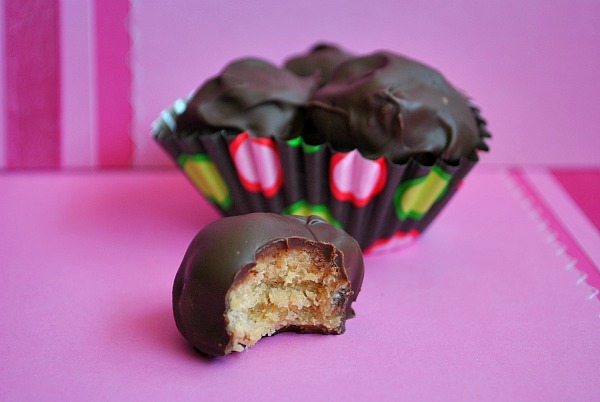 Next on my list to get right was toffee, I love the stuff and have tried to make it in the past but it didn't work out. Thanks to my friend the candy thermometer, I was really happy with how the toffee turned out and I think I am going to put it on my list to make for the holidays. The toffee was perfectly crunchy and buttery, the bitter-sweet chocolate balances out the sweetness of the toffee. I used toasted walnuts instead of pecans to top it off with, the recipe comes from the Ghirardelli Chocolate Cookbook and originally called for pecans. This recipe calls for a candy thermometer but don't be scared off by it, really it's not hard at all to make, just let the candy get to the hard crack temperature then pour and cool. Plan to make this during the holidays and your friends and family will think your amazing.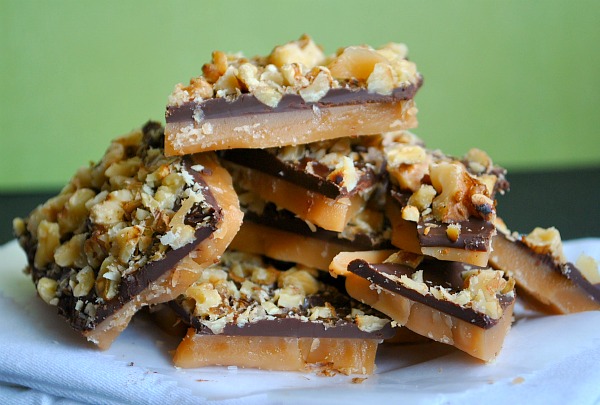 English Toffee
Ingredients:
1 cup unsalted butter
1 cup granulated sugar
2 T. water
1/8 tsp. salt
1 tsp.pure vanilla
1/2 cup chopped walnuts or pecans
1/2 bag of bitter-sweet Ghirardelli chocolate chips
Directions:
Step 1: Make a foil tray about 10 X 10 inch square with 1 inch sides and put on a cookie sheet.
Step 2: Toast the walnuts in a dry skillet stirring or tossing until you can smell them, then let cool.
Step 3: In a heavy medium saucepan heat the butter, sugar, salt and water on medium heat until the sugar dissolves then stir occasionally until the mixture reaches 305 degrees or hard crack.
Step 4: Remove the candy from the heat and stir in the vanilla quickly and pour the candy into the foil tray. Let toffee cool for about 45 minutes.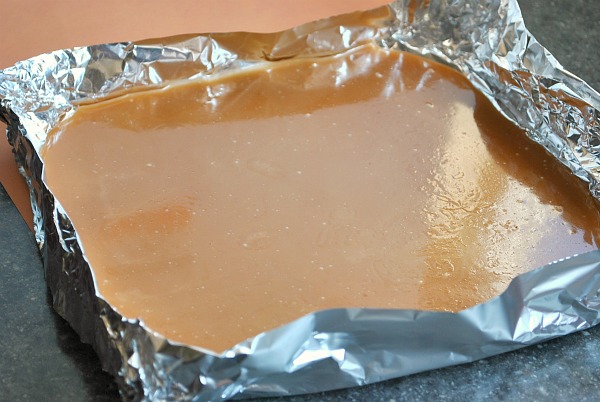 Step 5: Melt chocolate in the microwave stirring every 30 seconds until melted, or melt over a double boiler. Spread melted chocolate evenly over the top of the toffee.
Step 6: Chop nuts and sprinkle over the top of the chocolates and lightly press into the chocolate. Let cool or put in refrigerator until set.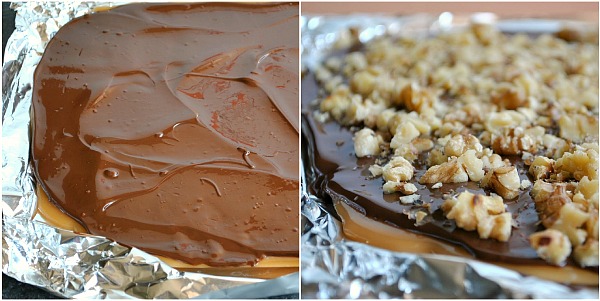 Step 7: With a butcher's knife slice the candy into squares, some with brake unevenly but that is what toffee does. Eat and enjoy. Store leftovers in an airtight container