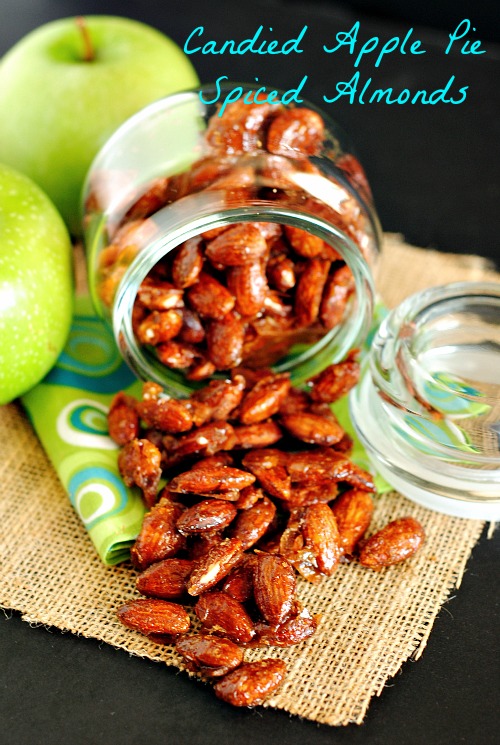 Candied nuts are a wonderful treat to have on hand for parties, salads, snacking or gift giving. Autumn brings warm spices and flavors that we often only have at this time of year. Cinnamon, allspice and nutmeg are some of my favorite spices to bake with so it feels natural to want to include these spices into these candied nuts. My fellow blogger friend Chris from The Cafe Sucre Farine posted this recipe on her blog for walnuts, I do like candied walnuts but I had a huge bag of almonds and decided to give them a try. Besides using almonds instead of walnuts I added the spice cardamom to the nuts, I think the cardamom gave the flavor a floral note. We loved the candied apple pie spiced almonds and found them to be quite addicting, while taking photos I had more than my fair share. The crunchy sweet apple pie spiced almonds have you craving apple pie while eating these nuts. Eating the nuts straight is my favorite but I can see these showing up in a fruit salad or as an ice cream topping.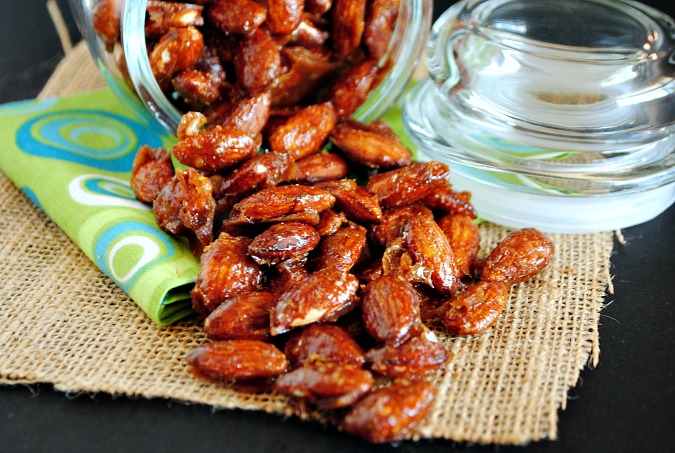 Candied Apple Pie Spiced Almonds
Ingredients:
4 teaspoon butter
1 tablespoon olive oil
1 teaspoon apple pie spice
1/4 teaspoon cardamom
1 teaspoon kosher salt
3/4 cup brown sugar
2 tablespoons honey
3 cups of raw almonds
Directions:
Step 1: Turn oven to 325 F. Prepare a sheet pan with parchment paper, or foil, if using foil then spray with cooking spray.
Step 2: In medium skillet put all the ingredients in except the nuts. Turn heat to medium and let the mixture get bubbly stirring well.
Step 3: Add the nuts and cook stirring for 3-4 minutes until the nuts get lightly browned. Pour the hot nuts onto the prepared pan and spread out as evenly as possible. Put the pan into the oven for about 15-20 minutes stirring halfway through the cook time. When done take out of the oven let cool and put into airtight container.