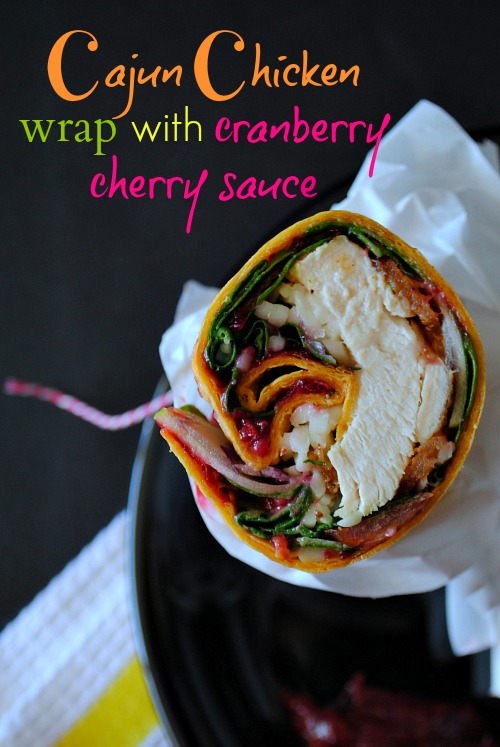 I am so happy with how these wraps turned out, they were so delicious. I love sweet and spicy flavors together or sweet and savory, just something about it makes me want more. I made this chicken twice and it turned out perfect both times, we loved it. One of the secrets to the chicken turning out perfect is I used some fantastic cajun spices given to me to review from
Healthy Solutions Spice Blends
, more about these spices below.   Another secret to the success is browning in my cast iron skillet then baking in the oven. The first time I made the cajun chicken we just ate it for dinner with salad, and my picky son said he really liked it, wow! But this time I had plans to use this spicy tender chicken in these wraps. Wraps are perfect for lunch and packing lunches, everything is all nice and neat rolled up in wax paper, foil, or parchment paper.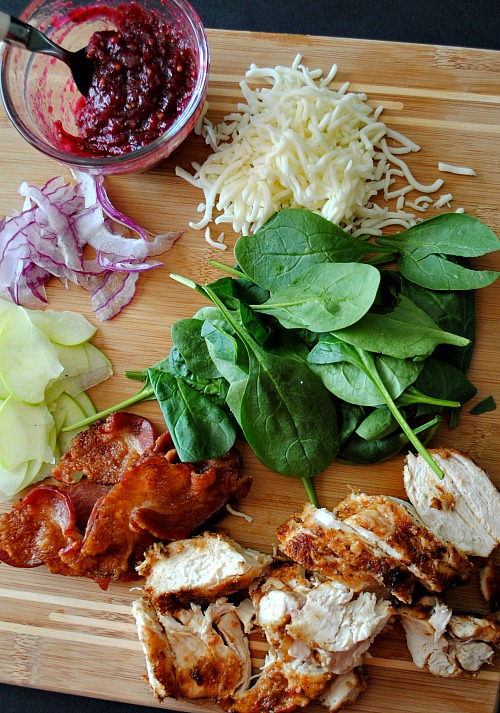 Healthy Solutions spice blends have many different blends to choose from, just look at them all! I had to break the rules when given seafood cajun seasoning and use it with chicken 🙂 but that's how I am,  a rebel!  These spice blends are made without salt and sugar with only the healthiest ingredients.  I love that they come in a  zip-lock bag so I could measure what I needed out then seal it back up.

One of great things that Healthy Spice blends offers is a Spice Healthy Eat Healthy Club! Yes, they want to help you eat healthier by giving you discounts, coupons, recipes and a monthly newsletter. So just click on the photo below to find out what it's all about.  Oh and one more cool thing is they offer gift packs, what a great gift to give the cook in the family, and you know that gift giving season is almost here. Please go check out what all these spices are about, I am so glad I was invited to try them out and create a recipe with their lovely spice blends.
Cajun Chicken Wraps with Cranberry Sauce
Ingredients:
2 chicken breast, skinless, boneless
1/4 cup all-purpose flour
1 T. Healthy Solutions Cajun Seasoning mix
1 tsp. salt
1 T. olive oil
3 large tortillas 10 in.
2 heaping tablespoons 
cranberry cherry sauce
2 heaping teaspoons seeded dijon mustard
4-5 thick cut strips of bacon cooked
2 cups loosely baby spinach leaves
1/2 small granny smith or other tart apple shaved or thinly sliced.
thinly sliced red onion
1 1/2 cups shredded mozzarella cheese
Directions:
Step 1: Put flour, spice mix, and salt into a shallow dish and mix together with a fork. Rinse the chicken breast off with fresh water and pat dry. Dredge the chicken breast through the flour spice mixture so that both sides are coated.
Step 2: Heat oven proof skillet on stove top with 1-2 tablespoons olive oil, when pan is hot put the chicken into pan. Cook for about 3-4 minutes on each side, then put in the oven for 25-30 minutes at 350 F. When I had 3 chicken breast portions about 5 oz. each mine cooked for 25 min. when I cooked 2 regular size chicken breast with rib meat it took 30 min.
when chicken is done let cool down for 10 minutes before slicing.
Step 3: While chicken is cooking get all the ingredients ready for making the wraps. Cook the bacon and let cool and crumble, slice apple and onion very thin. Mix the cranberry sauce (if you do not want to make the cranberry sauce then use canned whole berry sauce) with dijon mustard and shred cheese. If you keep your tortillas in the refrigerator then take the chill off by heating in the microwave a few seconds.
Step 4: After the chicken is cooled down a bit begin making the wraps by putting down a piece of foil, wax paper or parchment paper bigger than the size of the tortilla, then put the tortilla down spread some cranberry sauce evenly on top, add spinach, apples, onion, cheese, bacon, and last sliced chicken. I put the chicken in the middle of the tortilla and fold over one side tucking the ends in and roll up trying to keep all ingredients inside. Repeat the processes with 3 more tortillas, this recipe should make 4 wraps. Now cut each wrap in half and enjoy!