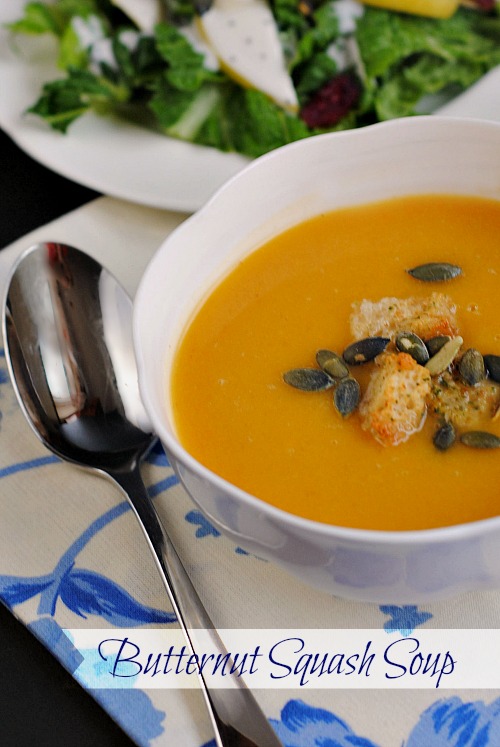 I could eat soup every day unfortunately the rest of my family doesn't feel the same way. My son and husband tend to like the meaty soups and stews that keep them full longer, I do too but it's also nice to have a light soup and salad and splurge on dessert. This light butternut squash soup is a nice smooth texture soup with mild flavor. The squash is somewhat sweet and I didn't want to overpower the flavor of the squash with an assertive herb like thyme or rosemary although I do enjoy those herbs very much. I decided on cumin with a dash of coriander and sage. Some may think the spices and herbs I chose are strong but I used them with a light hand. If you're feeling like something with heat add a bit of cayenne pepper. This soup makes a small amount enough for three large bowls so adjust according to your families needs.
Butternut squash soup
Ingredients:
1 T. olive oil
1/2 large yellow onion chopped
1/2 yellow bell pepper chopped
1 clove of garlic pressed
16 oz. butternut squash cubed
1 quart of chicken broth
1/2 tsp. cumin
1/8 tsp. of ground sage
1/8 tsp. of ground coriander
salt and pepper to taste
garnishes: lightly salted pumpkin seeds, herb croutons
Directions:
Step 1: Heat olive oil on medium high heat and toss in the onions, bell pepper, garlic and squash. Cook until the onion is translucent.
Step 2: Add the the chicken broth, cumin, sage, coriander and let cook until squash is very soft. Then turn off heat and let cool down until warm. Put the soup into a blender and blend until smooth. Reheat the soup on the stovetop until hot.