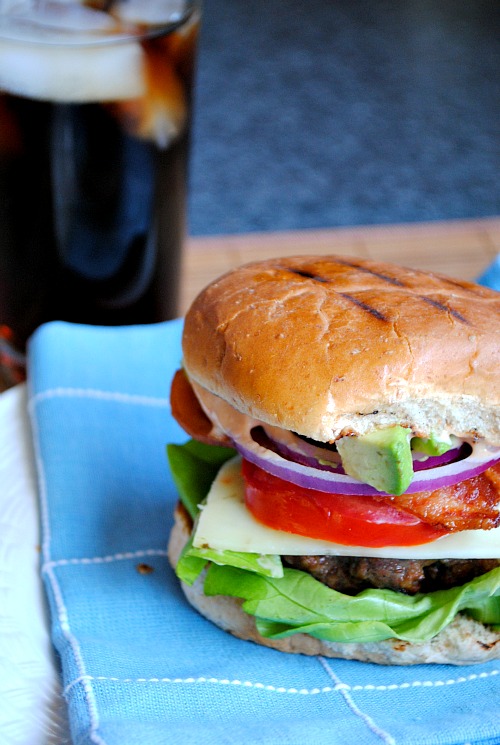 It is burger grilling season for sure!  Summer is here to stay well… at least at  my house it is.  It's already above the 90 degree mark so cooking outdoors is a must.  I think you could just throw your burger on the cement and it would probably sizzle, but if you want those pretty grill marks you might want to stick to the gas grill or charcoal grill.
It seems from Memorial Day to Labor Day and many celebrations in between call for a grilled burger.  Why is the grilled burger so popular?  Because it's usually rather cheap and easy to cook…I use the term "easy" loosely, because we have all been to a "burger burn party"  or the "tasteless cardboard burger party", too many of those to count. So how do you get a tasty, not burned, juicy burger grilling party that your friends and family don't secretly dread to come to?

Here are a few tips that will help you grill the perfect burger-
Start with good meat- Ground chuck that's freshly ground from a butcher you trust (or that's ground at home) is a good place to start. You may also experiment with mixtures that use different cuts, but you can't go wrong with chuck—it has the right fat content for a juicy burger. Go no leaner than 80 percent. If you have to go leaner add egg whites and or breadcrumbs to add moistness.
When forming the patties- Make 1/2  to 3/4 in. round patties with depression in the center, with thicker edges and a thinner middle, the swelling will eventually even things out for a perfectly round flat burger.
Season the meat, season the meat, once more SEASON THE MEAT!- Heavy on the salt and pepper makes a great burger, or use less salt and added soy sauce to makes great seasoned burgers. It's next to impossible to season the meat after you have grilled the burgers. If adding spices,bread crumbs or egg to patties do not over mix the meat or it will become tough and no one likes a tough burger.
Grill on "high" not "smokin hot..burn mode "- it's more important to put a few burgers on the grill at a time and keep the temperature even than it is to put them all on at once and try to feed all your guests at once.
Turn your patty once not 2 or 3 times, this will ensure maximum juiciness. Avoid pressing down with the spatula while on the grill, all the juices that keep the meat moist will run out.
Keep a water spray bottle handy to spray on the grill for hot spots or flare ups.
Now, for the recipe I'm calling the California Burger, for obvious reasons California grows amazing avocados that make this burger seriously good.  There are some other secrets to the tastiness of this burger they begin with spices,then a special sauce that some people call fry sauce (if you're from the west) plus crispy thick bacon, jalapeno jack cheese with tomato and sweet red onion (optional). My daughter said this burger was the best she had ever had in her life, not that 15 3/4 years is  a long time. As for me when the kids like something I'm usually pretty happy, because they are the hardest ones to please around here next to my little Pomeranian.

Burger Grilling Tips for the Perfect Burger & my California Burger Recipe
Ingredients:
1.5 pounds of ground chuck
1 T. soy sauce
1/2 T. Worcestershire sauce
1/2 T. dried minced onions
1 tsp. garlic powder
1/2 tsp. chili powder
1/4 tsp. cayenne pepper
1/4 tsp. ground cumin
If using leaner meat or ground turkey add-
1/3 cup of panko bread crumbs

1 egg white
Hamburger Fixin's
Ingredients:
2 avocados sliced
1 tomatoes sliced
red onion slices
leaf lettuce washed and torn
8 thick slices of bacon cooked crispy
4 slices of jalapeno jack cheese

Special sauce:
Equal parts mayonnaise and BBQ sauce
1/4 cup to 1/2 cup of each mixed together.
Directions:
Step 1: Mix spices and dried onions together in small bowl, take meat out of container lay on a platter and sprinkle half of spices over the meat.  Flip meat over and sprinkle the remainder of the spices on top.
Step 2: Mix soy sauce and Worcestershire sauce together and sprinkle half on each side of meat.  With your hands mix the meat together (if using bread crumbs and egg add now), divide meat into fourths begin to form the patties.
Step 3: Turn on the grill and let pre-heat for 5-10 minutes while meat is resting in the refrigerator.  When the grill is heated up spray cooking oil (optional) on grill and put the patties on and grill for 4-5 minutes per side.  If  you like your buns toasted then toss those on the grill right before you're ready to take the burgers off.
Step 4: When the burgers are done, slather on the special sauce on the buns and load on the toppings and enjoy!
Serves: 4