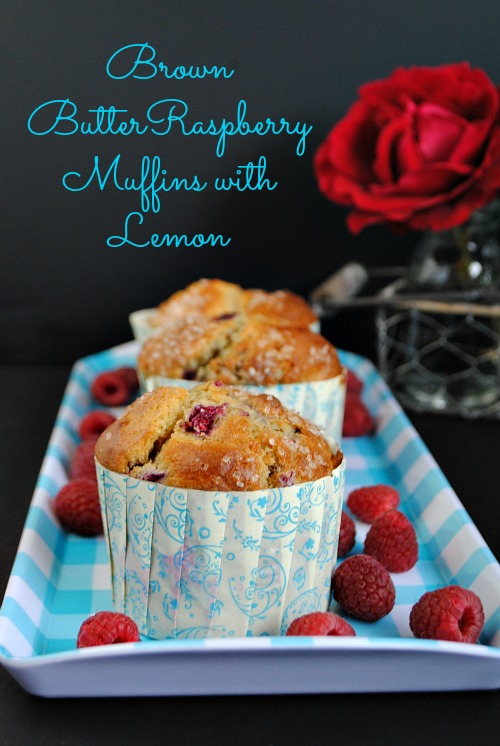 Do you ever have a craving and can't get it out of your mind? I have been craving raspberry muffins for a while now,and then I saw my friend Laura's muffins and I couldn't stand it, I finally had to make some. In college we had a Paradise Bakery on campus and I used to eat raspberry muffins and blueberry muffins there all the time. I was a starving college student but somehow managed to scrounge up change for muffins. Not only did I give into a craving but I succumbed to the peer pressure of using browned butter in my recipe. I really couldn't figure out what all the craze was about because I remember browning butter as a kid by accident when melting butter for my popcorn (which I called burned butter) and now it's become a culinary trend to "brown" your butter. Well, I'm hear to tell you it's worth the hype my friends, yes browned butter is really pretty tasty in these raspberry muffins. It lends a nutty flavor and richness that isn't found otherwise. If you are like me and haven't tried the latest culinary craze, give this brown butter a chance, it's worth the extra effort.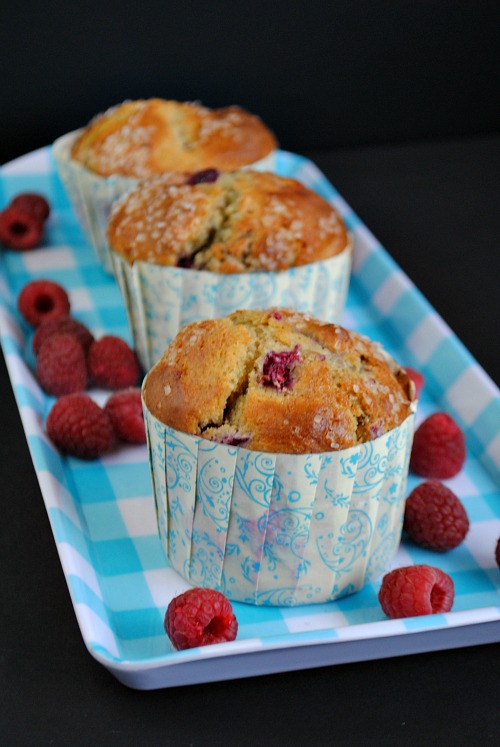 Brown Butter Raspberry Muffins with Lemon
Ingredients:
2 lemons
3/4 cup nonfat Greek yogurt
1/3 cup milk
1/3 cup butter browned
1 large egg
1 cup white whole-wheat flour, or whole-wheat pastry flour
1 cup all-purpose flour
3/4 cup sugar
2 teaspoons baking powder
1 teaspoon baking soda
1/4 teaspoon salt
1 1/2 cups fresh or frozen (not thawed) raspberries
Directions:
Step 1: Preheat oven to 400°F. Coat 12 large (1/2-cup) muffin cups with cooking spray or line with paper liners.
Step 2: Cook butter over medium low heat stir frequently until it turns a nice brown color and smells nutty, about 5-7min. There will be small bits of milk solids from cooking it.
Step 3: Zest the lemons; in a small bowl mix together the yogurt, milk, browned butter, egg, and vanilla and zest.
Step 4: Combine whole-wheat flour, all-purpose flour, sugar, baking powder, baking soda, and salt in a large bowl. Add the milk mixture and fold until almost blended. Gently fold in raspberries. Divide the batter among the muffin cups. Optional sprinkle the top with large crystal sugar on top of each muffin.
Step 5: Bake the muffins until the edges and tops are golden, 20 to 25 minutes. Let cool in the pan for 5 minutes before turning out onto a wire rack. Serve warm.