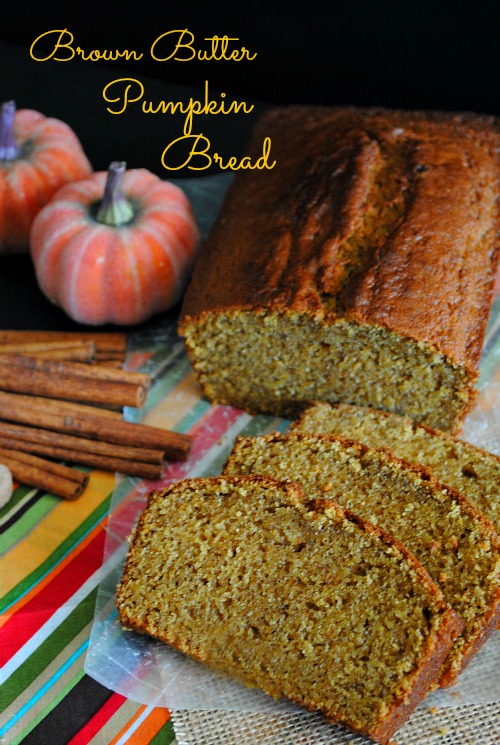 It's officially Fall and I finally got the idea that Summer will have to remain a memory so onto the wonderful things that Fall brings like cooler weather, changing leaves, bluer skies, football games, fairs, festivals, pumpkins, apples, Halloween, Thanksgiving and FALL BAKING! I do love Fall, it really is one of my favorite seasons. Last year I bought a couple of small baking pumpkins for decorations and using in my baking but when the season was thru I ended up with one lonely pumpkin so I cooked him up and pureed it and froze the pumpkin for later. Fast forward to a week ago and getting in the Fall baking mood I checked my cabinet for any cans of pumpkin and none were to be found then I remembered my frozen pumpkin, yay! I took out the pumpkin and thawed it overnight so I could make this delicious brown butter pumpkin bread. The original recipe was from a friend but I tweaked so much it's fair to say it mine now :). Pumpkin and brown butter are meant for each other, the nutty flavor that brown butter gives the pumpkin is like no other, it's a must try. I don't think I will want to make regular pumpkin bread again. One other thing I did different when making this bread is I grated my own nutmeg, I found whole nutmeg while shopping in Dallas and bought them. When grating the nutmeg it was so fragrant and gives a stronger fresher flavor I fell in love with the fresh grated stuff, but using a good quality ground nutmeg will taste just wonderful too.
I've included a lower fat version by taking out half of the browned butter and it turned out great but I must say you lose some of that lovely brown butter flavor. If you're looking for a super moist flavorful pumpkin bread to get you in the Fall mood then you will love this recipe. It makes two loaves so you can share one with someone you love or freeze it for later. Enjoy your Fall and all the wonderful things it offers us.
Brown Butter Pumpkin Bread
Ingredients:
3 1/2 cups all purpose flour
3 cups sugar
3 tsp. ground nutmeg (fresh grated is great if you have it)
2 tsp. baking soda
2 tsp. ground cinnamon
1/2 tsp. ground cloves
1 1/2 tsp. salt
3 cups of fresh cooked pumpkin or canned
3 eggs
2/3 cup Chobani Greek yogurt
1 cup browned butter
1 1/2 cup chopped nuts optional (pecans, walnuts or your favorite)
Lower Fat version:
use only 1/2 cup browned butter
add 1 cup applesauce
Directions:
Step 1: Pre-heat oven to 350 degrees F. Grease two 9 X 5 loaf pans use some parchment paper on the bottom to ensure the bread comes out clean.
Step 2: In a small saucepan put the butter in and cook over medium heat stir often or swirling often until butter is brown in color, there will brown bits on the bottom and that's expected and a good thing. Once the butter turns brown and smells nutty turn off heat.
Step 3: Sift the flour, soda, and salt together into a large mixing bowl then add the remainder of the dry ingredients except nuts.
Step 4: Mix the wet ingredients together and add to the dry. Stir well then divide evenly into the two loaf pans.
Step 5: Bake at 350 degrees F. for 50-60 minutes or until a cake tester comes out clean.