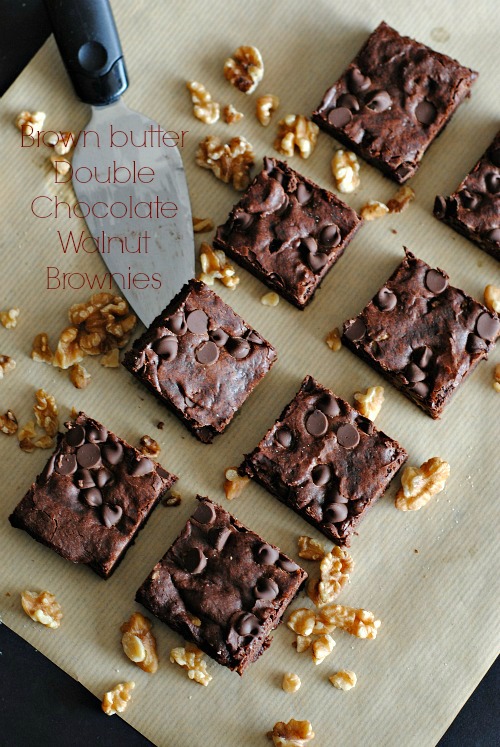 Did you know that February is the month we celebrate heart health? Seems quite appropriate doesn't it since we celebrate Valentine's Day in February. I know this recipe isn't exactly "heart healthy" with all the butter in it, but it does have some heart healthy organic nuts in them. I made these for my Valentines this year and we ate the brown butter double chocolate brownies while they were still warm, mmm….  Sunridge Farms organic food company contacted me and were nice enough to send me some of their delicious nuts to try out, so of course I want to share with you where you can find these organic nuts to include in your snacking for a healthy heart. I choose to use their organic walnuts in my brownies, but if walnuts aren't  your nut of choice then try out these yummy nuts.
Organic Almonds ­ Full of heart-healthy monounsaturated fats and copious amounts of Vitamin E, potassium and magnesium.
Pistachios ­ A lower-calorie option among most nuts. They contain significant amounts of protein, fiber, Vitamin B6 & B1 and magnesium.
Tamari Roasted Almonds ­ All natural, non-GMO almonds that are freshly roasted in-house in small batches, and then coated in mouth-watering, savory, tamari shoyu. These are a pleaser for any crowd.
My favorite nuts from Sunridge Farms were the Tamari Roasted Almonds, there were perfectly flavored with just enough savoury saltiness and roasting.
Sunridge Farms is a family company that believes in producing the highest quality foods for a healthier lifestyle.   I found Sunridge farms to be a different company, one who not only cares about the quality of food you receive but also cares about the type of fuel their trucks use to deliver the food, only using bio-diesel which is better for the environment.  In an effort to reduce their carbon footprint on the world they even offer $5.00 per day to their employees who ride their bikes to work, what a great incentive to stay fit and healthy while reducing their carbon footprint.  What a wonderful company,  I'm glad they asked me to give their nuts a try.  (Opinions are my own and I was not compensated for this post)
Brown butter double chocolate walnut brownies
Ingredients:
1 1/4 cup butter
1 1/4 cup granulated sugar
3/4 cup unsweetened cocoa powder
1 teaspoon chocolate extract or vanilla
1/4 teaspoon salt
2 eggs
1/3 cup all-purpose flour + 1 tablespoon
1 cup chopped walnuts
1/4 cup semi-sweet chocolate chips
Directions:
Step 1: Pre-heat oven to 325 degrees F. Prepare a 8 x 8 inch square pan or 9 X 9 inch by lining with foil so the foil comes up over the edges of the pan. Spray the foil in pan with cooking spray.
Step 2: In a small saucepan heat the butter on medium stirring occasionally until the butter turns a golden brown color, there will be little brown bits of milk solids and that's good you want all of it in your brownies.
Step 3: Pour into a medium mixing bowl and add the sugar and cocoa then mix well, let cool 5 minutes.
Step 4: Add chocolate extract or vanilla, salt, and eggs one at a time and beat well or mix by hand well about 60 strokes or until the mixture is shiny.
Step 5: Stir in the flour and walnuts mix well. Pour the mixture into the prepared pan and sprinkle with chocolate chips.
Step 6: Bake for 20-25 minutes or until a toothpick inserted in the middle comes out with just a few crumbs on it. Cool in pan then lift the brownies out of pan with the foil and cut into squares.
Recipe adapted from : Bon Appetit