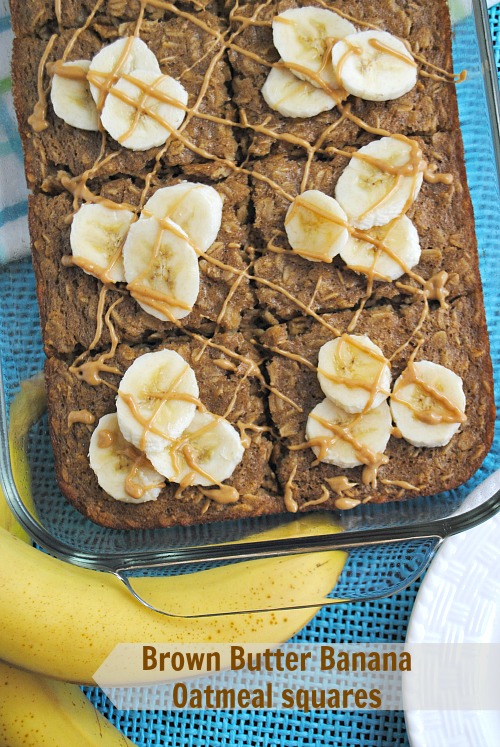 I'm loving this oatmeal, it's a great change of pace for breakfast and it has my favorite brown butter in the recipe! I've already talked about how I love brown butter, so I will spare you from that rant. I think I mentioned I'm trying to eat healthier foods and also make things a head of time so I don't have to think about what I am going to eat. When I'm left to my own devices when hunger strikes I start grazing on snack foods like chips, pretzels, crackers, and other such unhealthy things. It's like when I'm hungry all my good intentions go out the window if I don't' have a specific plan, anyone with me? I'm learning to make plans and cook ahead of time which really goes against the grain for this fly-by-the-seat-of-my-pants kind of girl, it's like too much structure in my life makes me nervous and feel like I don't have choices, I know weird huh? Anyway, the great thing about this recipe is I can make this on Monday and have it last through out the week or even freeze it if I want. That means breakfasts done for me and I'm NOT tempted to eat my son's sugar cereal 😀 , I'm telling you it's terrible to have a sweet tooth that speaks the loudest!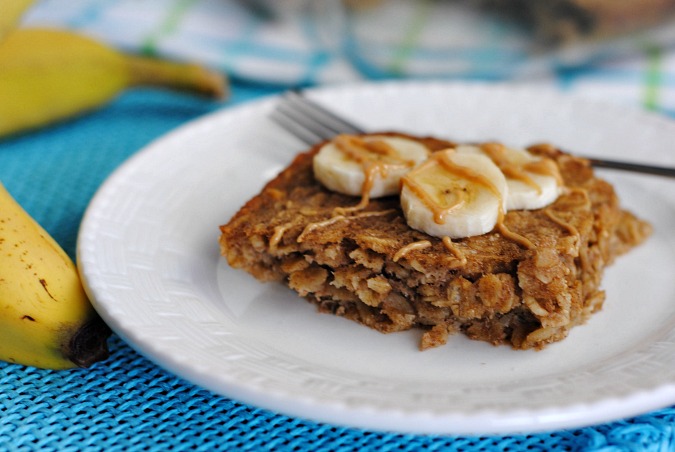 Brown Butter Banana Oatmeal Squares
Ingredients:
2 cups regular whole oats
2 tablespoons Truvia baking blend brown sugar
1 tsp. ground cinnamon
1/2 tsp. baking powder
1/2 tsp. salt
2 ripe bananas mashed
2 eggs
1/2 cup milk
5 T. or 1/3 cup browned butter
1 tsp. vanilla
peanut butter (optional)
Directions:
Step 1: First, prepare a 11 X 7 inch pan or 8 X 8 inch pan by spraying with cooking spray. Pre-heat oven to 350 F. Put butter in small saucepan and cook at med-low heat stirring often until it begins to turn brown and bits form on the bottom of pan. Take off heat and set aside.
Step 2: In medium size mixing bowl add the first 5 ingredients and stir.
Step 3: In a blender put the remainder ingredient in and blend on low speed until no lumps.
Step 4: Pour the blender ingredients into the dry ingredients and stir. Now transfer the oatmeal mixture into a greased 11 X 7 inch pan or 8 X 8 inch pan. Bake at 350 F. for 25-30 minutes.
Serve warm, with sliced bananas and 1-2 tablespoons of peanut butter melted drizzled on top, you can even enjoy it in a bowl with milk poured over the top.
Note: nutrition facts were figured without the added peanut butter and banana.
Recipe slightly adpated from: Kate Moving Forward
Nutrition Facts
Servings 8.0
Amount Per Serving
calories 205
% Daily Value *
Total Fat 10 g 16 %
Saturated Fat 5 g 27 %
Monounsaturated Fat 3 g
Polyunsaturated Fat 1 g
Trans Fat 0 g
Cholesterol 73 mg 24 %
Sodium 383 mg 16 %
Potassium 228 mg 7 %
Total Carbohydrate 25 g 8 %
Dietary Fiber 3 g 12 %
Sugars 7 g
Protein 6 g 11 %
Vitamin A 7 %
Vitamin C 5 %
Calcium 4 %
Iron 7 %
* The Percent Daily Values are based on a 2,000 calorie diet, so your values may change depending on your calorie needs. The values here may not be 100% accurate because the recipes have not been professionally evaluated nor have they been evaluated by the U.S. FDA.