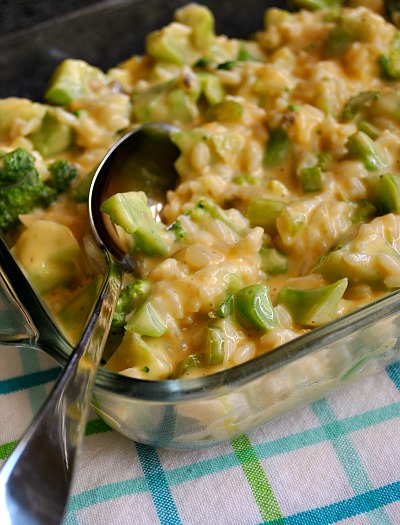 This is one of those easy to make but super delicious side dishes that goes great with ham during the holidays, or any meat in my opinion.  Most kids don't like broccoli unless it's paired with cheese or ranch, rest assured they will like this side dish because of the cheese.  But you'll get a few more vegetables in your kids because of the celery and onions, plus, rice is a grain that most people like.   My friend Louise who is a super cook gave me this recipe and now it's a favorite of my family.  Try out this recipe for your family or next get together, it's a crowd pleaser.
Broccoli Cheese Rice Casserole
Ingredients:
1 cup dry rice cooked
2 frozen packages of broccoli florets cooked or 1 large fresh head
2 celery ribs chopped and cooked
1 small onion chopped and cooked
1 large bottle of Cheese Whiz
1 can of cream of mushroom soup undiluted
Directions:
Cook rice according to package directions.
Cook the broccoli according to package directions but a minute or two less since you will be baking this rice dish. If you using fresh broccoli I usually steam it a bit crisp, but it all depends on how firm you like your broccoli.
Saute onion and celery together on medium heat in a little oil or butter until soft. If you don't want to dirty another pan just throw the celery and onions in with the broccoli.
In a medium size mixing bowl heat the cheese and the soup together until warm and mixed well.
In a large casserole dish 9X13 put the rice and vegetables in and stir. Add cheese mixture and stir until well combined.
Bake uncovered for 30 minutes at 350 degrees.
Serves 10-12