Pin It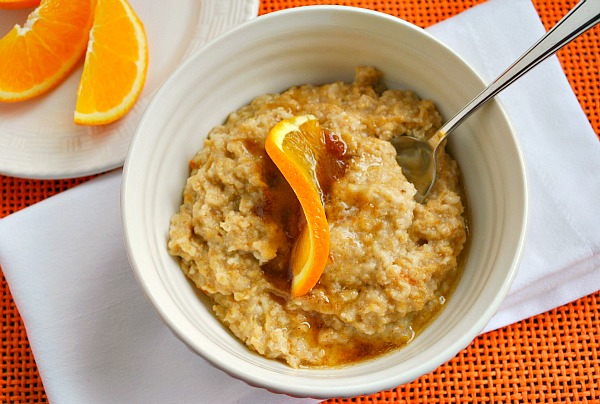 Oatmeal~ some love it and others hate it, I'm one of the lovers.  I love the taste and texture of this heart healthy grain. I like baking with it too, but the old fashion way of cooking it in a pan on the stove top just reminds me of being a kid, when mom made oatmeal for me. We never varied much in how we ate our oatmeal then, hot oatmeal with brown sugar, butter and cinnamon with milk poured over the top. I never liked my milk stirred into the oats I liked them somewhat stiff, but now stir the milk in or not I just enjoy my oatmeal.  Because of my love of oats I wanted to share a few ideas of what to put in your oatmeal to make it really good and a little different too. Your bound to find something here you like, so experiment with flavors you enjoy. Besides the variations below I usually add 2 T. of  flax meal or wheat bran per person to our oatmeal to add some extra nutrition to my diet because by the end of the day I'm in the mood for some sweets not eating healthy :).
 sprinkle orange zest, brown sugar and cinnamon on oatmeal add coconut milk on top
 stir frozen blueberries into hot oatmeal they get thawed and they cool the oatmeal, add a dash of nutmeg and sugar
 replace half of the cooking liquid with apple juice or orange juice then add a chopped peeled granny smith apple during cooking, then add cinnamon and sugar to each serving
 add unsweetened cocoa to cooking liquid(try 1 T. per serving) when serving add sugar and chocolate chips
 add maple syrup, brown sugar, toasted chopped nuts and cream to individual servings
 stir in peach pie filling and cinnamon into each serving
 stir in chopped bananas, strawberries, sugar and cream into each serving
 cook 1 cup fresh or frozen blackberries with 1/2 cup sugar, add some lemon zest and spoon over each serving
 add chopped banana, brown sugar and chopped toasted nuts to each serving
 add dried cranberries (or your favorite dried fruit), orange zest, sugar and nuts to each serving
I hope these 10 ideas keep your oatmeal exciting, if you have any other great ideas then just share them in the comments :).