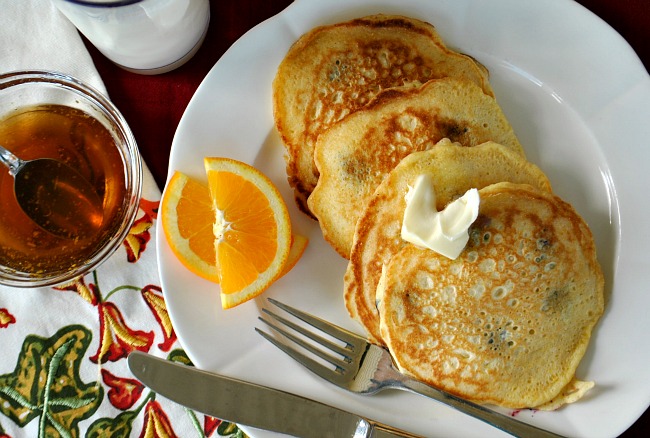 It's funny how I come up with recipes that I'm going to post on here, for instance I was planning on making some chocolate candies but I got side track and cornmeal pancakes crossed my mind so here they are.  We love pancakes at our house especially me, they are one of the first things that I learned to make as a kid. We also love cornbread and eat it often sometimes just for dinner with butter and honey. These pancakes are the perfect match for our family, cornmeal in pancakes the best of both worlds.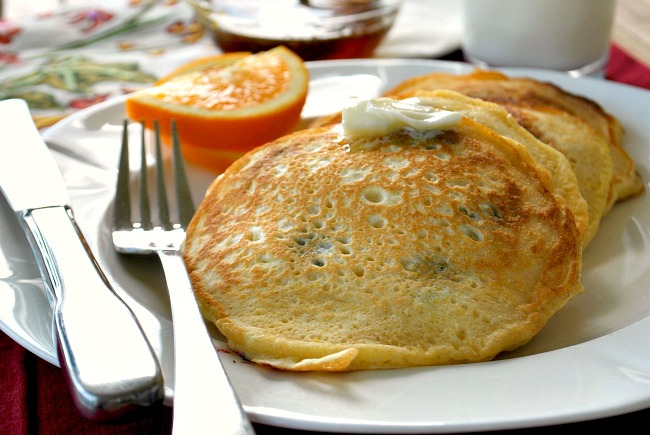 Plump blueberries from my a friends' farm this Summer make these pancakes extra special. I use frozen blueberries all year long but this year I'm enjoying them even more since they are homegrown. As I made these hotcakes I wondered if the cornmeal would be just a little too gritty but it wasn't at all. The hotcakes were light, fluffy and tender, but over mixing the batter can make them tough so be careful. Citrus flavors go well with blueberries so I added a touch of orange zest to my syrup that I heated up, even lemon zest would be a great addition too. Make these pancakes on the weekend when you have time to sit down and enjoy a nice breakfast.
Blueberry Cornmeal Pancakes
Ingredients:
Recipe adapted from
Taste of Home
1-1/3 cups all-purpose flour
2/3 cup cornmeal
2 tablespoons sugar
1 tablespoon baking powder
1 teaspoon salt
2 eggs
1-1/3 cups milk
1/4 cup canola oil
1 cup fresh or frozen blueberries
maple syrup
zest of an orange(optional)
Directions:
Step 1: In a large bowl, combine the flour, cornmeal, sugar, baking powder and salt.
Step 2: In another bowl, whisk the eggs, milk and oil; stir into dry ingredients just until moistened.
Step 3: Butter a hot skillet and pour batter by 1/4 cupfuls onto a lightly greased hot griddle. Drop blueberries one at a time onto the pancakes about 5-6 berries on each. Turn when bubbles form on top; cook until the second side is golden brown.
Makes: 12 pancakes