I've turned my family into scone loving fools…well, except my son, it's okay because it just means more for the rest of us. I originally made scones using heavy cream but I also like this recipe for buttermilk scones. The buttermilk makes them rise high and fluffy.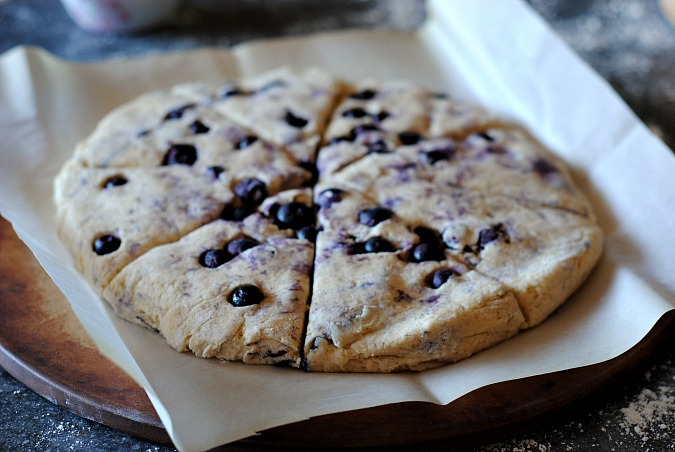 I think one of the tricks to making scones is "not to over mix them" I use my food processor for all the work except adding in the berries. I have found that frozen berries work best because they don't get all mashed up while folding them into the dough. Once I turn the dough out onto the floured surface I do very little with it other than dump berries on and fold over, dump more berries on the dough and flour the surface and roll slightly. When I have over kneaded or worked the dough the end result is not as tender.
Another important thing to do when making scones is to have very cold butter in fact if you have the patience put the butter into the freezer in chunks for about 20 min. to make it extra cold. If you let your dough rest in the refrigerator after cutting, shaping, and on the cookie sheet, it will also help to give you that extra fluffy scone. Scones should never be dry, they should always be melt in your mouth good, but a little crumbly.
The last tip I've learned along the way is when you bake the scones as a whole pre-cut unit as I did in the photos above, it will take longer to get done. The air is not circulating through out the individual pieces when the scones are cooked whole. Use the cook time as a guideline and try cooking as a whole or in separate pieces on the cookie sheet. I hope you try making these scones and enjoy them as much as we do.
Blueberry Buttermilk Scones
Ingredients:
3 1/2 cups all-purpose flour
1/2 cup sugar
1/2 tsp. salt
1 tablespoon baking powder
1/2 tsp. baking soda
3/4 cup unsalted butter cold, cut into chunks
1 large egg
2 tsp. vanilla extract
1 cup buttermilk
1 cup frozen blueberries
1/2 cup powdered sugar
2 tablespoon lemon juice
Directions:
Step 1: Pre-heat oven to 400 degrees, line a cookie sheet with parchment paper or silicone mat.
Step 2: In a food processor put cold butter cut into chunks, then flour, sugar, salt, baking powder, baking soda and turn on until the butter is in small beads.
Step 3: Add egg and vanilla and turn on food processor then buttermilk until the dough forms into a ball.
Step 4: Turn dough out onto a floured surface and knead in blueberries.
Step 5: Roll dough out into a circle and cut with a pizza cutter like a pie.
Step 6: Bake for 18 to 20 minutes or until lightly browned.
Step 7: To make the glaze: in a small bowl put 1/2 cup of powdered sugar, 2 tablespoon of lemon juice. Stir well and drizzle over the top of the scones.