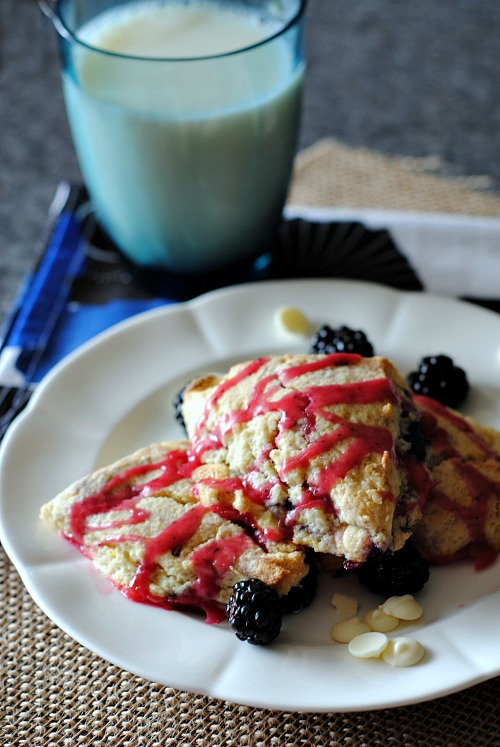 First, I'd like to wish all the mother's happy Mother's Day. I love my mother dearly and I'm lucky enough to spend this special day with her. In honor of my mom's love for scones I'm sharing this delicious recipe today.
Berry season is coming soon here in the US and I love to go pick fresh ripe berries at U-pick farms. I started picking berries at U-pick farms when my first child was just 3 years old (she is now 19) and it's been a yearly family tradition. The only down side to berry picking for me is waking up at the crack of dawn to get out the door to beat the heat. While waking early is a sacrifice to me it's not really a sacrifice when I know I'm picking some delicious ripe fruit to bring home and make all sorts of goodies with them. Blackberries are a favorite berry of mine due to lots of berry bushes that my dad planted when I was growing up. Some people don't like the seeds in blackberries but they don't bother me that much.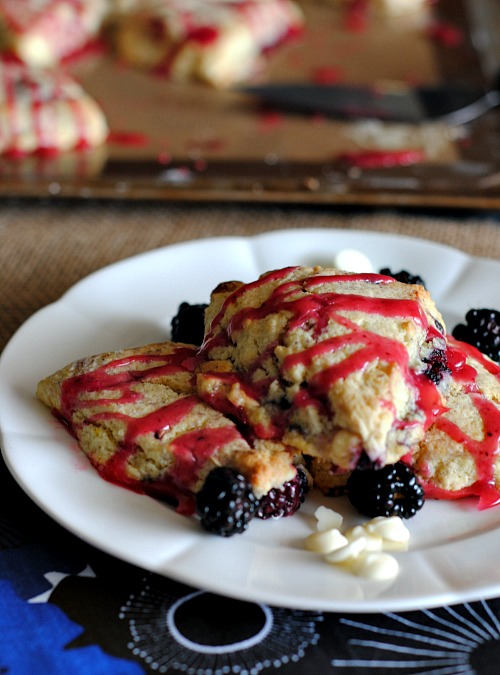 I pretty much dream of heaven being filled with every kind of tender, soft, slightly crumbly scone I can imagine and this recipe here has to be on the menu. The white chocolate chips in these scones counter balance any tartness that comes from the blackberries and make these scones absolutely incredible (I'm a bit bias). Scones in my opinion have to have some kind of a glaze, these scones made me feel extra special because the glaze turned out pretty and delicious. Back in the eighties Betty Crocker products had a commercial that ran "bake someone happy" these scones definitely do the trick for me. I hope you give them a try and if you have a big enough food processor then make them with it because it makes life so easy. If you don't have a food processor then the old fashioned way is fine too, whatever you do just enjoy the fruits of your labor whether or not you went to the store to buy blackberries or you went and picked them yourself. Happy Baking!
Blackberry white chocolate chip scones
Ingredients:
3 1/2 cups all-purpose flour
1/2 cup sugar
1/2 tsp. salt
1 tablespoon baking powder
1/2 tsp. baking soda
3/4 cup unsalted butter cold, cut into chunks
1 large egg
2 tsp. vanilla extract
1 cup buttermilk
1 to 1 1/2 cup frozen blackberries (even when my berries are fresh I freeze them to work better in my dough)
1/2 cup white chocolate chips
Glaze:
1/2 to 3/4 cup powdered sugar
2 T. blackberry puree or can use lemon juice, milk or water
Here is a link to my blueberry scones with photos of how I knead in the berries
Directions:
Step 1: Pre-heat oven to 400 degrees, line a cookie sheet with parchment paper or silicone mat.
Step 2: In a food processor put cold butter cut into chunks, then flour, sugar, salt, baking powder, baking soda and turn on until the butter is in small beads.
Step 3: Add egg and vanilla and turn on food processor then buttermilk until the dough forms into a ball.
Step 4: Turn dough out onto a floured surface and knead in blackberries and white chocolate chips.
Step 5: Roll dough out into a circle and cut with a pizza cutter like a pie.
Step 6: Bake for 18 to 20 minutes or until lightly browned.
Step 7: To make the glaze: in a small bowl put 1/2 to 3/4 cup of powdered sugar, 2 tablespoon of blackberry puree or lemon juice. Stir well and drizzle over the top of the scones.