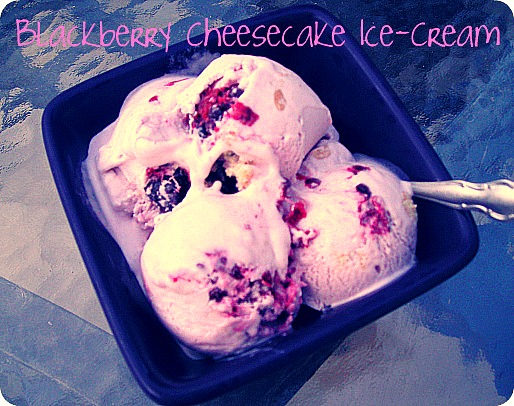 This ice cream is seriously sinful, but worth it. Your going to love the sweet taste of the cream paired with the bittersweet blackberries and to add some crunch I added some smashed vanilla sandwich cookies. I'm not going to lie getting the seeds out of the berries is a bit time-consuming but you'll be done in about hour, start to finish.
Blackberry Cheesecake Ice cream
Ingredients:
2 eggs
1 cup sugar
1 tsp. vanilla
8 oz. cream cheese
2 cups heavy cream
1/2 cup half and half or milk
1 cup purred and seeded blackberries (2 cups whole berries)
12 vanilla cream cookies smashed
2 cups whole blackberries
Directions:
Step 1: Get your berries ready by taking 2 cups of whole berries and pulsing them in a food processor until they are pureed.
Step 2: Then strain the seeds out through a mesh sieve or I have my flour sifter that I have used for years, you just have to wash it good by hand then dry it so it doesn't rust.  2 cups of berries should equal 1 cup of purred liquid
Step 3: Beat your eggs and sugar together until lite and creamy. ( I used my food processor)
Step 4: Then slowly add the milk, cream and vanilla.
Step 5: Add the cream cheese and blend well.
Step 6: Add the purred berry mixture to the cream.  Pour all ingredients into a 1  1/2 quart ice-cream maker fit the attachment and turn on.
Step 7: Crush about 12 cookies  in a plastic ziplock bag with rolling pen.  Leave the cookies chunky.
Step 8: Add the cookies to the ice cream toward the last 5 min.
Step 9: When the ice cream is done pour into a container a little at a time layering with a few fresh blackberries.  When the ice cream gets scooped up it will take with it the fresh blackberries and you will have this wonderful ice cream.