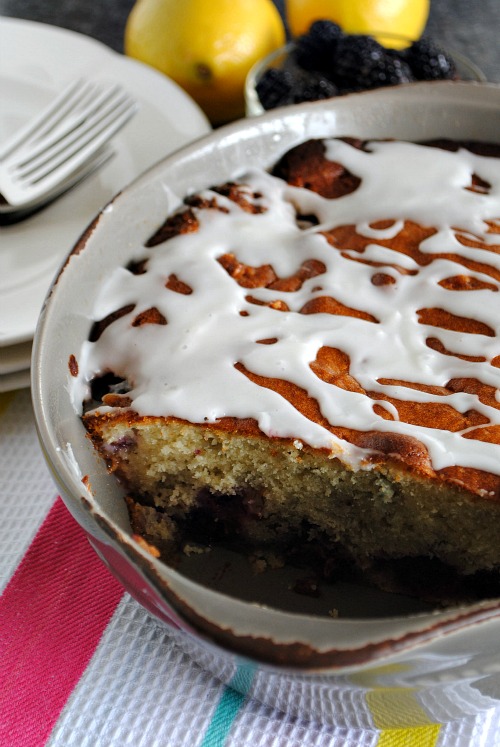 I have fond memories of picking blackberries in my own back yard in the middle of the city in Southern CA. My Dad loves to grow fruit and blackberries grew like weeds in our backyard.   They were extra sweet from the vine and we would snack on them in between swim breaks.  We sometimes would put them on ice-cream but mostly we just ate them straight from the vine and so did our dog.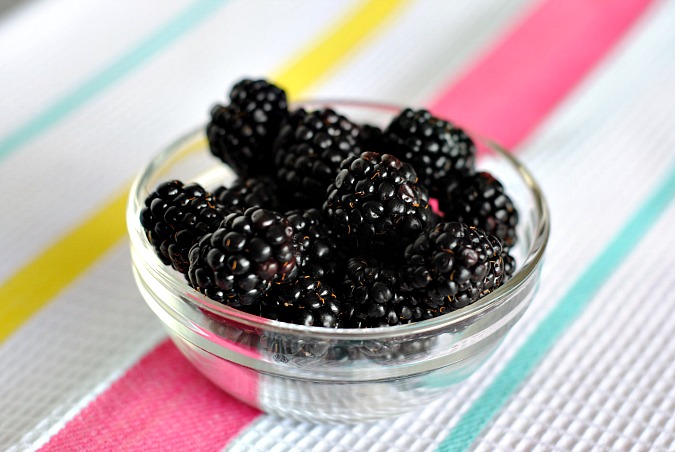 A good friend of mine has a blackberry farm here in Arkansas and so I got some of the first blackberries this year. I thought I might share this weekend some recipes on blackberries to tempt you to get cooking with them.  This little cake is just perfect for breakfast or snacking, it's moist and tangy with a hint of almond and nutmeg or if you're not a nutmeg fan then use some cinnamon. I used Greek yogurt to add the moistness but I'm sure buttermilk would be a wonderful too.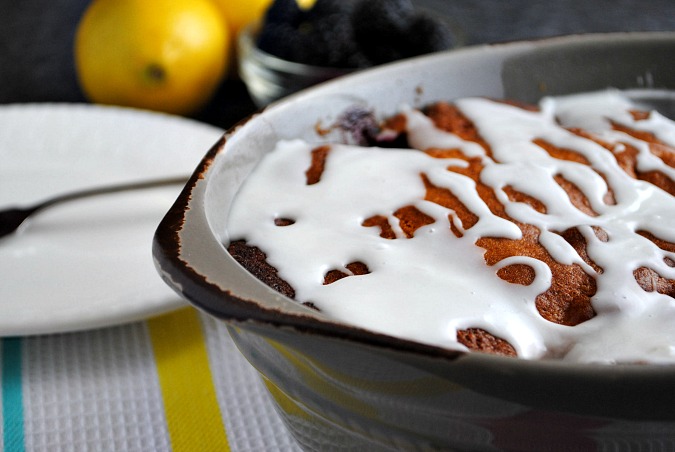 Blackberry Almond Cake
Ingredients:
1 1/4 fresh or frozen partially thawed blackberries
2-3 tablespoons granulated sugar
a few grates of nutmeg or 1/2 tsp. cinnamon
1/4 cup whole raw almonds, roasted and cooled or use already sliced almonds
1/2 cup butter (1 stick)
1/2 cup granulated sugar
2 large eggs
1/2 cup plain yogurt or Greek yogurt
1/2 teaspoon almond extract
1 lemon zested, and juice
1 cup all-purpose flour
1/2 cup almond flour or use all-purpose flour
1 tsp. baking powder
1/2 teaspoon baking soda
1/2 tsp. salt
1 cup powdered sugar
Directions:
Step 1: Pre-heat oven to 350 degree Fahrenheit. Prepare one 8 inch spring form pan, loaf pan, or small casserole pan, like I used, by spraying with cooking spray.
Step 2: In a small bowl put blackberries in with 3 tablespoons sugar, freshly grated nutmeg, chopped almonds and mix together, then set aside.
Step 3: In a medium size mixing bowl beat butter and sugar at medium speed until creamy, 2 to 3 minutes.  Add eggs and beat well, then add next 3 ingredients beat until smooth.
Step 3: Combine flour, baking powder and salt.  Gradually add to butter mixture beating until well blended.   Pour 1/3 of batter into greased pan spreading out evenly then top with 1/3 of the berry and nut mixture, repeat and end with the batter on top.
Step 4: Bake at 350 degrees F. for 35-40 min. or until toothpick or cake tester inserted into the middle of cake comes out clean.
Step 5: When cake is cool sprinkle powdered sugar on top or make a simple glaze of 1 cup powdered sugar and juice of a  lemon, whisk together and pour over cake when cool.