Oh my don't these brownies look so chocolaty and delicious? They are everything I love in a brownie and more. The cream cheese layer compliments the dark chocolate rich brownie layers. These are special occasion brownies for sure because they are so rich and calorie laden too 🙂  but worth every bite.  If you want to impress someone then I recommend this recipe, but make sure they are chocolate lover's because these are not for the faint of heart.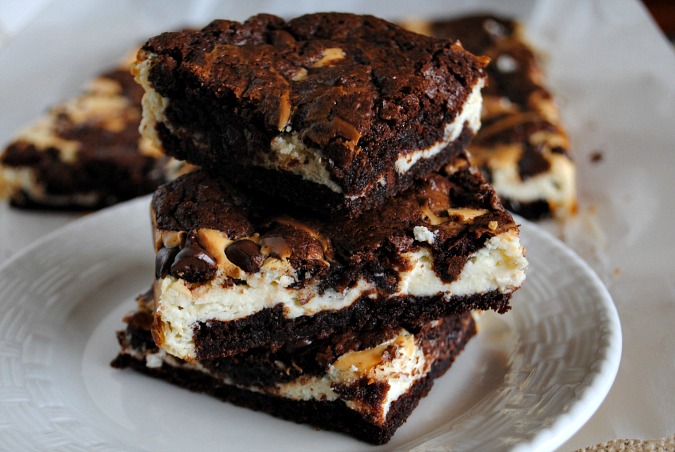 Black bottom cheesecake brownies
Ingredients:
1/2 cup butter, cubed
8 oz. bitter sweet chocolate, chopped
1 cup sugar
2 teaspoons vanilla extract
2 eggs
1 cup all-purpose flour
1 teaspoon baking p owder
1/2 teaspoon of salt (if using unsalted butter, I used 1/4 tsp. for salted butter)
Cheesecake layer:
2  8 oz. pkg. cream cheese at room temp.
1 large egg
1/2 cup sugar
1/2 teaspoon vanilla extract
3/4 cup semi-sweet chocolate chips
Directions:
Step 1: Pre-heat oven to 350 degrees F. Grease a 9 X 13 inch pan or line the pan with parchment paper.
Step 2: Put the chocolate and butter into a microwave safe dish and microwave a few minutes checking every thirty seconds to stir and make sure the chocolate does not over cook or burn. Once the chocolate is completely melted set aside.
Step 3: In medium size mixing bowl whisk the eggs, vanilla, and sugar together. Pour the chocolate mixture into the sugar egg mixture and mix well. Whisk in the flour, baking powder and salt, stirring well until all is incorporated. Pour half of the brownie batter into the prepared pan and reserve the rest for the top.
Step 4: Put the cream cheese and sugar in mixing bowl and beat with electric mixer until smooth. Then add the egg and vanilla, beat well.
Step 5: Spread the cream cheese mixture over the brownie layer.
Step 6: Put the remainder of the brownie mixture on with small ice-cream scooper, then with spatula spread around , there will be spots that you will see the cheese mixture and that's okay. Sprinkle chocolate chips over the top.
Step 7: Bake for 40-45 minutes until the brownies start to pull away from the sides of pan and are firm to touch. Let cool completely and cut into squares. Makes 15 brownies or can be cut smaller.
Recipe adapted from "The Lemonade cookbook"