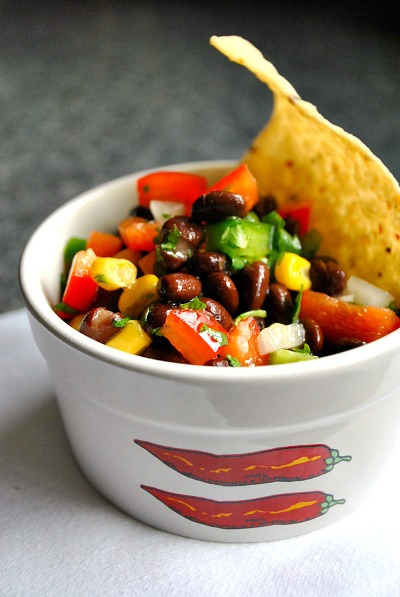 Salsa is a staple at our house we love it on everything, sometimes I think my daughter lives off of chips and salsa. You would think that kids wouldn't like this salsa but it's just the opposite, my kids love it.  The funny thing is all the ingredients except the beans and corn they wouldn't touch on their own.  I usually make it when we eat Mexican dishes because it goes so well as either a salsa or salad.  This salsa is also great on burritos, tacos or grilled meats.  The secret to this great salsa is the homemade flavored vinegar, mixed with the oil and cilantro.  If you don't want to make the vinegar or have time just use white wine vinegar even rice wine vinegar would work too.  One of the important ingredients that I wouldn't leave out would be the fresh garlic, it just doesn't taste the same without it.  I hope your enjoy this recipe as much as our family has.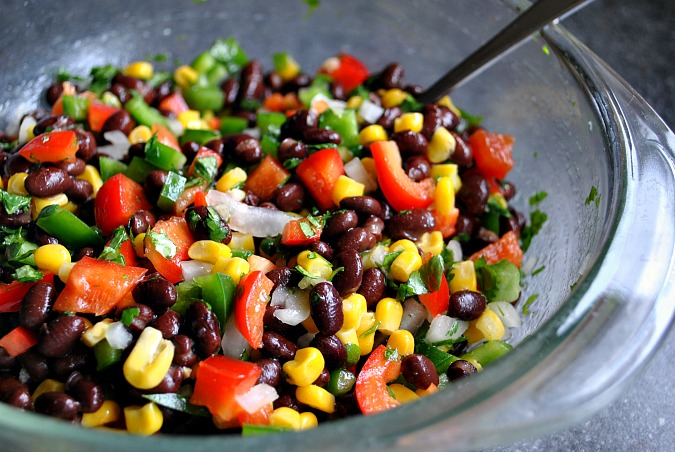 Black Bean Salsa
Ingredients:
1 can black beans rinsed and drained
1 cup frozen corn (not thawed)
1/2 red bell pepper chopped
1/2 green bell pepper chopped
1 jalapeno seeded and chopped
1-2 cloves of garlic minced
1/2 to 3/4 cup green onion tops chopped
1/4 to 1/3  c canola oil
1/4  to 1/3 c  white  or cider vinegar( I use homemade vinegar)
1/2 bunch cilantro washed and chopped
1/2 tsp. cumin (optional)
avocado and tomato (optional)
Lime juice of 1/2 (optional)
Directions:
Step 1: Rinse and drain black beans in colander and add corn and rinse.
Step 2: In medium bowl put beans and corn add all other ingredients except oil and vinegar.
Step 3: In small bowl measure the oil then slowly while mixing with fork add the vinegar.  Pour vinegar oil mixture over the salsa and stir.  If you want to add avocado or tomato do so and stir.
Step 4: Cover and refrigerate for few hours.