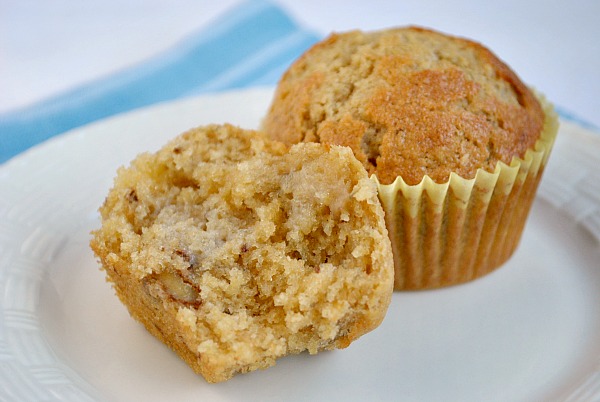 These muffins are the best banana muffins I've made, in years.  I changed a recipe that I got in the mail years ago and made it my own. They are super moist and full of sweet banana flavor.  I am a huge banana fan, if you don't already know that, the rest of my family likes bananas okay but it is my choice for desserts like, pie, pudding, ice-cream and cake.  If you're a bit of a banana freak like me then you will love these little tender muffins. They will freeze well if you can get them into the freezer without them disappearing, good luck with that.  Enjoy 🙂

Banana Nut Muffins
Ingredients:
1/2 cup unsalted butter
1/2 cup granulated sugar
1/2 cup brown sugar
2 eggs
2 large ripe bananas mashed
1 cup all-purpose-flour
1 cup wheat pastry flour
1 tsp. salt
1 tsp. baking powder
1 tsp. baking soda
1 tsp. vanilla
1 cup milk
1/2 cup chopped nuts
Directions:
Step 1: Pre heat the oven to 400 degrees.
Step 2: Soften the butter and put into a large bowl and add the sugars, beat well.
Step 3: Add eggs one at a time and beat well, then add the mashed bananas and vanilla and stir well.
Step 4: Put all the dry ingredients into a bowl and mix together. Add half dry to the wet banana mixture and about half the milk and stir well and repeat just until the dry gets incorporated into the wet. If you over mix muffins you will have tough muffins.
Step 5: If using the nuts fold in gently.
Step 6: Line the muffin tin with papers (easier clean up) or just grease the pan with cooking spray or butter. Fill the papers almost to the top. It will make 17 regular size muffins.
Step 7: Bake for 15-18 minutes or until golden brown. When done take out, let cool in the pan for 10 min., then pop out and let cool on rack.
Enjoy while warm with a slab of butter on inside of the muffins mmm…so good 🙂