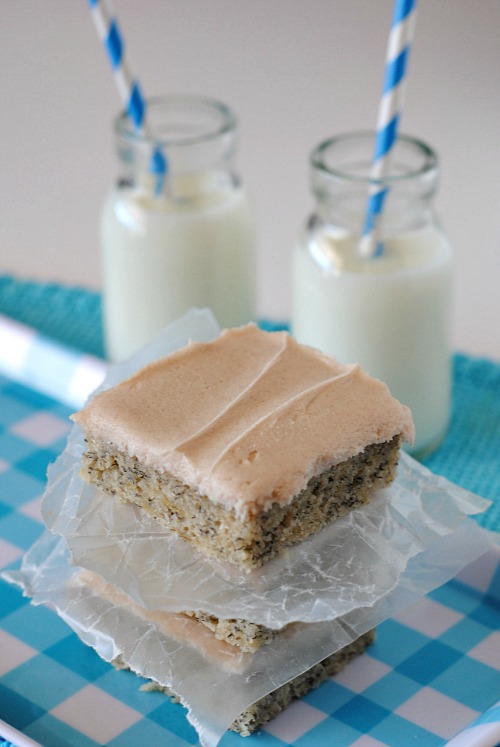 If you asked me what my go-to recipe is for a sweet treat that everyone loves, it would be this recipe! I originally got this recipe from my sister-in-law but I decided it needed more banana flavor and a different kick to the frosting too, so I tweaked it a bit. I loved the changes I made and so does everyone else even my SIL :). My family that lives in California always asks me to make this when I visit them and so I usually do. My nephew loves these too and makes them himself now that he is on his own. I almost always have ripe bananas on hand and if I made these each time I had an abundance of overly ripe bananas I would be in big trouble since they are totally addicting. The recipe is basically a banana bread recipe made into a sheet cake and frosted with a cinnamon cream cheese frosting. Even if you aren't a huge cinnamon fan you will like these frosted this way because it adds a little different taste that is subtle but tasty.
I recently tried making this recipe with coconut oil since it has some health benefits that is all the rave right now. They turned out just as good but they didn't rise quite as high as when using butter so keep that in mind if you try them that way. The photos here are with me using the coconut oil, oh and one more thing, the coconut oil makes these extra moist too. I hope you love this recipe as much as our family does and that it becomes your favorite as well. Happy Baking!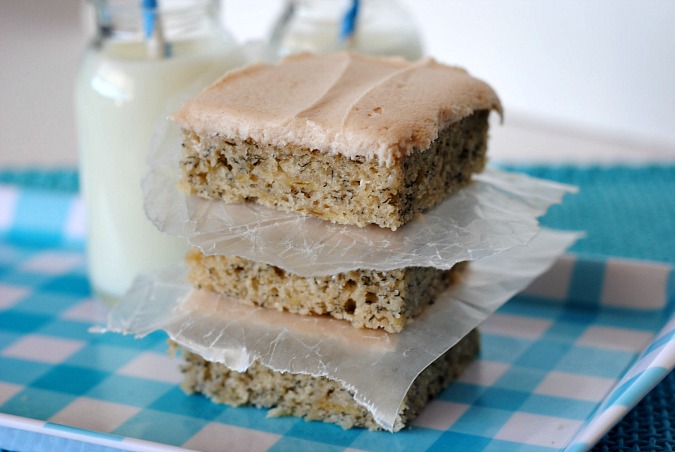 Banana Bars
Ingredients:
1/2 cup softened butter or coconut oil
1 cup sugar
2 eggs
4 ripe bananas mashed
1/2 cup sour cream or Greek yogurt
1 tsp. vanilla
2 cups all purpose flour
1 tsp. baking soda
1/4 tsp. salt
Frosting:
1/2 cup butter softened
4 oz. cream cheese
3/4 tsp. cinnamon
3 1/2 to 3/4 powdered sugar
2 tsp. vanilla
1-2 T milk
1 cup chopped nuts
Directions:
Step 1: In large mixing bowl cream butter and sugar. Then add eggs, bananas, sour cream mix well.
Step 2: Add dry ingredients all at once and mix until incorporated well.
Step 3: Pour into a 15 X 10 inch. pan sprayed with cooking spray.
Step 4: Bake 350 degrees for 20-25 min. Cool in pan.
Making the Frosting:
While cake is cooling make the frosting.
Step 1: In large mixing bowl cream the butter and cream cheese together, add vanilla and cinnamon and beat.
Step 2: Add the powdered sugar and beat slow until most all is incorporated, then mix on high until frosting like consistency. If too dry, then can add 1 T. of milk until desired consistency.
Step 3: Frost bars and add chopped nuts on top if desired.