I'm on a grilling kick so the next few recipes will be about grilling :).  No grill no problem just turn your oven on and either bake or broil. But, I would seriously think about buying a grill though because Summer time = grilling time.
Simple balsamic vinegar, olive oil and garlic is the marinade for this chicken and it sure does taste delicious and juicy grilled.  The veggies are lightly seasoned and drizzled with extra virgin olive oil then grilled tender.  I was so happy how this meal turned out, it was a nice Summer meal that was flavorful and light.  We ended the dinner with ice cold watermelon for dessert 🙂  it couldn't have been nicer…well maybe if the outside temperature wasn't 95 degrees at 7:30 pm, but that is how the South is.  Hope you all will try this recipe out and enjoy this easy light dinner.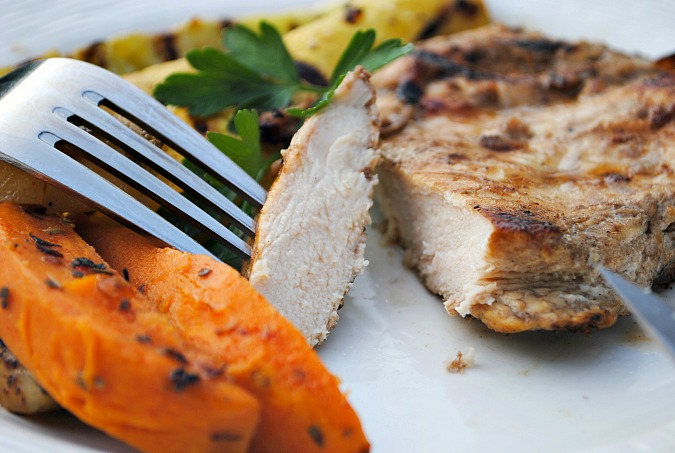 Balsamic Grilled Chicken and Vegetables
Ingredients:
1/8 cup of good quality balsamic vinegar
1/8 cup olive oil
1 garlic clove minced
salt and pepper
4 chicken breast portions or 2 whole chicken breast halved, boneless-skinless
3 medium size russet potatoes or your favorite
1 small sweet potato
2 yellow squash washed or more if you desire
Montreal steak seasoning or salt and pepper
cayenne pepper
dried oregano leaves
garlic salt
olive oil
sea salt
heavy duty aluminum foil
Directions:
Step 1: Put first 5 ingredients in a gallon size zip-loc bag and add chicken. Marinate for 4-5 hours, keep refrigerated until ready to grill. You can marinate less time about an hour will do fine.
Step 2: Wash potatoes and partially peel the russet potatoes and completely peel the sweet potato.  Then slice potatoes lengthwise then slice again lengthwise to get the long fry type pieces.
Step 3: Tear a piece of foil about the size of 9×13 pan, then put the potatoes on the foil.  Drizzle with olive oil and sprinkle the spices and salt on top, mix toss the potatoes a little then add another piece of foil on top and make a pouch by folding like a package.
Step 4: Slice squash lengthwise, drizzle with olive oil and sprinkle with seasoning.
Step 5: Grill the chicken and veggies on medium high heat until vegetables are tender and chicken is no longer pink. It's hard to give you specific time for done-ness because each grill is different.  I have a professional infrared grill that heats quickly and hot so my times run rather quickly.  Be careful when turning the foil pouch not to puncture the pouch with tongs.  I ended up using an oven mit and silicone trivet to turn the pouch.  I put all the chicken and veggies on at the same time  turning the veggies about half way through the cook time and when my chicken was done so was the rest. But my chicken was thin cut not full thick breast.  I find that I usually cut breast in half so they cook quicker and I don't need to cut into the meat to see if it is done because it is all about the same thickness.

The grilled pouch potatoes were so tender but crunchy with little crust from being on the grill and getting that direct heat, they were so delicious.