A week ago my sister and her friend (my friend too) came for a visit.  Marion and her family used to live down the street from me when we were growing up.  Her younger sister and I were buddies and used to play together, I have fond memories of sneaking German cookies at Christmas and vacationing with them at Lake Isabella in CA.  Marion's parents are both from Germany and she grew up eating her mom's great German dishes.  Marion used to help her mom run a bed in breakfast in Texas so she can really cook. While Marion was here I some how twisted her arm to make me some German food or teach me.  She doesn't measure any of her ingredients so I had to eyeball everything she did and guess-ti-mate what the measurements were.   Marion has a growing teenage boy who eats like crazy so when she bought the ingredients for making dinner, I think she was thinking her son was eating with us because it was enough food for a week!
Blaukraut is side dish that Marion makes during the holidays. Blaukraut means blue cabbage, even though purple cabbage is used, guess its close enough. I'm not a big cabbage fan but I really liked this dish because of it texture and sweet & sour taste.  This side dish goes well with meat entrée.   Marion says there are many different versions of this dish depending on the different region of the country a person is from.  I know many of us don't like using shortening to cook with because of the saturated fat, so I asked if oil can be substituted and Marion said yes, but she feels it gives a funny after taste to the dish.  Since I am not familiar with the dish it probably wouldn't bother me or you.  If you enjoy cooked cabbage and like a sweet and sour type taste I think this is the perfect side dish to try out.  Left overs can be froze and used another time.  It might be fun to use the left over blaukraut for a burger topping  hmmm… think I might need to try that.
We really enjoyed the food and company and next time we get together Marion is teaching me to make noodles 😉 Hope you enjoy learning something new, I sure did.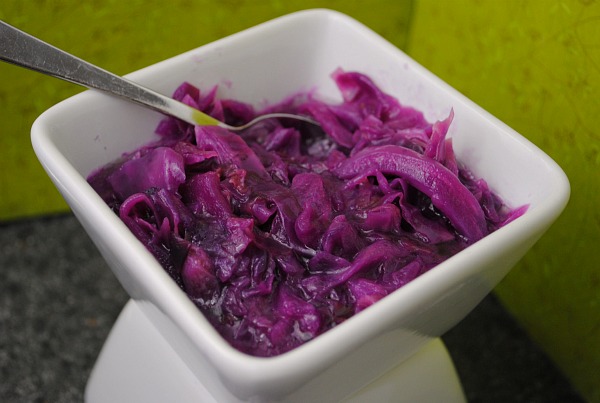 B is for Blaukraut (red cabbage in German)
Ingredient:
1 head of red cabbage chopped
1/4  sour apple sliced thin
1 1/2 cup crisco shortening
1/2 cup white vinegar
1/4 cup sugar
2-3 T. salt
2 cups water
1/4 c flour
Directions:
Step  1: Chop the cabbage medium small not as fine as slaw.  Slice apples thin leaving the skin on.
Step  2: In a large pot heat the shortening on medium heat until melted then add chopped cabbage and apples and stir until all is covered with the shortening.
Step 3: Add salt, sugar, and white vinegar and stir while cooking on medium heat for about 10 min.
Step 4: Then turn down heat to low and simmer stiring occasionally until cabbage is tender.  When tender add 2 cups of water to the pot and sprinkle about 1/4 cup of flour and stir. Cook with lid off and the sauce has thickened a bit.
Step 5: You can simmer this for several hours or cook until tender and eat.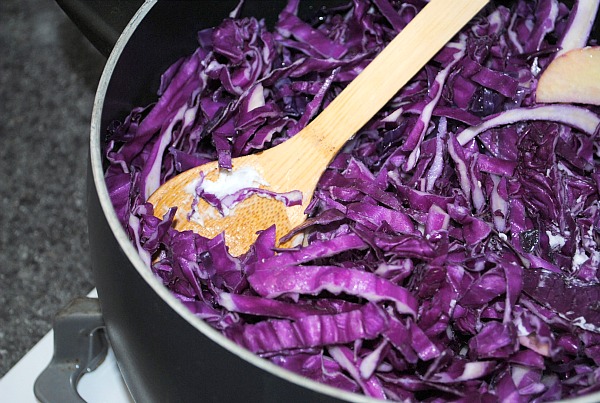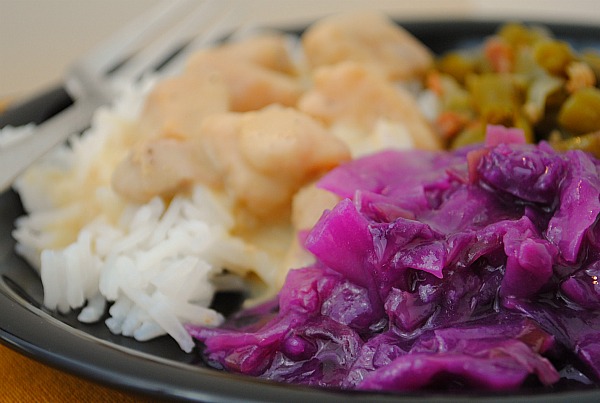 Linked to: