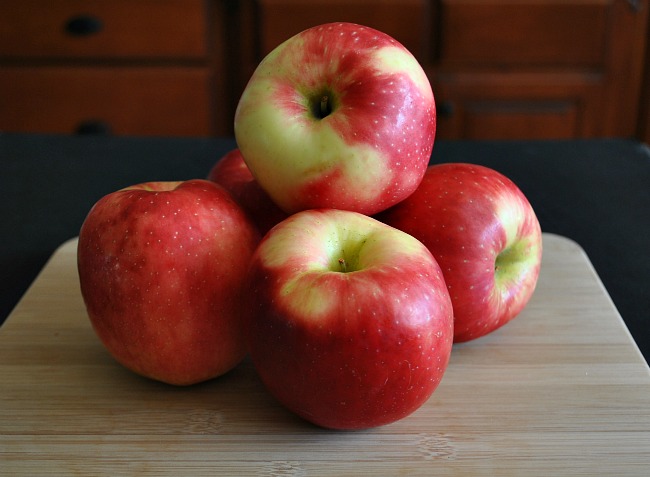 I love getting old recipes from family members like this one. My husband's aunt and uncle came to visit from Arizona and it happened to be his uncle's birthday while they were here. His sweet wife Cyndi brought with her most of the ingredients for her husbands favorite cake that she always makes for his birthday so she could make it form him. We celebrated by going to dinner and then after we had this fabulous cake. I was intrigued to have lemon sauce with apple cake and then Cyndi said they like to eat lime sherbet with it too sometimes, huh? I thought the lemon sauce was crazy but the lime sherbet was just a little too eccentric for me. Cyndi was right about how good the lemon sauce went with the cake, although I am a lemon fan. She had to buy some sherbet too just so we could taste it with the cake, well I thought the sherbet was little over the top, vanilla would go better in my opinion, sorry Cyndi :). After eating two pieces of the birthday cake I wanted to have the recipe. Aunt Cyndi was glad to share her recipe that she told me she got when they first got married, some 40 years ago. I made the cake and it was just as good as hers, no disappointment here. I only made a few minor adjustments to her recipe that I think turned out just fine and I don't think she would have noticed. Thanks Aunt Cyndi for sharing this wonderful recipe with me and letting me share it with everyone!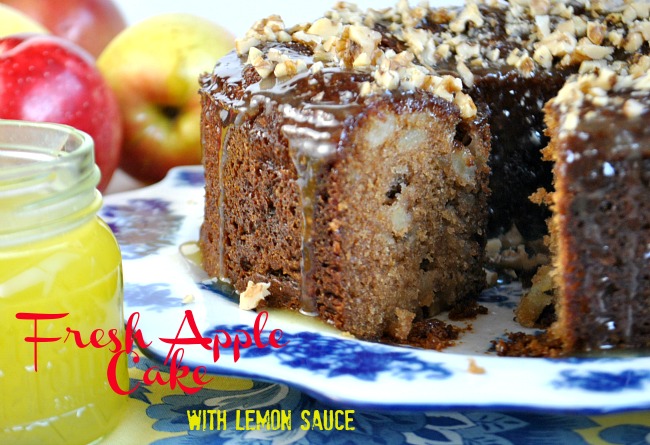 Aunt Cyndi's Fresh Apple Cake
Ingredients:
4 cups chopped red delicious apples( I used honey crisp apples)
2 cups sugar
2 cup sifted all purpose flour
1 cup wheat flour
2 tsp. baking soda
1/2 tsp. salt
1/2 tsp. cinnamon (I used 1 tsp.)
1 cup oil
2 eggs beaten
1 tsp. vanilla
1 cup nuts
Directions:
Step 1: Mix apples and sugar together and let sit for 1 hour.
Step 2: Sift together dry ingredients.
Step 3: Add the wet ingredients to the dry and mix well.  Add 1 cup of nuts chopped or save them for sprinkling on top when serving.
Step 4: Bake in a tube pan or 2 loaf pans at 325 degrees F. for 30-45 minutes or until a cake tester comes out clean.
Lemon Sauce
1 cup sugar
1/2 cup butter
1/4 cup water
2 egg yolks
1/4 tsp. grated lemon peel
3 T. lemon juice
Directions:
Step 1:In small saucepan combine all ingredients except lemon juice and zest.
Step 2:Stir mixture constantly while cooking on medium to boil, then turn down to low and cook until it thickens a little. When the sauce has thickened pour lemon juice and zest in and stir. Turn off heat and let cool until ready to pour over cake. Store any leftover sauce in the refrigerator, re-heat the sauce again to serve.