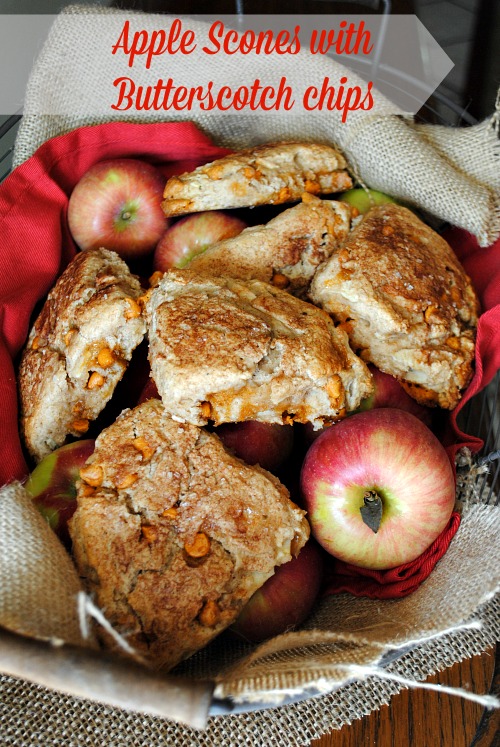 I'll be the first one to admit, I'm in love with SCONES! It's a love affair that started about 8 years ago, up until then I had never had one, I know it's a shame isn't it. We were at a hotel in Myrtle Beach for some work conference my husband had and in the middle of the table was this basket of 3 bite triangle scones with blueberries or some other kind of fruit I'm not positive. I actually had to ask the girls around me what these little triangular things were, then it happen, first bite and I was hooked! Yep, like a fish caught on a line except I wasn't trying to get away, they were soooo good, flakey, yet moist, sweet but not overly sweet…perfection!
Skip ahead to 4 years ago and I started food blogging and I made my very first scones and posted about it, they of course were blueberry (love blueberries) and in my opinion are simply the best scones ever! I turned my family, minus the picky boy, into scone loving people too, and now it's a treat to make and eat scones at my house. My favorite is still the blueberry but I'm branching out into other ways of making scones and oh boy, I haven't met a bad one yet.
The apple scones here are so heavenly right out of the oven, I had to eat two!  What is really different about these scones is that there is no cream or milk in them as the wet binder.  Cream is by far the best ever, but these scones were dang good even without it.  Eggs and applesauce plus the moisture from the fresh apples act as the binder here, the texture is a bit more cake like than bisquit and dough much wetter.  The butterscotch chips make these extra special, you could substitute cinnamon chips and even white chocolate chips but you gotta put them in for sure.  I froze my scones over night which by the way is a great tip because that way you can pop them in the oven in the morning instead of making them.  Even if you do decide to make them the same day you are going to eat them, it's a good idea to put them in the freezer for 30 minutes it allows the dough to rest and get cold so they will rise up really nicely.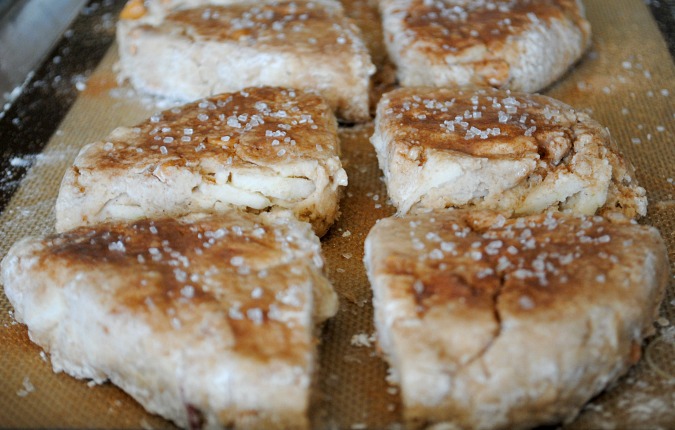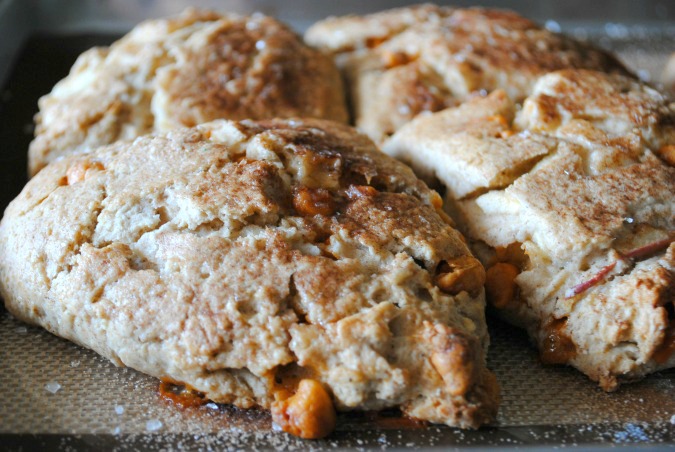 Apple Scones with Butterscotch chips
Ingredients:
2 3/4 cups all purpose flour
1/3 cup sugar
1/2 teaspoon salt
1 tablespoon baking powder
1 teaspoon cinnamon
1/4 teaspoon fresh ground nutmeg or not fresh is ok
1/2 cup or 8 tablespoons cold butter
2 eggs
1 teaspoon vanilla
1/2 cup applesauce (I used homemade)
1 apple or 3/4 cup diced (your choice of variety)
1/2 cup butterscotch chips or cinnamon chips
Topping:
2 tablespoons large crystals or even regular sugar
1/2 teaspoon of cinnamon
Directions:
Step 1: Pre-heat oven to 425 degrees, line a cookie sheet with parchment paper or silicone mat.
Step 2: In a food processor put flour, sugar, salt, baking powder, cinnamon and nutmeg and turn on to mix the ingredients together. Add the cold butter cut into chunks and turn on again until the butter is in small beads.
Step 3: In a small bowl put eggs,vanilla and applesauce together and lightly mix to break the eggs up. Now turn on food processor and add the wet ingredient through the shoot until the dough forms into a ball, but not over mixed. This dough is wet so it may not form a perfect ball and that's okay.
Step 4: Turn dough out onto a floured surface and lightly knead in the apples and butterscotch chips. Divide dough in half or leave it all together depending how big you want your scones to be. Pat the dough into a circle and cut with a pizza cutter or sharp serrated knife like a pie. Brush top with milk and sprinkle sugar and cinnamon on top. Transfer the scones to baking sheet and put the baking sheet into the freezer for 30 minutes or even overnight if you like.
Step 5: After they have been resting in the freezer for at least 30 minutes bake for 20-30 min. until tops are lightly browned. When down take out of the oven let cool 10 minutes if you can wait that long and then serve with butter or apple butter and enjoy!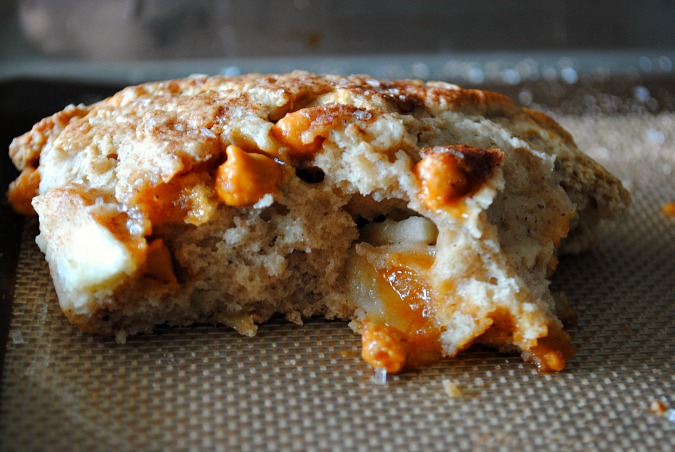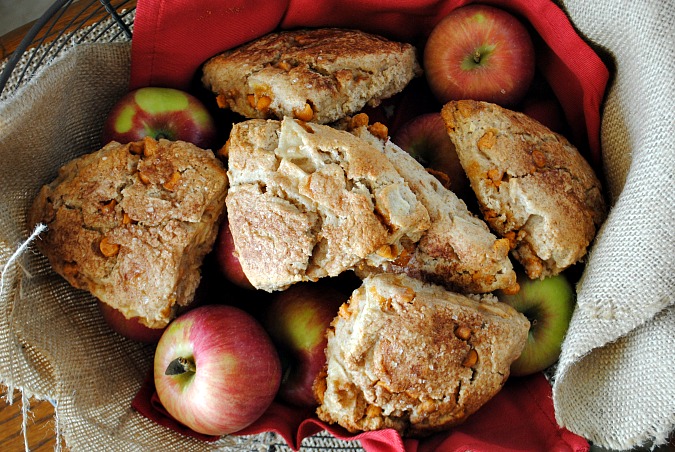 Recipe slightly adapted from: King Arthur Flour blog Flourish