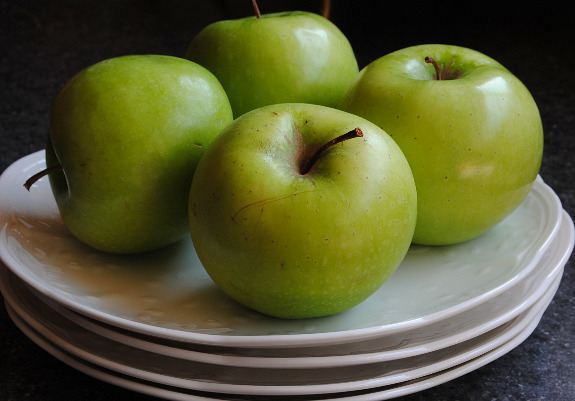 Apples are one of my favorite Fall fruits to cook and bake with. Apples are so versatile because they can be in sweet and savory dishes.I have many favorite apple dishes but my friend Louise makes these fabulous apple pillows.  She shared the recipe with several of us ladies at church last Fall and now I'm sharing it with you.  I made these for my husbands birthday last year, he loved them and so did the rest of the family. They are so easy to make you'll be in and out of the kitchen in no time. The recipe I shared is a smaller recipe so if you want to feed more than 4 people then double the recipe and use a 9 X 13 pan.  I used a slightly smaller oval stoneware pan.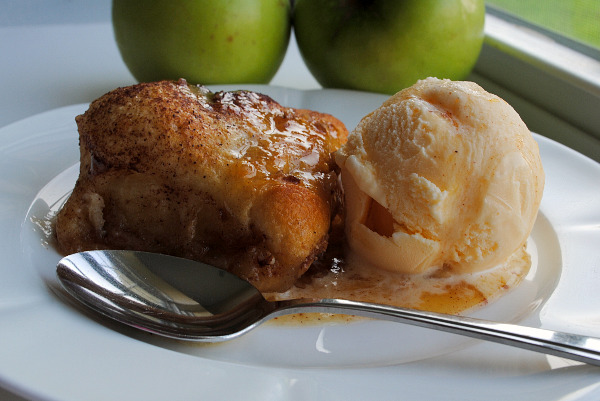 Apple Pillows
Ingredients:
2 apples
1 package of Pillsbury extra big crescent rolls (6 rolls)
1/2 cup sugar
1/2 cup orange juice or apple juice
1/4 cup butter
cinnamon
chopped pecans
Directions:
Step 1: Peel and core apples then slice into quarters.
Step 2: Open package of crescent rolls and press seams together and roll out just a little bigger so you have a rectangle of dough. Divide into 8 equal portions and wrap each quarter of apple up.
Step 3: In a small saucepan melt butter with orange juice and sugar bring to boil. Pour orange juice mixture over the pillows.
Step 4: Mix 2-3 T. of sugar with 1/2 tsp. cinnamon and sprinkle on top of apple pillows. Sprinkle nuts over the apple pillows, and cover with foil.
Step 5: Bake at 350 degrees for 30 min., then remove foil and cook 10 min. longer.
Serve warm apple pillows with vanilla ice cream or whip cream.
Tips: If you use granny smith apples you may want to increase the cook time with the foil on by 5-7 min. so the apples will get soft enough to cut easily. Other softer apples should be fine at the regular cook time. I don't recommend using red delicious apples because they break down to much in cooking.