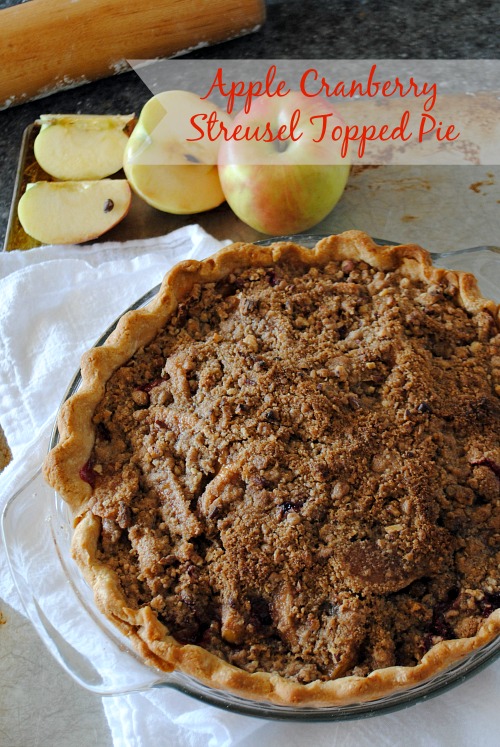 We just celebrated Thanksgiving and now we are fast approaching the next wonderful holiday season "Christmas" or "Hanukkah", or whatever holiday you celebrate at this time of year, and that means we are still in "pie season"! I'm so glad that I grew up with a grandma who believed pie was a year round season 🙂 . As for me I really only make them a few times a year and this year I made this lovely little apple cranberry streusel pie, isn't it pretty? (excuse me while I toot my own horn 😉 ) I normally don't like my apple pie being mixed up with other fruit but I got a wild hair this year and decided we needed a change. I know my husband was a little disappointed that I didn't just make apple pie until he tasted this one. I was kind of amazed myself at how much I loved it too.  Not only did we love the taste of this pie, we also loved the crust I used this year too.  Yes, I even messed with that too, now my favorite pie crust has a competitor.   I was given a new cookbook to review called  Nick Malgieri's Pastry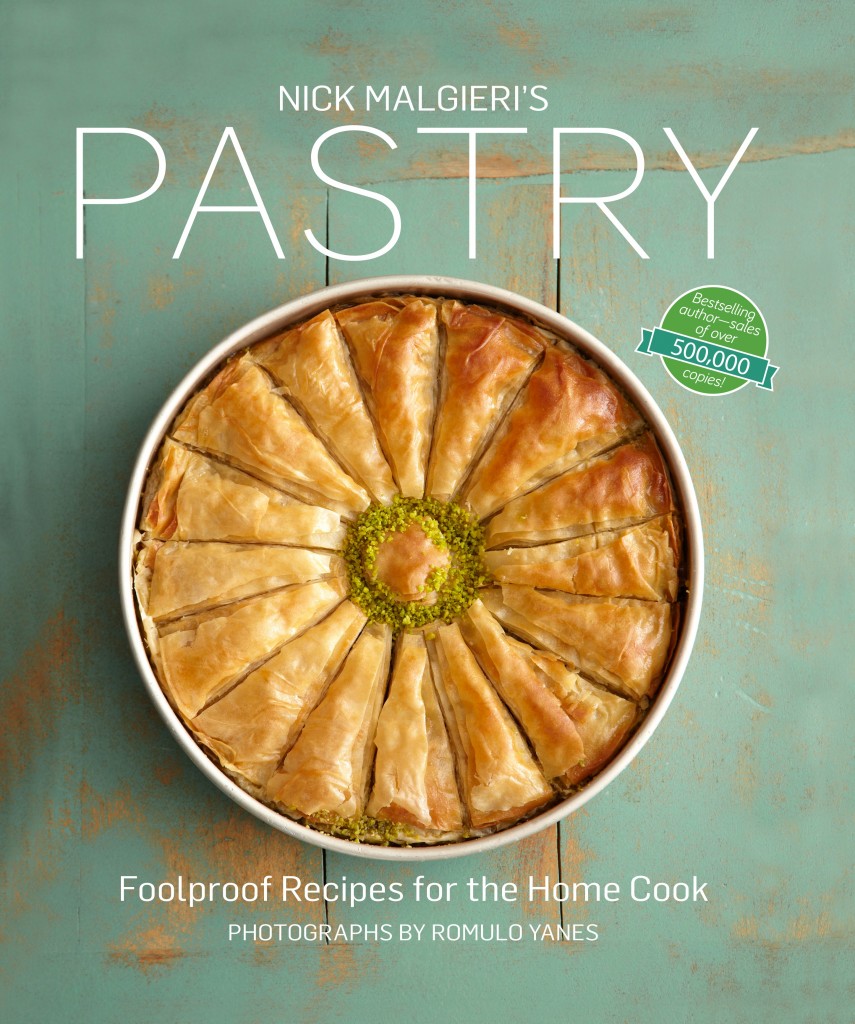 What a lovely book it is.  This cookbook is loaded with wonderful recipes and photos of pastry for the home cook. The book is inspiring to say the least, I wanted to jump into the kitchen and start making some pastry right away. The recipes are simple to read and understand and I liked the layout as well. The photos are mouth watering and almost had me drooling on the paper. I not only tried the crust in my apple cranberry  pie twice and both times it turned out perfect, I also used the crust in a coconut cream pie that I have yet to share.  I also made a cookie pastry crust for a tart which turned out wonderful as well.  I highly recommend this cookbook for the library of the home cook who loves to bake.   The recipes are down to earth but elegant too with plenty of professional instruction to have you baking up pastries like a pro.  If you are interested in buying a copy check out Amazon where you can actually take a peak inside the book which I love to be able to do.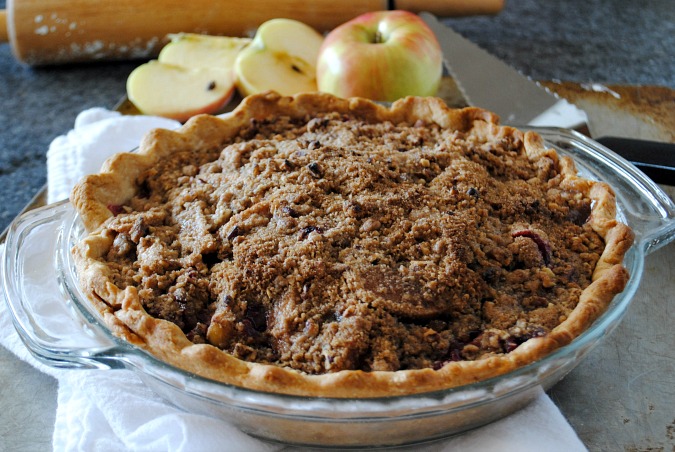 Apple Cranberry Streusel Topped Pie and Pastry Book Review
Ingredients:
Pie crust:
2 1/3 cup all-purpose flour
1/2 teaspoon salt
1 teaspoon baking powder
2 sticks unsalted butter cold and cut into chunks
2 eggs
Directions: FLAKEY BUTTERY DOUGH
To maximize flakiness and get as much delicate buttery flavor as possible, you need to use enough butter in a dough. If you remember to chill this dough after mixing it and again after rolling it, you'll enjoy both a superior texture and flavor. To keep from melting the butter and creating an excessively soft dough, this is best mixed in the food processor.
Makes enough for 2 single-crusted pies or 1 double-crusted pie. This dough keeps well in the refrigerator for up to 3 days.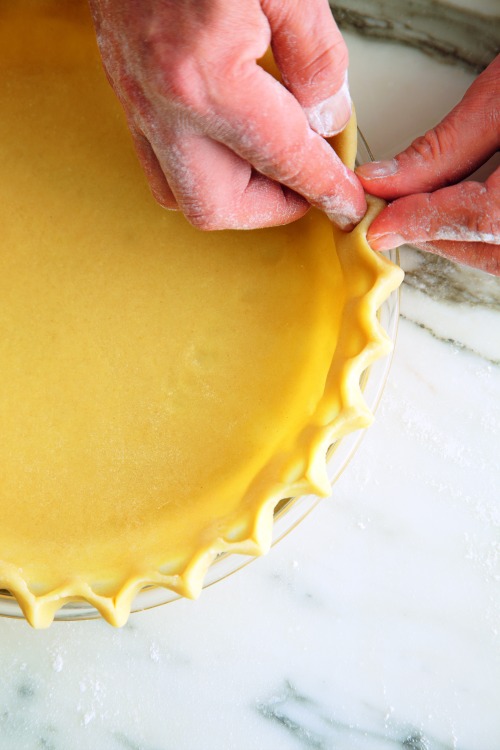 Photo courtesy of Nick Malgieri's Pastry Book
Step 1: Combine the flour, salt, and baking powder in the bowl of a food processor; pulse several times at 1-second intervals to mix.
Step 2: Add the butter and pulse again 3 or 4 times. Use a metal spatula to scrape the side of the bowl and mix the butter pieces throughout the flour.
Step 3: Pulse again 3 or 4 times.
Step 4: Using a fork, beat the eggs to break them up, and add to the bowl. Pulse again until the dough almost forms a ball; avoid pulsing too much, or the pieces of butter needed to make the dough flaky will become too small.
Step 5: Invert the dough onto a lightly floured work surface, carefully remove the blade, and quickly press the dough together.
Step 6: Divide the dough into 2 pieces, form into thick disks, and wrap each in plastic. Chill for a couple of hours before rolling.
Step 7: After chilling the dough it's time to roll it out and put it into your pie plate. Use a clean surface with a sprinkling of flour so the dough does not stick and more close by. Unwrap one of the dough discs and begin by rubbing flour on your rolling pin, then roll the dough stopping after a few rolls,  then turning the dough every couple of rolls.
Step 8: When dough is bigger than the pie plate by a few inches stop rolling and gently fold over the dough in half but not pressing, then put into the pie plate and unroll.
Step 9: Once the dough is in the plate you will have to trim the edges up evenly, but not to much because you need some to be able to tuck them under and then press into shape like the photo below. After shaping the edges the crust is ready to put back into the refrigerator until you are ready to fill it.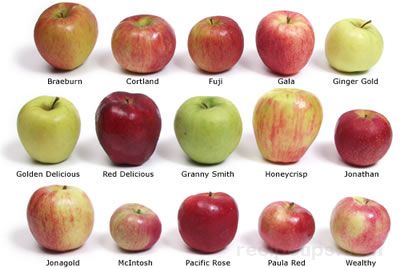 Photo from recipetips.com
Filling:
5-6 medium size apples your choice, I used Rainier's Honey Crisp apples they were at my local grocery store , juicy and sweeter than Granny Smith, sorry Granny but you don't have enough juice for me or sweetness.
1 cup fresh cranberries
1/2 cup granulated sugar
2 tablespoons all-purpose flour
1 teaspoon cinnamon
fresh grated nutmeg to your liking or pinch of ground
pinch of cardamom (expensive spice, check with friend who bakes a lot and share, just a pinch is all this needs to brighten the flavor up)
1 tablespoon finely chopped crystallized ginger
Directions:
Step 1: Peel apples then core and slice about 1/2 inch thick, and put into a large mixing bowl.
Step 2: Add the cranberries, sugar, flour, cinnamon, fresh grated nutmeg, cardamom and 1 tablespoon of finely chopped crystallized ginger. Then gently fold ingredients together trying not to crush the cranberries. Let set while you make the streusel topping.
Streusel Topping:
1/2 stick butter or 4 tablespoons
1/2 cup all-purpose flour
1/4 cup brown sugar
1/2 teaspoon cinnamon
1/4 cup pecans, chopped fine
Directions:
Step 1: Put cold butter cut into small chunks or room temperature butter into a small deep bowl. Add the rest of the ingredients. Stir well then I use a electric mixer on low to combine all the ingredients and get it crumbly, but you can use a pastry blender too or a fork.
To assemble the Pie:
Step 1: Preheat oven to 375 degrees F. Get your pie crust from the refrigerator. Fill it with the fresh apples and cranberry mixture that has been resting patiently.
Step 2: Pour the streusel even on top of the fruit and then put the pie on a cookie sheet and pop into the oven. Bake for 45-55 minutes checking 40 minutes, I covered the top of my pie with a sheet of foil toward the end of the baking time because I didn't want the top to get any browner. When pie is down take out and let cool for at least 1/2 hour and serve with ice-cream, whip cream or straight up!