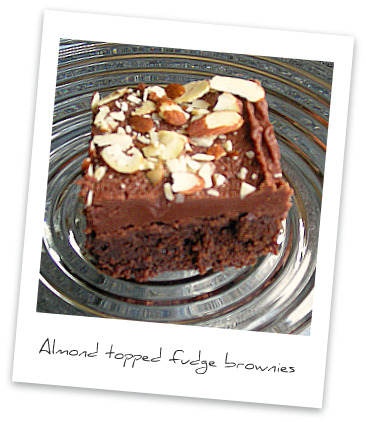 These brownies are for serious chocolate lovers only! Wow, they are so good for us chocoholics.   You'll think "only an 8 in square pan of brownies" that's not enough but it will be because they are so rich.  Get cooking these for someone special and they'll love you forever.
Almond Topped Fudge Brownies
Ingredients:
1/4 cup of butter
3 oz. of unsweetened chocolate
1 cup sugar
2 eggs
1/4 cup milk
1 tsp. vanilla
1/4 tsp. baking powder
1/4 tsp. salt
1/2 cup of flour
Chocolate Ganache Frosting:
Ingredients:
8 oz. of bittersweet or semi-sweet chocolate chopped
3/4 cup of heavy whipping cream
Directions:
Step 1: Preheat oven to 325 degrees F.
Step 2: Prepare 8 X 8 in. baking pan by lining with foil over the edge of pan about 2 in., then spray foil with cooking spray.
Step 3: In small saucepan heat chocolate and butter on low until chocolate melts. Add sugar to the chocolate and stir well.  Take off heat and let cool a minute.
Step 4: In a medium mixing bowl whisk eggs, milk and vanilla. Add a little of chocolate mixture to egg mixture and whisk to temper eggs, then add the rest of chocolate mixture and mix well.
Step 5: Add all dry ingredients at once and stir until combined. Pour into prepared pan,bake for 27- 30 min.
Directions for Frosting:
Step 1:  In heavy saucepan heat cream on med-low until almost ready to boil.
Step 2: Put chopped chocolate in small mixing bowl
Step 3: Pour hot cream over the chocolate and stir until all the chocolate is melted and cream is incorporated. Let ganache stand at room temp. for 10 min. then pour over the brownies.  Sprinkle with nuts. Cool in refrigerator  for 2 hours to set ganache. When ready to serve lift the brownies out of pan with the foil. Cut into small pieces and enjoy!
Frosting adapted from The Cake Mix Doctor, brownies  adapted from Technicolor Kitchen