Homemade pizza dough + homemade Alfredo sauce + juicy ripe tomatoes and herbs + bacon = Mmm…homemade pizza-licious:)

I know your thinking that's way to much work for a few minutes of "pizza pleasure", on the contrary it's really not as much work as you think. If you have a bread machine your half done. Now throw on some butter and cream to simmer, add some Parmesan cheese and in less than 20 min. your sauce is done.
Now slice a tomato, chop a few herbs and open some real bacon bits (or cook the bacon slices).
When the dough is done rising, roll it out and slather your sauce on.
Load on  your toppings preheat your oven to 425 degrees Fahrenheit and toss that bad boy in.
I told you it was easy to do~ now open wide and take a bite!
Mmmm….Convinced yet?  You wont' regret it unless… well, you eat the whole pizza by yourself.
Now that your salivating here are the recipes you need to get cooking!

Alfredo Tomato & Bacon Pizza
Crust Recipe
Ingredients:
2 cups all purpose flour
1 T. wheat germ
3/4 cup water
2 T. olive oil
2 T. honey or agave syrup
1 tsp salt
2 tsp. yeast
Directions:
Step 1: If using a bread machine put all ingredients into the bread pan and start the dough cycle and wait until it beeps 🙂
Step 2: If not using a bread machine, warm the water up until hot to the touch but not boiling. To the water add oil and honey and stir.
Step 3: Add flour, yeast and salt in medium size bowl. Pour wet ingredients into the dry and mix well. Knead dough about 5 min. Cover bowl with plastic wrap or tea towel set in warm place and let rise until double in size.
Step 4: When dough has risen long enough turn out onto a floured surface and shape into a ball. Roll ball our into about a 11 inch. circle. With a fork prick the dough evenly all over so you won't have bubbles when baking.
Alfredo Sauce
(courtesy of yumly.com)
Ingredients:
1/4 cup butter
1 T. cream cheese
1 tsp. garlic powder
1 cup of whipping cream
1/3 cup Parmesan cheese

Direction:
Step 1: In a small sauce pan over medium heat whisk a small portion of cream and cream cheese together until creamy, then whisk in the remainder of the cream.
Step 2: Add garlic powder and salt and pepper to taste. Cook on medium low and let simmer until it gets thicker and reducing. After about 20 minutes  take off heat, then add fresh grated Parmesan cheese stir well and let cool.
Pizza Ingredients
1-2 fresh tomatoes depending on the size, sliced.
Fresh basil and flat leaf parsley about 2 tablespoons
1 cup of mozzarella cheese
cooked chopped bacon or already cooked real bits,to your liking

Directions:
Step 1: Sauce goes on the pizza first (I did not use all the sauce) then cheese, then the rest of the toppings.
Step 2: Pre-heat oven to 425 degrees, put pizza in middle or on a lower rack and bake until the crust is lightly browned about 15 min.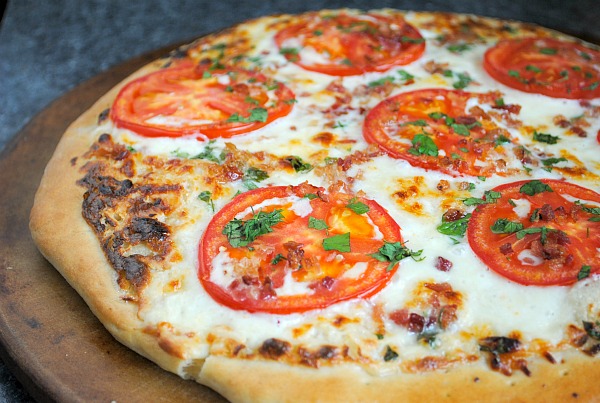 Serves: 4